Teami Holiday Gift Guide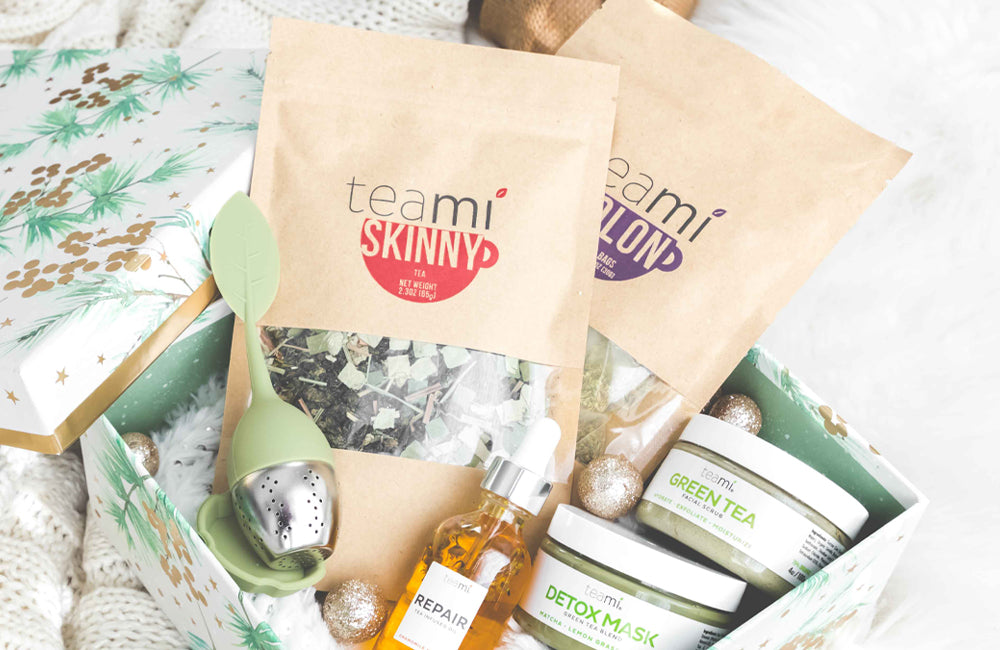 The Holidays are right around the corner! We know this year looks a little different, but it doesn't make it any less special! Shower your friends and family with the gift of health & beauty this Holiday season! Oh, and of course you can shop for yourself! We won't tell anyone hehe!
Give the Gift of Inner Wellness
Our Wellness powders are perfect for the beginner wanting to step up their health for the new year or the health nut in your family who loves their daily supplements in smoothies, juices, water, & baking!
Wellness Powder Must Haves:
Superfood Greens: Packed with 16 superfood, green nutrients to help get your daily intake of veggies, promote natural energy levels, support regular digestion and overall well-being! Perfect for your healthy resolutions headed into 2021!
Beauty Butterfly Collagen: Designed to help you feel strong, glowing and confident from the inside out! Add 1 scoop to your smoothies to support hair, skin, and nails!
Wellness Chocolate Protein: The best tasting plant-based protein you'll ever try! Includes 17 grams of clean protein, easily blends and tastes delicious! This makes the perfect gift for the fitness guru in you life!
Restore Powder: Designed to help you unwind and de-stress, Teami Restore supports natural balance in body and mind. Drink this right before bed for the ultimate relaxation!
Gut Love: A shelf-stable Probiotics + Prebiotics supplement to support belly balance, gut health, and overall inner wellness! Each serving contains seven different strains and 20 billion probiotics. 
Give the Gift of Cozy Teas
Whether you are grabbing a 30 Day Detox for you and your BFF or stocking up on a cozy teas for the whole family to enjoy. We have 13 to choose from! 
Cozy Teas for the Winter Season:
Chai: The moment you open the bag to make your first cup, you'll fall in love with the rich and aromatically spiced scent of this Teami favorite. Latte lover? Add your choice of frothed milk and top with cinnamon or nutmeg for the perfect holiday latte!
Boost: A hybrid of our ceremonial matcha green tea powder and traditional loose-leaf tea, this powerful blend can easily be toted around in your Teami Tumbler for whenever you need that boost!
Profit: Upgrade your immune system from the inside out!* Our Profit Tea is a light, rejuvenating blend of super plants that you can drink on a daily basis!  With a lightly sweet aftertaste from our blend besties – goji berries and red dates – this is a tea you'll adore all winter!
30 Day Detox: Ready to kickstart your healthy lifestyle for the New Year?! We believe that maintaining a healthy gut is vital in living your happiest, healthiest life! Feeling your best truly starts from within, which is why we created this 100% natural, plant-based detoxifying cleanse! Make 2021 your best year yet!
Give the Gift of Natural Beauty
Our natural skincare line is infused with teas, all natural ingredients & good for all skin types. Whether you are giving it to the skincare lover in your life or someone who deserves a little self care - you can't go wrong with this present! 
Our Winter Skin Essentials:
Superfood Cleanser: Say hello to a cleanser that  won't dry out your skin this winter! A daily cleanser that leaves your skin hydrated, nourished and cleansed. Infused with nutrient dense, beauty boosting ingredients like matcha, apple, turmeric and sea kelp, your skin will be soft, cleansed and prepped for the next steps in your skincare routine!
Repair Facial Oil: Our best selling facial oil, deemed as liquid gold by our Teami Communitea Members! Infused with chamomile tea and jojoba oil to provide ultimate hydration and skin renewal for the harsh winter months!
Superfood Moisturizer: Ultra-hydrating + instant absorbing daily moisturizer with antioxidant superfoods to deliver healthy, nourished and balanced skin! This makes the perfect gift for the skincare guru in your life!
Vitamin C Serum: Quench dry skin with our serum's water-esque consistency which instantly absorbs into your skin! Unlike other serums that take up to two minutes to fully absorb, VIT-C takes less than 30 seconds, so you can quickly continue with your beauty routine!
Give the Gift of One of a Kind Accessories
Maybe your friends and family already LOVE Teami and just need a little extra to their collection! Grab on of our best selling skincare accessories like our Fridge or Face Mask Applicator! Are they someone who adores our tea & wellness line?! Our Tumblers & MIXit are a great addition to their collection! 
The Accessories You Need:
Luxe Tea Tumbler: Stay healthy on the go with our cute on-the-go Luxe Teami Tumblers! Easy to use, made of BPA Free Plastic and available in Rose Gold & Gold, our Luxe Tumblers shine, shimmer and catch the light in all the right places! This makes the perfect gift for coffee ,tea, and smoothie lovers!
Lifestyle Pitcher: From making iced tea at home to taking fruit-infused detox water to this years holiday party, you'll love using our Teami Lifestyle Pitchers for so many different occasions!
Luxe Skincare Fridge: The ultimate beauty guru gift this season! Elevate your skincare routine with our upgraded + chic Teami Luxe Skincare Fridge! Increase the shelf-life and application efficacy of skincare products by keeping them chilled.
Love,
Adi Arezzini | @adiarezzini
Co-Founder + CEO, Teami Blends
Certified Holistic Nutrition Coach
---
Subscribe to our Newsletter
Subscribe to our newsletter and get 10% off your first purchase
IT'S NOT JUST
TEA

, IT'S A LIFESTYLE