Feeling out of balance? Daily stress taking its toll? You're not alone! 
Designed to help you unwind and de-stress, Teami Restore supports natural balance in body and mind.
We blended 3 super-restorative ingredients for daily feelings of stability, calm and ease - Calcium, Magnesium and Vitamin C. 
BENEFITS:
Great addition to your bed-time routine*
Supports healthy magnesium and calcium levels*
Magnesium helps muscles and nerves function properly*
Promotes calmness and relaxation*
Supports a balanced body and mind*
Enhances feelings of calm and serenity*
Wake up feeling renewed, reset, and refreshed*
Magnesium and Calcium are fundamental nutrients that need to be in balance with each other in order for you to feel your best daily. However, many adults are not consuming the recommended daily intake. 
Calcium and Magnesium deficiencies can be common in adults and the best way to determine this is to take a blood test. 
A great way to increase your Calcium and Magnesium intake is from the food we eat, as well as natural supplementation. Teami Restore is a relaxing, great tasting supplement with a good source of magnesium and calcium.
*These statements have not been evaluated by the Food and Drug Administration. This product is not intended to diagnose, treat, cure, or prevent any disease.
VEGAN | Non GMO | GLUTEN-FREE | DAIRY-FREE | SOY-FREE | NO ARTIFICIAL SUGAR
Vitamin C (as L-ascorbic acid)
Calcium (as calcium gluconate)
Magnesium (as magnesium carbonate)
Other ingredients: Citric acid, Natural Orange Juice Flavor, Stevia, Ginger Root extract, Turmeric Root Extract.
Drink before bed or anytime you need to press the pause button to de-stress.
Put 2 teaspoons of Teami Restore in a cup or glass. Add boiling water and stir with a spoon until the powder is completely dissolved.
If you are taking prescription medication, or are pregnant or nursing, consult your health care provider prior to using this product.
*These statements have not been evaluated by the Food and Drug Administration. This product is not intended to diagnose, treat, cure, or prevent any disease.
Really good at calming me down!
I'm loving this product! At the end of day most days, my mind is racing and going a zillion different directions. This product really does what it says! It helps you find balance! It slows my mind down from racing, it calms my jitters (as I say). I actually fall asleep sometimes before I get halfway through the cup lol! It taste good! I was suprised! It's a perfect balance of taste! It's not overpowering. There's nothing you could add or take away. The only thing I have actually done if I'm having tough day at work is: put teaspoon relax into my tumbler, brew restore in a mug, then pore the restore over the relax and let it steep! It's not for everyone but for me it's 👌 My husband is a kidney transplant patient and my mind often goes to the worst of places. These two products are my saving grace🙌🏻
Loving restore
I absolutely love the restore! I really feel like it helps with my joints and pain. I would say the orange flavor is a little strong but nothing too intense!
I love it!!
I love restore!
I drink it every night and it helps me sleep like a baby!! I wake up energized.
Love the flavor of it! 👍👍
Over all great product.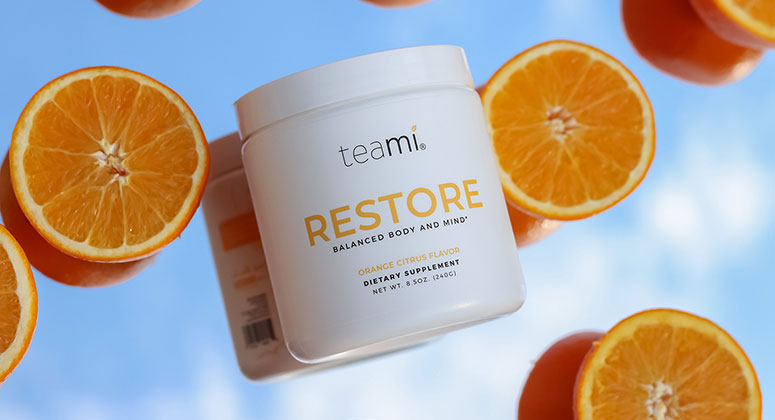 Frequently Asked Questions
Subscribe to our Newsletter
Subscribe to our newsletter and get 10% off your first purchase
IT'S NOT JUST
TEA

, IT'S A LIFESTYLE