Are you on a quest to finally feel confident and balanced with your belly?
Tummy problems are more common than you think. Most adults struggle with feelings of bloat, constipation, feeling puffy all the time, and not having regular bowel movements.
We created our holistic vitamins to help you fall back in love with your belly and feel light every single day!
We recommend adding these two vitamins to your wellness routine for 30 days for the best results!
Belly Balance Bundle includes:
Super Digest, Holistic Digestive Enzyme*
Formulated with 13 powerful enzymes combined with holistic superfoods like ginger, fennel, and apple cider vinegar to help you naturally break down food, and support nutrient absorption and regular digestion.
Bloat Banish, Herbal Belly Cleanse*
The ultimate holistic vitamin, formulated with a potent, yet gentle blend of probiotics, digestive enzymes, and holistic herbs to help you detox, regularly "go" and feel relief quickly.
Say goodbye to bloat and constipation, without experiencing discomfort or dependency. You'll feel "lighter" by promoting a healthy flow, supporting regular waste elimination, and experiencing regular bowel movements.
When you buy this bundle, you save $3! ;)
Super Digest Ingredients:
Digestive Enzyme Blend (Amylases, Protease (I,II,III), Lipase, Lactase, Hemicellulase, Cellulase, Diastase, Glucoamylase, Invertase, Bromelain, Papain, Serrapeptase, Alpha Galactosidase), Betaine HCl, Globe Artichoke Extract, Ginger, Organic Milk Thistle, Apple Cider Vinegar, Star Anise, Fennel
Bloat Banish Ingredients:
Probiotic Blend (Bacillus subtilis, Bacillus coagulans, Bacillus clause), Digestive Blend (Amylase, Protease, Lipase, Lactase, Cellulase), Cape Aloe Extract, Organic Barberry Root, Organic Cascara sagrada, Organic Senna, Organic Ginger, Star Anise, Dandelion Extract
Super Digest:
We suggest taking 2 capsules before a meal! If you forget before your meal, don't worry about it and just take them after!
Bloat Banish:
Take 2 capsules every night before bed for best results! You can also take Bloat Banish during the day time, but we recommend it at the end of your day. Choose what works best for you!
*These statements have not been evaluated by the Food & Drug Administration. This product is not intended to diagnose, treat, cure, or prevent any disease.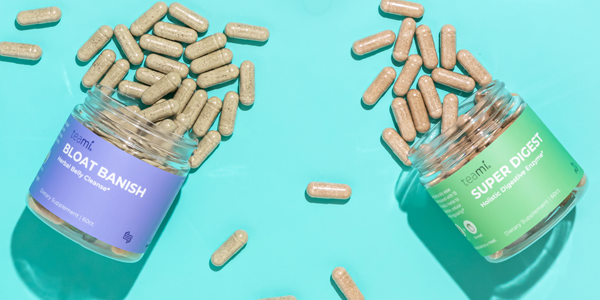 Love
These products WORK! I take the enzymes when I've consumed inflammatory foods and the Bloat Banish every evening before bed, and I feel so much better! Also, because of the gut connection with the rest of the body, these products are saving my skin!
Product for bloating
I've been using bloat banish along with super digest for about 2 weeks. So far
It is working! I will be back for more!
Love it
Love it. I take them both every other day works well!!
Frequently Asked Questions
Subscribe to our Newsletter
Subscribe to our newsletter and get 10% off your first purchase
IT'S NOT JUST
TEA

, IT'S A LIFESTYLE