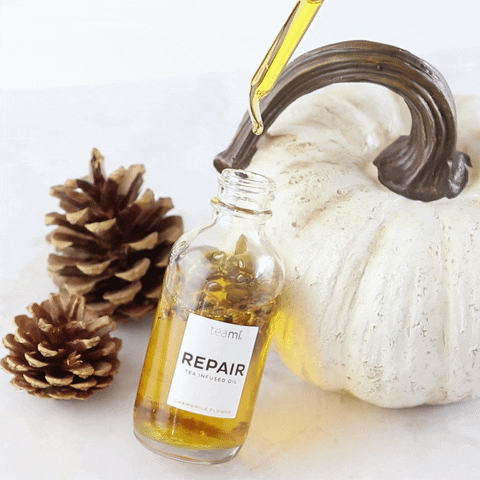 Subscription Benefits
Save $ on every order
Skip orders anytime
Customize your order
Earn 2x Rewards Points
Our Teami Repair Facial Oil is infused with chamomile tea and jojoba oil to provide ultimate hydration and skin renewal. Oils are a pure form of moisturizer that seamlessly absorbs into the deeper layers of your skin leaving it soft, nourished and glowing! Perfect for all skin types.
Star ingredients:
Chamomile Tea Flowers - traditionally used by the Romans, Greeks and Egyptians to treat wounds and promote healing, this tea flower is known for its oasis of calm and tranquility.
Jojoba Oil - because Jojoba oil is very similar to our own skin oils, it immediately penetrates skin and absorbs easily for ultimate moisture without clogging pores.
Sea Buckthorn Fruit Oil - extracted from the berries, leaves and seeds of the sea buckthorn plant, this carrier oil is bursting with antioxidants, vitamins and minerals beneficial for healthy skin complexion. 
Vitamin E Oil - rich in antioxidants, this oil is bursting with hydrating and protective benefits. 
Made with 100% pure plant extracts and natural mineral ingredients, you will not find any harmful fillers, preservatives or chemicals added. We uniquely formulated each oil by selecting the perfect ingredients to blend together harmoniously.
Teami Repair Facial Oil seamlessly absorbs into skin and is perfect for morning or night time application.
Caprylic / capric triglycerides, Fractionated Coconut Oil, Camellia Seed Oil, Jojoba Oil, Seabuckthorn Fruit Oil, Vitamin E, Chamomile Botanical Essence & Chamomile Flowers.
Use the dropper to apply 3-4 drops into the palm of your hand or directly onto skin. Rub the oil together to warm it up and apply to skin in circular motions. Use oils in the morning before you put on makeup or before bed. Our oils absorb into the skin and leave it protected all day long.
Due to the all-natural ingredients in this product, change in color and texture may appear over time. This does not lessen the effectiveness of the product. For best results, keep out of hot or fluctuating temperatures. If you are allergic to any herbs or botanicals consult a doctor before use and patch test. This product has a 24-month shelf life.
These statements have not been evaluated by the Food and Drug Administration. This product is not intended to diagnose, treat, cure, or prevent any disease.
Customer Reviews
Sorry there are no reviews for your selected category yet.
Skin Concerns:
Acne, Dark spots, Dullness, Pores
Repair oil
Omg! I have gone through two bottles already and always buy two so I never run out. It smells amazing and has improved the look of my skin
Skin Concerns:
Acne, Anti-aging, Dark spots, Dullness, Pores, Sensitivity
Healing potentials!
Since the very first day I started applying this wonderful oil I could tell the impact it had on my skin. I have had a light acne for decades. Mainly on the T-zone. It was terrible as it would distort my beautiful face! Now my face and skin have been cleared and healed due to this oil and the mask and scrub I use from this wonderful brand TEAMI!!! I love your products and what you do! God bless you all!!! :-D
Skin Concerns:
Acne, Anti-aging, Dark spots, Dryness, Dullness, Pores
My 2nd review! LOVE LOVE LOVE!
So I will start by saying that I know none of these products are meant heal/cure any health problems I/we may have but I had to tell everyone again what the combo of the soothe and repair oil and how much it's helped my husband and I! My husband had a terrible fungus on his foot from wearing work boots (he's an A-EMT) and works very long hours, and he's also a kidney transplant patient so he can't take any oral medications or use any topical OTC medications due to that. I grabbed my soothe oil and used that to begin with when it was at its worst then when the redness and irritation was beginning to go away, I started using the repair oil on it! It worked like a CHARM🙌🏻! Well now I somehow got this foot fungus😳 I don't know if I somehow got it from him but I followed the same steps on myself and I can personally tell you (my husband agreed) that the soothe oil takes away any burning or discomfort from the fungus (I felt absolutely zero pain or discomfort!) and the repair cleared it up COMPLETELY🙌🏻!!! I'm hoping if there's any transplant patients or
immunocompromised patients on the site with this issue or any similar skin irritations that you will see this! And our story can help you😊
Happy Fall Everyone!!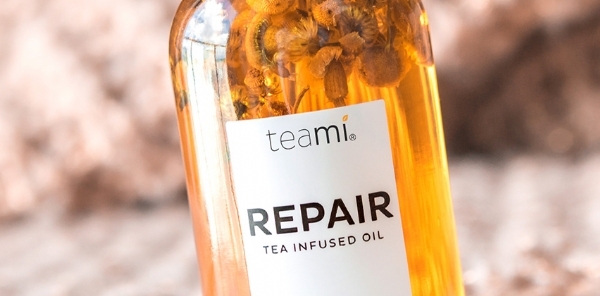 Frequently Asked Questions
Subscribe to our Newsletter
Subscribe to our newsletter and get 10% off your first purchase
IT'S NOT JUST
TEA

, IT'S A LIFESTYLE