Stay healthy on the go with our cute on-the-go Luxe Teami Tumblers! Easy to use, made of BPA Free Plastic and available in Rose Gold & Gold, our Luxe Tumblers shine, shimmer and catch the light in all the right places. (makes for that perfect Instagram pic!) 
Extra reasons why our one of a kind, Teami Tumblers are pretty amazing:
No mess, no spill 
Heat Resistant - double-layered walls and durable BPA free plastic tumblers will ensure that you never ever burn yourself!
Keeps beverages hot for up to 4 hours.
Perfect for hot & cold beverages - hot tea, juice, fruit-infused detox water, smoothies and more!
So many cute colors to choose from ( and we are always launching new ones, so make sure you keep following us on Instagram! )
Take your tumbler to the gym, work and everywhere you go! 
Tumbler Description & Functions:
BPA FREE 
Double Layered Walls
Easily Removable Mesh Insert
Sports Flip Top
Additional Bottom (Secret) Compartment to hold tea, vitamins, snacks and more!
Open the top of the tea tumbler and remove the mesh insert.


Measure the desired amount of Teami Blends loose leaves tea into the Teami Tumbler (we suggest 1 teaspoon of leaves per cup of tea). Add honey, nectar or lemon as a natural sweeter if needed.


Pour hot water into the tumbler until it reaches approximately 3 cm below the rim. Allow contents to cool for 1-3 minutes before you apply the mesh insert and screw the lid onto the tumbler. You can leave your tea leaves in or steep it for the desired amount of time!


Add lemon, mint or cinnamon sticks for an added metabolism boost (if you want!) and ENJOY!
As a tip in using your tumbler, always remember that heat expands! Please allow the contents in your tumbler to cool for 1-3 minutes before tightening the lid to prevent the mouth piece from opening due to pressure. Never shake or turn your tumbler upside-down, if contents are hot. The pressure that hot water creates will cause the top to potentially open, spilling the contents. Once the tea is cool it becomes safe to turn upside down.
Note: We do not recommend that you pour boiling water directly into your tumbler - if the water comes to a boil please allow the water to rest for a few minutes before pouring into your beautiful tumbler!
Care: Hand wash your luxe tumbler, putting in the dishwasher can affect the shiny coating!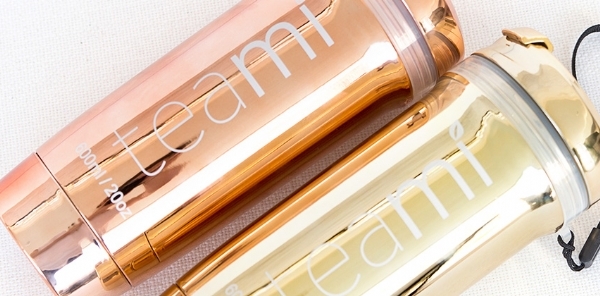 Gold Tumbler
Love my tumbler. Keeps my tea hot inside for a long period of time. Easy to clean and use.💕
My Luxe My life
I love my Luxe Rose Gold tumblr so much that I don't even wanna use our home glasses. I use my tumbler for everything including (teas, juices, teami products, smoothies even sometimes coffees (iced & hot)) It's a go to tumbler that I can bring outsude when I travel, very easy to carry, use and clean.
Subscribe to our Newsletter
Subscribe to our newsletter and get 10% off your first purchase
IT'S NOT JUST
TEA

, IT'S A LIFESTYLE