Tea Tumbler - 20 oz, BPA Free Plastic
Tea Tumbler - 20 oz, BPA Free Plastic
Stay healthy on the go with our cute on-the-go Teami Tumblers! Easy to use, our tumblers are made of BPA Free Plastic, come in 20 fun colors and are double-walled to ensure your Teami is kept warm for up to 4 hours!
Extra reasons why our one of a kind, Teami Tumblers are pretty amazing:
No mess, no spill 
Heat Resistant - double-layered walls and durable BPA free plastic tumblers will ensure that you never ever burn yourself!
Perfect for hot & cold beverages - hot tea, juice, fruit-infused detox water, smoothies and more!
So many cute colors to choose from ( and we are always launching new ones, so make sure you keep following us on Instagram! )
Take your tumbler to the gym, work and everywhere you go! 
Tumbler Description & Functions:
BPA FREE 
Double Layered Walls
Easily Removable Mesh Insert
Sports Flip Top
Additional Bottom (Secret) Compartment to hold tea, vitamins, snacks and more!
Open the top of the tea tumbler and remove the mesh insert.


Measure the desired amount of Teami Blends loose leaves tea into the Teami Tumbler (we suggest 1 teaspoon of leaves per cup of tea). Add honey, nectar or lemon as a natural sweeter if needed.


Pour hot water into the tumbler until it reaches approximately 3 cm below the rim. Allow contents to cool for 1-3 minutes before you apply the mesh insert and screw the lid onto the tumbler. You can leave your tea leaves in or steep it for the desired amount of time!


Add lemon, mint or cinnamon sticks for an added metabolism boost (if you want!) and ENJOY!
As a tip in using your tumbler, always remember that heat expands! Please allow the contents in your tumbler to cool for 1-3 minutes before tightening the lid to prevent the mouth piece from opening due to pressure. Never shake or turn your tumbler upside-down, if contents are hot. The pressure that hot water creates will cause the top to potentially open, spilling the contents. Once the tea is cool it becomes safe to turn upside down.
Note: We do not recommend that you pour boiling water directly into your tumbler - if the water comes to a boil please allow the water to rest for a few minutes before pouring into your beautiful tumbler!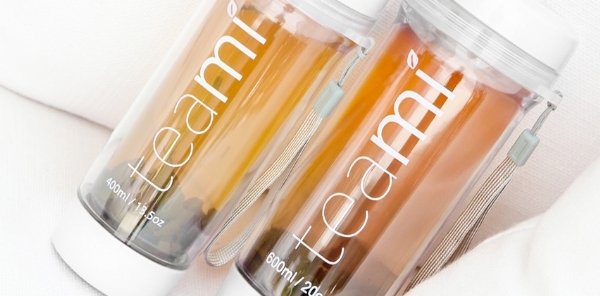 Most convenient cup!!!
I love my tumbler. Not only is it CUTE! There are so many amazing colors. I love the fact that it comes with a strainer for the natural tea leaves to not end up in your mouth. However, my favorite feature on the tumbler is the vitamin cap at the bottom of the cup! So convenient and clever!
Received my order 3 days ago after a month of waiting, so far the tea was good and detox working, but the tumbler i must im disappointed the colour just fade as you can see the picture after 3 days.
Where is customer service?
Been trying to reach customer service for two weeks now... bought a tumbler for my super greens and only after a week of using the product it developed a large crack on the side! I also hand wash it so I'm not sure how that happened, except that it was defective to begin with. I do like their products but wish the team was more responsive to emails...
We can totally send you a replacement piece! We just ask that you cover the $3 dollars for the replacement piece and the cost to ship the piece, shipping costs are based off your location!
If you ever need a replacement piece, just send a photo of the damage to us with a brief description to service@teamiblends.com and we can get that taken care of for you!
Subscribe to our Newsletter
Subscribe to our newsletter and get 10% off your first purchase
IT'S NOT JUST
TEA

, IT'S A LIFESTYLE