We adore our new-mama communitea, so we created this blend just for you! This light and relaxing blend contains nourishing herbs long-believed to support lactation.*
Don't worry, we made this especially for breastfeeding moms so it's 100% natural, 100% caffeine-free, dairy-free, preservative-free, soy-free and non-GMO. Feel confident in this special blend to naturally support your needs!
Super Ingredients:
Fennel Seed: This licorice-flavored spice can be traced back to ancient Egypt and is thought to promote healthy milk production*
Fenugreek: This herb has a list of impressive benefits, including supporting milk flow in breastfeeding mothers*
Raspberry Leaf: With a floral, black tea taste and that boasts several nutrients, raspberry leaf is an amazing herb to aid in health while nursing!
Blends you can trust! We use premium hand-selected tea leaves to create our stunning blends – each targeted to help you live a healthier lifestyle!
20 servings per bag.
Fennel, Lemon Balm, Chamomile, Raspberry Leaf Tea, Aniseed And Caraway Seeds, Dandelion Root And Leaves, Fenugreek & Coriander
Place 1 tea bag in a mug or Teami Tumbler and add hot water! Allow 3-5 minutes to flavor.
Teami Tip! Our tea is already delicious, but you can always add honey, nectar or lemon as a natural sweeter if needed!
Every mother is unique in her own way, check with your healthcare practitioner if you have any questions about the ingredients in this blend.
Caffeine Free
*Do not use this blend if you are currently pregnant
This statement has not been evaluated by the Food and Drug Administration. This product is not intended to diagnose, treat, cure, or prevent any disease
Great tea
This a great tea to help with milk production. I've tried others and they did not really help but I've noticed a difference in milk production with this tea
Fingers crossed
I haven't received this order yet but I have tried the Bloom tea and its amazing! I'm hoping with this one, it will help me produce more milk.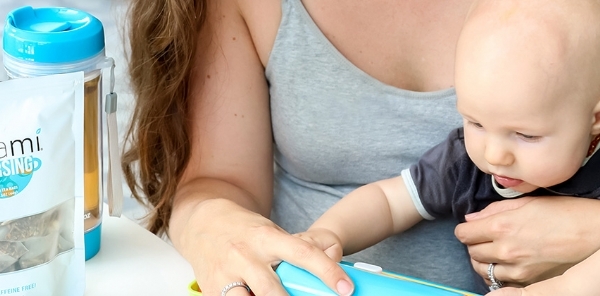 Subscribe to our Newsletter
Subscribe to our newsletter and get 10% off your first purchase
IT'S NOT JUST
TEA

, IT'S A LIFESTYLE