Our Teami Soothe Facial Oil is infused with lavender, sage and blue tansy oil to provide deep calming sensation to the skin. Oils are a pure form of moisturizer that seamlessly absorbs into the deeper layers of your skin leaving it soft, nourished and glowing! Perfect for all skin types.
The ingredients in Teami Soothe have been shown to:
Lavender Flower - not only boosts potent anti-inflammatory properties but is also ultra soothing for skin with a therapeutic scent. 
White Sage Leaf - one of nature's best-kept secrets, sage is rich in antioxidants, calcium and vitamin A which are all beneficial for even, glowing skin complexion.
Blue Tansy Essential Oil - originating from the plant Tanacetum Annuum, blue tansy is well-known for encouraging relaxation, reducing tension and soothing properties.
Made with 100% pure plant extracts and natural mineral ingredients, you will not find any harmful fillers, preservatives or chemicals added. We uniquely formulated our gorgeous blue potion oil to aid in protecting and rejuvenating your skin.
Teami Soothe Facial Oil seamlessly absorbs into skin and is perfect for morning or night time application. 
Caprylic / capric triglycerides, Fractionated Coconut Oil, Camellia Seed Oil, Jojoba Oil, Lavender Essential Oil, Vitamin E, Blue Tansy Essential Oil, Organic Lavender Flowers & White Sage Leaves
Use the dropper to apply 3-4 drops into the palm of your hand or directly onto your skin. Rub the oil together to warm it up and apply to your skin in circular motions. Use oils in the morning before you put on makeup or before bed. Our oils absorb into the skin and leave it protected all day long.
Teami Tip: Skincare should be kept simple. Our Teami Soothe can replace many beauty products you have in your skincare cabinet. Of course, this is 100% your choice - but we suggest trying to use this product instead of a daily moisturizer, as it has worked wonders for our skin!
Due to the all-natural ingredients in this product, change in color and texture may appear over time. This does not lessen the effectiveness of the product. For best results, keep out of hot or fluctuating temperatures. If you are allergic to any herbs or botanicals consult a doctor before use and patch test. This product has a 24-month shelf life.
These statements have not been evaluated by the Food and Drug Administration. This product is not intended to diagnose, treat, cure, or prevent any disease.
Customer Reviews
Sorry there are no reviews for your selected category yet.
Skin Concerns:
Acne, Anti-aging, Dark spots, Dryness, Dullness, Pores, Sensitivity
Wow 🤩
So I will start by saying that I know none of these products are meant heal/cure any health problems I/we may have but I had to tell everyone again what the combo of the soothe and repair oil and how much it's helped my husband and I! My husband had a terrible fungus on his foot from wearing work boots (he's an A-EMT) and works very long hours, and he's also a kidney transplant patient so he can't take any oral medications or use any topical OTC medications due to that. I grabbed my soothe oil and used that to begin with when it was at its worst then when the redness and irritation was beginning to go away, I started using the repair oil on it! It worked like a CHARM🙌🏻! Well now I somehow got this foot fungus😳 I don't know if I somehow got it from him but I followed the same steps on myself and I can personally tell you (my husband agreed) that the soothe oil takes away any burning or discomfort from the fungus (I felt absolutely zero pain or discomfort!) and the repair to cleared it up COMPLETELY🙌🏻!!! I'm hoping if there's any transplant patients or
immunocompromised patients on the site with this issue or any similar skin irritations that you will see this! And our story can help you😊
Happy Fall Everyone!!
Skin Concerns:
Anti-aging, Dark spots, Dryness, Dullness, Sensitivity
Best Cuticle and nail serum
I know this oil was made for skincare, but I am using all around!
Nails can get pretty beat up and neglected in our daily lives.
Some people chew them, some use them as tools (as mini scratchers, scrapers, screwdrivers, picks, etc), and some take no notice of them at all.
I know I was not talking care for my fingernails & cuticles, wearing gloved all day, rubbing alcohol... That is why I love @teamiblends Soothe Oil Tea infused oil that I am currently using as a Cuticle & Nail Serum.
.
Tip:
Use it twice a day 3 times per week and see the difference for yourself!
Essential oils and vitamin E can bring TLC to your fingernails and improve their overall health.
You can spend money on manicures and have someone else care for your nails and make them pretty, but I personally like to treat them so they can grow strong and healthy 💙
Skin Concerns:
Acne, Dark spots, Dryness, Dullness, Pores, Sensitivity
Beautiful product!
I love this product a lot! I really felt like it kept my break outs down and made my skin feel nice and plump! The little flowers and herbs in the bottom is a nice added touch!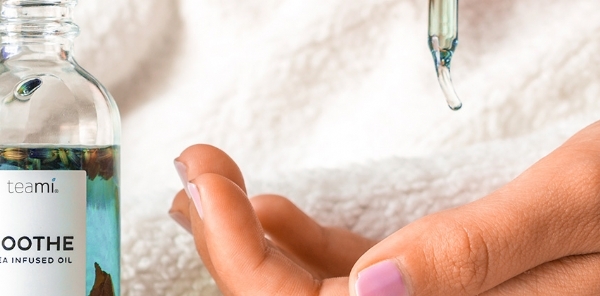 Subscribe to our Newsletter
Subscribe to our newsletter and get 10% off your first purchase
IT'S NOT JUST
TEA

, IT'S A LIFESTYLE