Top 10 Products to Store in a Skincare Fridge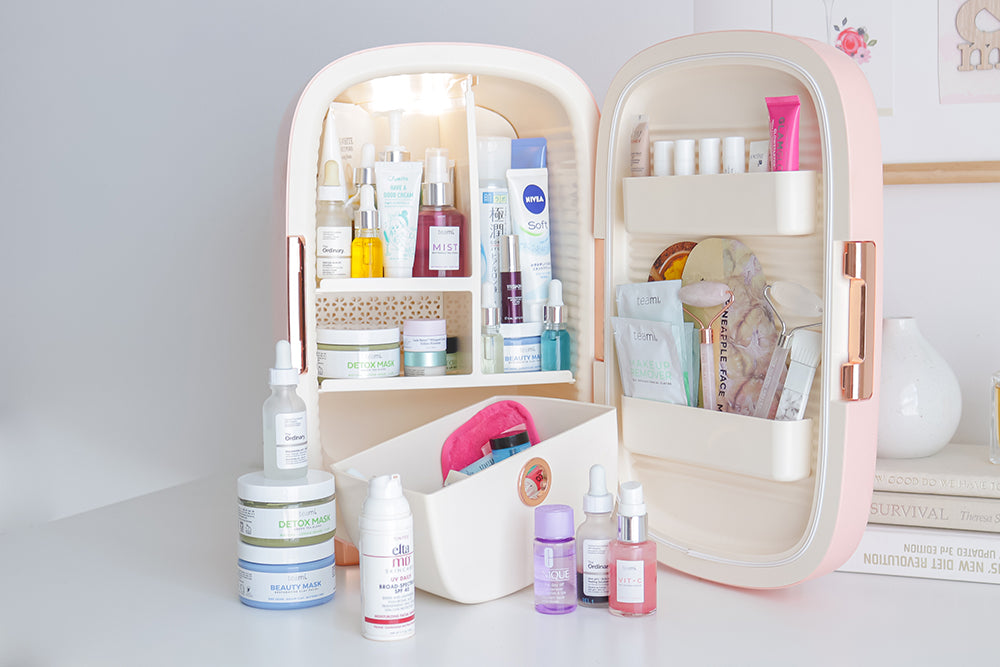 Did you know that storing certain beauty products in a skincare fridge can keep them fresh for a longer period of time? A beauty fridge will help you get more bang for your hard-earned buck, but it also has skincare benefits, too! Natural products are more sensitive to light and heat compared to products that contain more preservatives. Storing natural cosmetics and skincare products in a fridge helps preserve the integrity of active ingredients.  Here are the ten best products to store in your skincare fridge to keep them potent and fresh.
1. Facial serums
Skin serums are designed to deliver skin-loving nutrients in high concentrations. To protect the nutritional integrity of these active nutrients, storing your serum in the fridge is recommended. Your serum will last longer and the ingredients will remain active for a longer period of time. This is especially true for Vitamin C, which tends to oxidize and turn brown faster than other active nutrients. So if Teami Hibiscus Infused Vitamin C Serum is a staple in your routine, it might be time for a skincare fridge.
2. Eye creams
The skin around your eyes is the thinnest skin on your body. Because of this, you may notice it is more prone to showing issues such as puffiness, lines, and dark circles. Storing eye cream in a skincare fridge helps it not only last longer, but the cooling sensation will reduce puffiness and brighten a tired appearance.
3. Moisturizers
Many believe a good moisturizer is the foundation of a healthy skincare routine. In addition to keeping your skin soft, supple, and sun-protected (if using a moisturizer with SPF), moisturizer helps maintain the integrity of your skin's outermost layer and keeps the microbiome healthy. Keeping your moisturizer in a skincare fridge helps the small blood vessels in the face constrict, helping to reduce redness.
4. Sheet masks
Sheet masks, especially gel-based sheet masks, help soothe inflamed and irritated skin. Storing them in a skincare fridge amplifies the soothing sensation by cooling and calming your skin. This is especially refreshing as a post-workout remedy when skin is flushed and warm or after a beauty treatment (such as a facial).
5. Facial mists
Face mists are a little slice of luxury, and you can kick it up a notch by storing your favorite face mist in a skincare fridge. Face mists, such as Teami Butterfly Pea Mist Toner, deliver a quick burst of nutrients to cleanse and tone the skin. Similar to storing a gel mask in the fridge, the cooling sensation is soothing on inflamed skin after a workout or beauty treatment. A chilled facial mist also provides temporary relief for those with sensitive skin who are prone to redness and skin discomfort from issues such as acne.
6. Face toners
Toners help tighten pores and remove impurities from the skin. When applied cold, toners are even more effective and help reduce redness and puffiness. Plus, when you store your toner in a skincare fridge, it will last longer!
7. Facial tools
Facial tools, such as gua sha stones and jade rollers, continue to grow in popularity. These tools help relax and condition the muscles of the face while encouraging lymphatic drainage and increasing circulation. They also help smooth out wrinkles and help minimize signs of aging. Massaging your face with a cool facial tool soothes skin and reduces puffiness. Imagine yourself de-stressing with the Teami Clear Quartz Facial Roller after storing it in your skincare fridge!
8. Perfume
You probably know that storing perfume in a dark and dry place is important. It is also important that this dark place is cool. That's why many people store their perfumes in a skincare fridge. Perfume needs to be protected from light, water, and humidity to protect the complex scent molecules on the inside and avoid chemical changes. Storing perfume in a skincare fridge also helps keep the temperature stable, so you can keep your perfume smelling the same as the day you purchased it!
9. Liquid Makeup
Most liquid makeup usually comes in clear packaging that helps you see the color of the product, and it has a short shelf life compared to powder products. Unfortunately, the clear packaging allows for more sunlight to hit your product, accelerating oxidation and product aging. Keeping liquid cosmetics in a skincare fridge will protect the color and stability of liquid cosmetics.
10. Mascara
Mascara is a makeup item that needs to be replaced faster than other cosmetics. It is typically recommended to replace your mascara every three months. Furthermore, when mascara is exposed to heat from the sun or shower humidity as it hangs out on your bathroom sink, bacteria growth accelerates. Keeping it in a skincare fridge helps protect the integrity of your product and may help inhibit bacterial growth.
Upgrade Your Beauty Routine with the Teami Luxe Skincare Fridge
Increase the shelf life of your skincare and makeup products with the Teami Luxe Skincare Fridge!
Most skincare and makeup products are kept at room temperature, which is an average of 70-75 degrees. And if you store your products in a bathroom or live in a warm climate, they might be exposed to even warmer temperatures from shower humidity. The Teami Luxe Skincare Fridge keeps your makeup and skincare products chilled between 35-40 degrees to keep them fresh for a longer period of time!
Here are even more benefits of storing your products in the Teami Luxe Skincare Fridge:
Increases the shelf life and efficacy of natural skincare products
Preserves skincare freshness
Reduces the appearance of skin puffiness by applying chilled skincare products
Rejuvenates and revitalizes the complexion
Perfect for serums, eye creams, moisturizers, oils, toners, face masks, makeup, facial rollers, gua sha stones and more
What NOT to store in your Teami Luxe Skincare Fridge
Although there are many items that can be stored safely in the Teami Luxe Skincare Fridge, certain items should not be stored in such a cool place. Clay masks, like the Teami Beauty Mask, do not need to be stored in your skincare fridge because cooler temperatures can make them harden.
Plus, facial oils such as the Teami Soothe Facial Oil or Teami Glow Facial Oil, don't need to be stored in a cool place. Some oils (such as coconut oil or Moroccan oil) may turn into solids when stored in a skincare fridge.
The best part about using a skincare fridge is that what you decide to store in your skincare fridge is up to you! Customize it, and make it work for your specialized beauty and skincare routine.
One more thing: we want to see what's in your Teami fridge! Give us a tour on Instagram and use the hashtag #thankyouteami!
Love,
Adi Arezzini | @adiarezzini
Co-Founder + CEO, Teami Blends
Certified Holistic Nutrition Coach
---
Enjoy Chilled Skincare with the Teami Luxe Skincare Fridge
Subscribe to our Newsletter
Subscribe to our newsletter and get 10% off your first purchase
IT'S NOT JUST
TEA

, IT'S A LIFESTYLE