Our all-natural toning mist infused with aloe vera, witch hazel, and our very own butterfly tea to revitalize & rejuvenate your complexion all day long!
This non-stripping, holistic formula will leave your complexion feeling soft, revitalized, and incredibly refreshed. There are ZERO dyes, chemicals, or preservatives in this toner- making it suitable for all skin types, even sensitive!
Used as the second step in your skincare routine, applying a natural toner can help minimize the appearance of pores, reduce build up of oils and dirt, and balance the pH levels of your skin- for a more even complexion. 
Cruelty-Free, Vegan, made with Organic ingredients and hand - made in small batches, right here in Florida! Take a deep exhale knowing you can trust where your skincare products are created, formulated and made! You can even inhale the beautiful scent of this toner for a quick relaxation session!
Butterfly Tea, Witch Hazel & Aloe Vera
Use it before makeup application
On a cotton pad to wipe over skin
To set makeup
Throughout the day for a refresher
Whenever you want!
Customer Reviews
Sorry there are no reviews for your selected category yet.
Skin Concerns:
Anti-aging, Pores
Love it, but.....
I was excited to get this product as I love Teami as a brand and have used quite a bit of their products. I like using the toner but would have loved it if the sprayer must was finer and not so aggressive, also the beautiful color faded within a week, it went from the pretty purple/blue to a light brown hue...not pretty. I contacted customer service and was told that the efficacy of the toner was still good 🤷🏽‍♀️🤷🏽‍♀️🤞🏽
Skin Concerns:
Anti-aging, Dullness, Sensitivity
Teami Butterfly mist toner
I love this toner! It has a great scent, light and refreshing!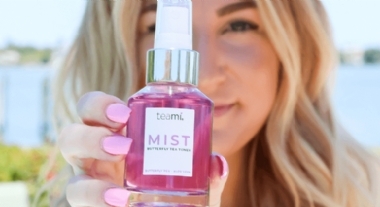 Frequently Asked Questions
Subscribe to our Newsletter
Subscribe to our newsletter and get 10% off your first purchase
IT'S NOT JUST
TEA

, IT'S A LIFESTYLE