5 Reasons You Need a Facial Roller in Your Skincare Routine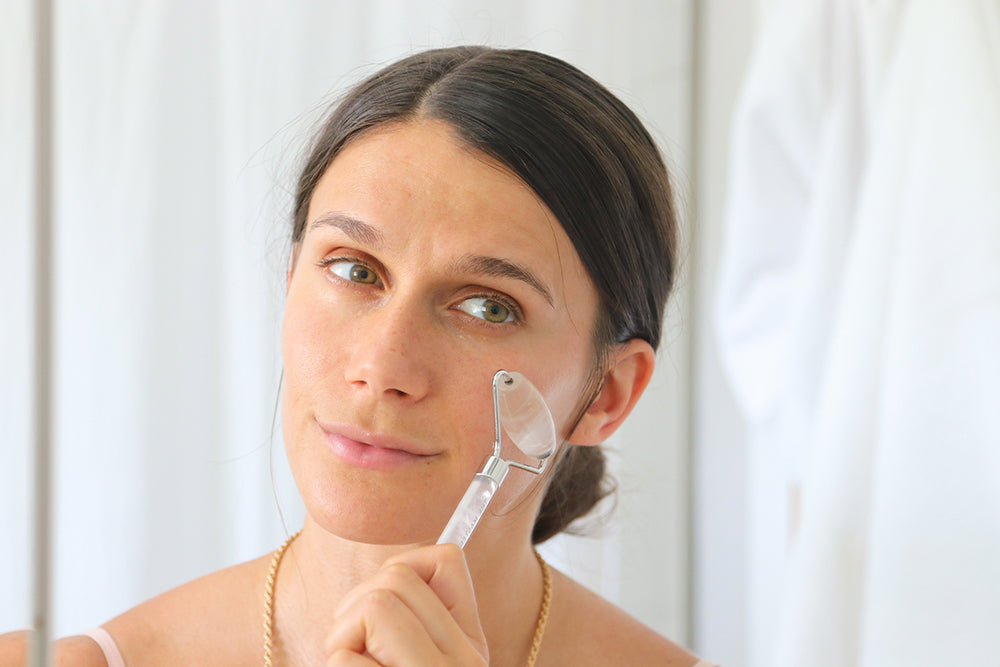 We aren't always one to jump on trends, but when we started using this revolutionary skincare tool, it seriously changed our skincare game! Every year, there's a new beauty trend or tool you see everywhere - and recently, the crystal facial rollers made their debut! Unlike most of these trends, this skincare tool is bursting with benefits and here to stay! A facial roller allows you to massage your complexion for the ultimate facial ritual. This multifaceted tool is the perfect way to apply your moisturizer, serums, and oils to relax, rejuvenate, and calm your complexion!
Not only is this a beauty tool, but also has a powerful side to it - most of them being made with special crystals infused with powerful healing properties! With so many different crystals to choose from, we're giving you a look into the healing properties behind them as well to see what fits into your life best! Here's our top 5 reasons you need to add one of these into your everyday routine!
1. Penetrate products deeper into the skin for better absorption
Do your products ever feel like they just aren't going into your skin - leaving you waiting for it to dry before applying products? After applying your facial oil, serums, or moisturizer you can grab your facial oil and roll gently upwards all over your face. Your face instantly feels soft and supple - no more feeling of residue! You can immediately follow it with makeup or your other skincare products.
2. Helps Relieve Stress and Tension
Anyone else have those days where you can literally feel stress in your body? Facial tension is a real thing - being a natural occurrence in your body in response to emotional or physical stress. This can result in pains, headaches, and overall effect how you function. By gently rolling your Facial Roller all over your face, focusing on your temple, you can feel refreshed and relieved as soon as the tension strikes. We love to keep our roller in our purse - you can always use the roller on its own!
3. Ultimate Facial Massage
Speaking of using it on its own, Facial Rollers are like an ultimate mini massage! Make it a point to make it part of your daily routine to give your face a little extra love. Be sure to flip it and use the small end to do under eyes and around the mouth area to hit every point!
4. Calm Your Complexion
Skin is the largest organ in your body and absorbs everything from dirt, oil, pollution, etc.! It can seriously be affected by these toxins causing flare ups, breakouts, and redness. Keeping a consistent skincare routine and incorporating your roller can help prevent these issues and calm your complexion! An especially beneficial way to use your Facial Roller is to keep it in a Skincare Fridge and use it cold. The cold will calm any inflammation and leave your skin feeling refreshed. 
5. Powerful Crystal Infusion
One of the components that makes these Facial Rollers so unique is that they're made from crystals. If you aren't familiar with the meaning behind crystals - different kinds each have different powerful healing properties. When looking for a facial roller, make sure they are made with genuine crystals to reap the benefits of them fully. We see most Facial Rollers using Jade or Rose Quartz - often not 100% pure.
Jade is known to promote love and good luck.
Rose quartz represents inner peace
Clear Quartz is a unique crystal that is known as 'the master healer'. It represents healing and pure intentions! It is the most powerful crystal of all - so we knew we had to make our roller with this stone. It makes our roller one of the only few to use this stone!
So what are you waiting for? This skincare tool is something so simple to add to your everyday routine to get the most out of your skincare, especially when you use all-natural skincare to promote real, genuine rejuvenation! That's why we created our newest addition to the Teami family, the Clear Quartz Facial Roller! It pairs perfectly with all your favorite skincare products and is great for those DIY spa nights!
Try out our unique Clear Quartz Facial Roller and let us know what benefits you see from it! 

Love,
Adi Arezzini | @adiarezzini
Co-Founder + CEO, Teami Blends
Certified Holistic Nutrition Coach
---
Discover Our Natural Skincare
Subscribe to our Newsletter
Subscribe to our newsletter and get 10% off your first purchase
IT'S NOT JUST
TEA

, IT'S A LIFESTYLE