Calling all skincare lovers! Your friends and family are going to fall in love when they get our vegan facial oils! A limited-edition set of 3 Oils, each one specifically targeting unique skincare needs. What you put on your skin matters, that's why we use only natural, organic, plant-based ingredients and ensure that all of our products are cruelty-free.
Includes:
Teami Soothe: Infused with Lavender Flower, White Sage Leaf, and Blue Tansy, the ingredients in Teami Soothe have been shown to purify the skin of redness, reduce inflammation, relax facial tension and soothe irritated skin.
Teami Repair: Infused with Chamomile Flowers, the ingredients in Teami Repair have been shown to fade dark spots, protect skin from free radicals, decrease signs of scarring and brighten skin complexion.
Teami Glow: Infused with Rose Petals and Cinnamon Bark, the ingredients in Teami Glow have been shown to soften skin complexion, even skin tone, hydrate and plump skin and may reduce signs of aging.
Individual Price: $120.00
Set Price: $115.00
You save $5!
Teami Soothe:
Caprylic / capric triglycerides, Fractionated Coconut Oil, Camellia Seed Oil, Jojoba Oil, Lavender Essential Oil, Vitamin E, Blue Tansy Essential Oil, Organic Lavender Flowers & White Sage Leaves
Teami Repair:
Caprylic / capric triglycerides, Fractionated Coconut Oil, Camellia Seed Oil, Jojoba Oil, Seabuckthorn Fruit Oil, Vitamin E, Chamomile Botanical Essence & Chamomile Flowers.
Teami Glow:
Caprylic / capric triglycerides, Fractionated Coconut Oil, Camellia Seed Oil, Jojoba Oil, Organic Grapeseed Oil, White Tea & Floral Botanical Essence, Vitamin E, Rose Buds & Petals & Cinnamon Sticks
Use the dropper to apply 3-4 drops into the palm of your hand or directly onto skin. Rub the oil together to warm it up and apply to skin in circular motions. Use oils in the morning before you put on makeup or before bed. Our oils absorb into the skin and leave it protected all day long.
Due to the all-natural ingredients in this product, change in color and texture may appear over time. This does not lessen the effectiveness of the product. For best results, keep out of hot or fluctuating temperatures. If you are allergic to any herbs or botanicals consult a doctor before use and patch test. This product has a 24-month shelf life.
These statements have not been evaluated by the Food and Drug Administration. This product is not intended to diagnose, treat, cure, or prevent any disease.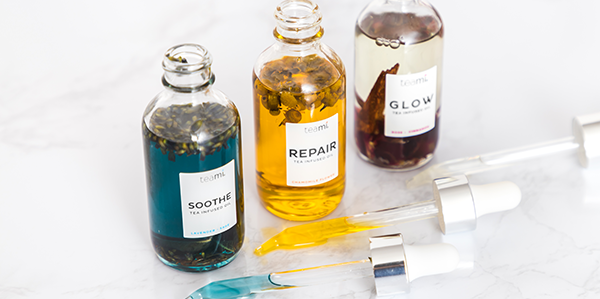 My face is back!
I suffer from the autoimmune disease psoriasis. About a year ago the skin issues associated with the condition began to encroach upon my face. What a nightmare! There is nothing you can do to hide it there. The problem was causing redness and dry scales to appear on my forehead and eyelids. When I found the oils it was a godsend! I use both Soothe and Repair. Soothe is my favorite! After washing my face I apply the oil. The condition is still there but almost invisible now. The oils take care of the dry patches for over 12 hours, and Soothe really cuts down on the redness caused by inflammation. These products are amazing!!!
Skin Concerns:
Acne, Dark spots
Love it!!!
My face feels so smooth 😍 ☺️ will definitely be buying again
Subscribe to our Newsletter
Subscribe to our newsletter and get 10% off your first purchase
IT'S NOT JUST
TEA

, IT'S A LIFESTYLE