Our super skin brightening Green Tea Facial Scrub will be your new skincare bff! Made with organic matcha green tea, lemongrass and sugar, we formulated this natural exfoliator to be gentle enough for all skin types and buff away unwanted dead skin, without stripping your skin of its' natural oils. 
Multi-use: Use as a morning facial cleanser, makeup remover or in the shower for a face or body scrub! 
Superfood ingredients:
Matcha Green Tea 
Lemongrass 
Sugar 
Apply to damp skin using circular motions. Watch the cleansing scrub transform into a creamy lather as the oils absorb and begin hydrate and nourish, leaving the complexion smooth, soft and bright!
Our Green Tea Facial Scrub is Cruelty-Free, Vegan, made with Organic ingredients and hand - prepared in small batches, right here in Florida lab! Take a deep exhale knowing you can trust where your skincare products are created, formulated and made! 
Sucrose (Cane Sugar), Glycerin (Vegetable Based), Aqua (Distilled Water), Organic Camellia Sinensis (Matcha Green Tea), Sorbitol, Sodium Cocoyl Isethionate, Disodium Lauryl Sulfosuccinate, Prunus Dulcis (Sweet Almond Oil), Sodium Chloride, Phenoxyethanol, Green Tea & Lemongrass Botanical Essence & Chromium Oxide.
Dampen face slightly with water. With fingertips, use small dollop in a circular fashion on face and/or body for gentle exfoliation. Simply wash off with water and pat skin dry. Use 2-4 times weekly, as needed. Best applied morning and at night.
These statements have not been evaluated by the Food and Drug Administration. This product is not intended to diagnose, treat, cure, or prevent any disease.
Customer Reviews
Sorry there are no reviews for your selected category yet.
Skin Concerns:
Anti-aging, Dark spots, Dryness, Dullness, Pores, Sensitivity
Amazing
This is an amazing scrub, I like the thick texture I can feel my skin so soft after I rinse. I recommend this to everyone.
Skin Concerns:
Acne, Anti-aging, Pores
Love this!!
This face wash made a big difference in my skin the first time I used it. It helps with my acne. I have my kids use it as well, as it helps with their break outs too.
Skin Concerns:
Acne, Oiliness, Pores, Sensitivity
Worth it!
Let's start off by saying I was skeptical at first, yet I still went ahead and gave it chance.
I have very mild acne but I suffer more from Fungal acne on my forehead due to excessive oily pores, I tried everything to make it go away or keep it under control , I did the Aztec clay mask 7 day challenge. it was working but my skin is sensitive , so by the 5 day my face was so dry and irritated that I began peeling so I stopped.
I started using the Face scrub , it's recommended 2-3 days a week, I use it for 5 .
MY FACE IS NOW MUCH MORE BRIGHT AND CLEAR , MY FUNGAL ACNE IS ALMOST ALL GONE!!!!
I wish a had a before and after :(!!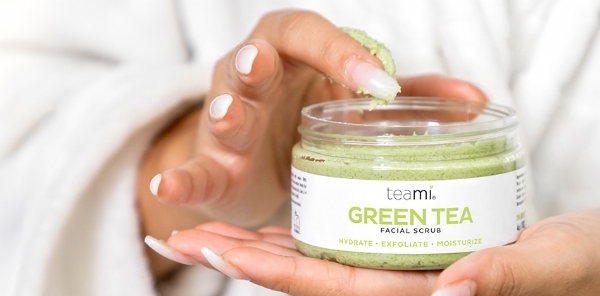 Frequently Asked Questions
Subscribe to our Newsletter
Subscribe to our newsletter and get 10% off your first purchase
IT'S NOT JUST
TEA

, IT'S A LIFESTYLE