Spring Detox Immunity Kit
Spring Detox Immunity Kit
Kickstart your healthy lifestyle this Spring starting with a gut Detox + Reset! Invest in your inner wellness this season to feel beautiful, glowing, and confident from the inside, out!
Our 30 Day Detox Program will aid in a full gut reset which can help control bloating, support digestive health and improve natural energy!
Add our Superfood Greens daily to get 16 superfoods full of nutrient-dense vitamins your body needs!
Consume our Beauty Butterfly Collagen for 10 grams of premium grade marine collagen for glowing hair, skin, and nails.
Spring Detox Immunity Kit Includes:
30 Day Detox Pack
Greens Superfood Powder
Beauty Butterfly Collagen
Teami BPA Free Tumbler, 20 oz - choose your color
Loose Leaf Tea Infuser - choose your color
Regular Price: $161.45
Bundle Price: $154.99
You Save: $6.45!
Skinny Tea:
Oolong, Yerba Mate, Lime leaf Extract, Lotus leaf, Ginger Root & Rhubarb Root.
Colon Cleanse Tea:
Senna Leaf & Root, Hawthorn Berry Extract, Lotus Leaf, Lime Leaf & Extract, Psyllium Husk Seed, Phaseolus Calcaratus Seed, Rhubarb Root, Poria Cocos Stem Bark &Valerian Root.
Greens Superfood:
Ceremonial Grade Matcha Powder, Wheatgrass, Spirulina, Chlorella, Chlorophyll, Spinach Leaf Powder, Broccoli Powder, Acai Berry, Kale Powder, Kelp Powder, Rocket Leaf Powder, Parsley Powder, Celery Powder, Garcinia Cambogia Extract, Dandelion Extract & Grape Seed Extract

Beauty Butterfly Collagen:

Wild Caught Marine Collagen from Codfish, Butterfly Pea Flower, Acai Berry
1) Drink your Teami Skinny every morning, recommended before breakfast *Forgot to drink your Teami Skinny in the morning? Don't Stress! Just drink it as early as you can!
2) Drink your Teami Colon every other night before bed *Steep for 1-5 minutes in hot water then remove from mug.  Gradually increase your steep time throughout your 30 Day Detox Program - you can go all the way up to 30 minutes!
3) Beauty Butterfly Collagen is best used as a smoothie superfood supplement! Add 1 scoop to your favorite smoothie or smoothie bowl and enjoy the collagen boost!
4) Drink it on its own with water or add it to a smoothie, juice, oatmeal, or even a shake for a supergreen boost every day!!!
Recommended for adults only. If you are taking prescription medication, or are pregnant or nursing, consult your health care provider prior to using this product. Every individual has their own medical and physical conditions, therefore we can not foresee any adverse reactions to our All-Natural blends.
Contains plant-based caffeine.
Results not guaranteed and may vary from person to person.
These statements have not been evaluated by the Food and Drug Administration. This product is not intended to diagnose, treat, cure, or prevent any disease.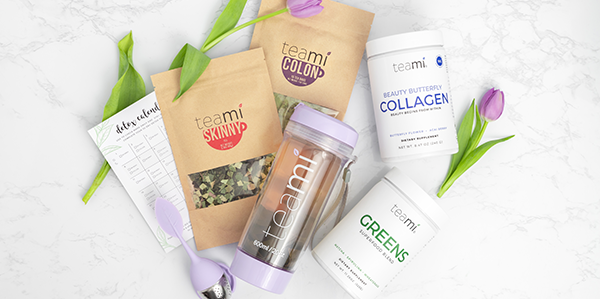 Love this stuff ❣️
I am back to detox I was off of this awesome stuff for a while not sure why but it was a true test ..I feel bloated and I know I need this inflammation is crazy, it helps w cravings too !
It works
Been using it on and off for a year now and Boy I can say it does work!
Subscribe to our Newsletter
Subscribe to our newsletter and get 10% off your first purchase
IT'S NOT JUST
TEA

, IT'S A LIFESTYLE