Spring Skincare Essentials Kit
Spring Skincare Essentials Kit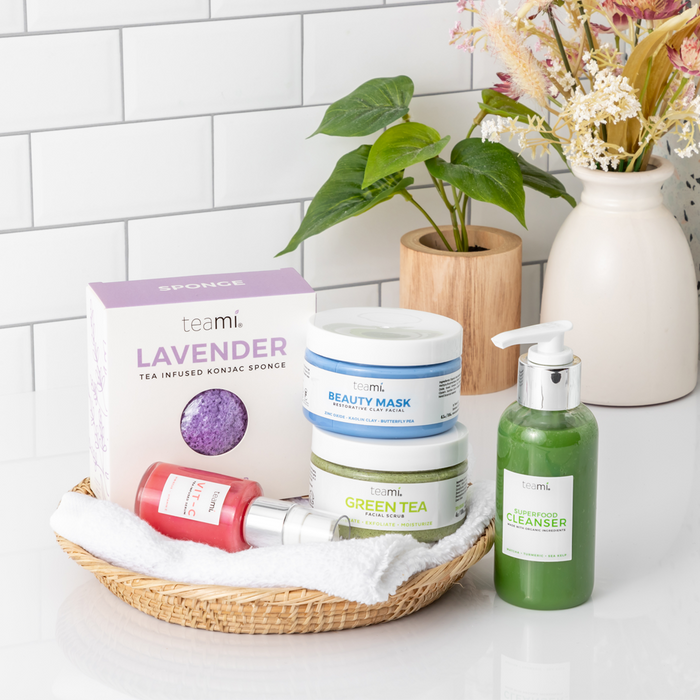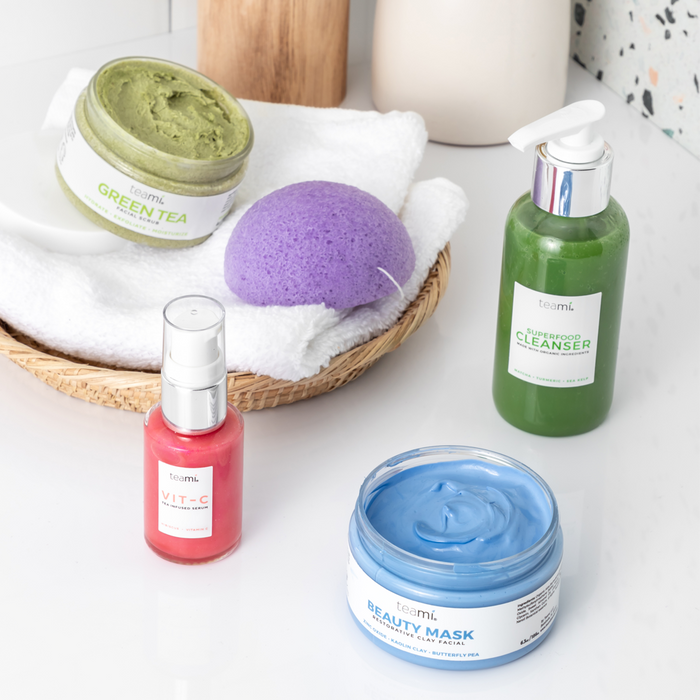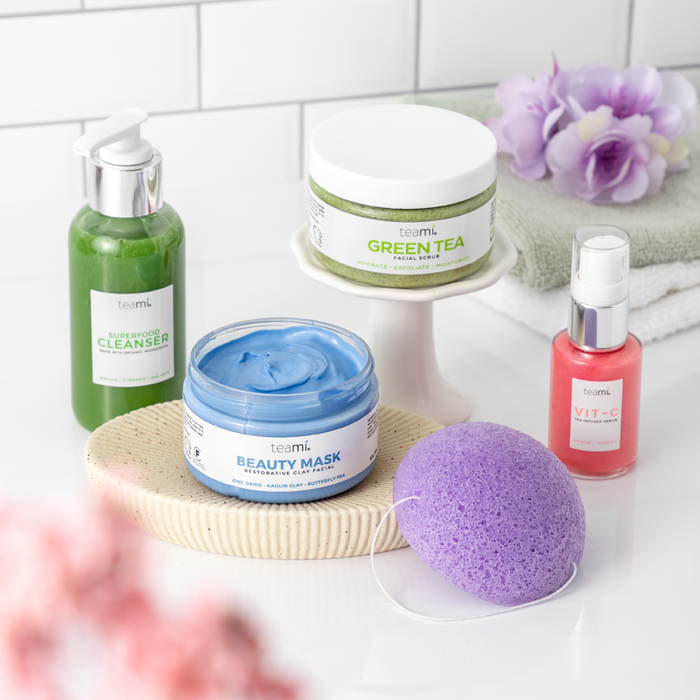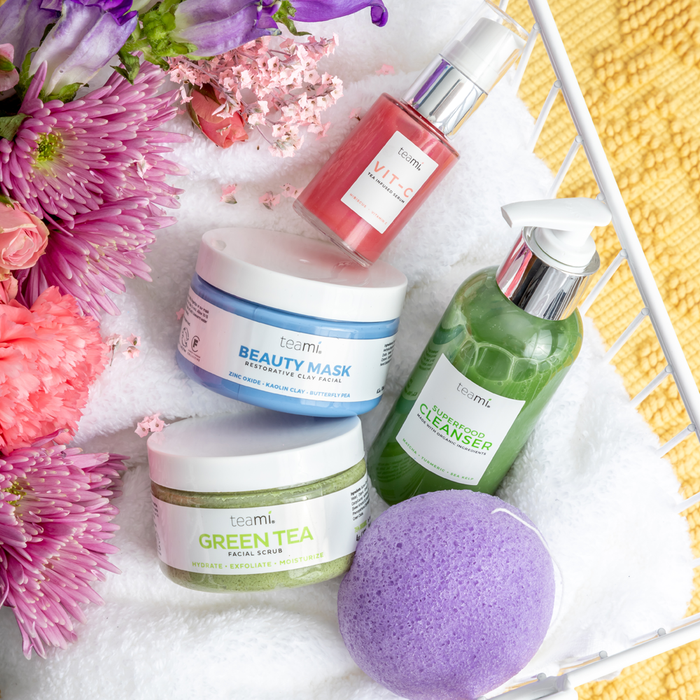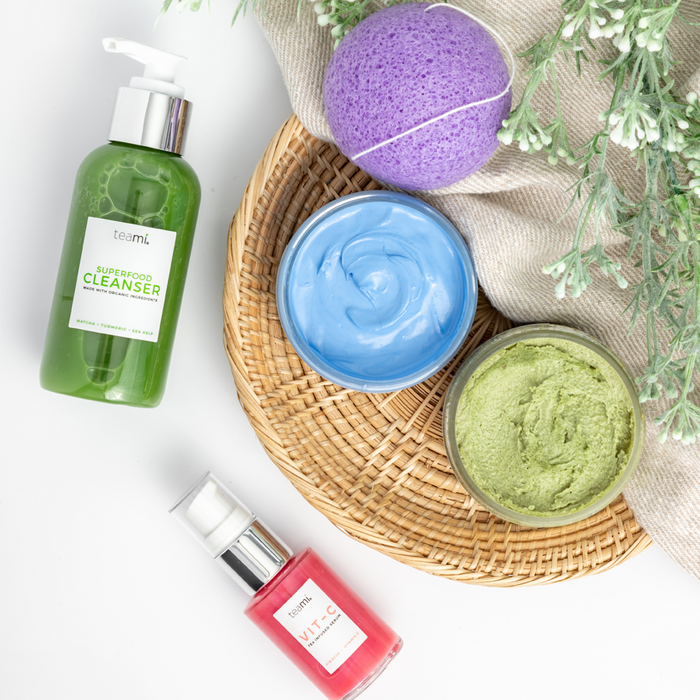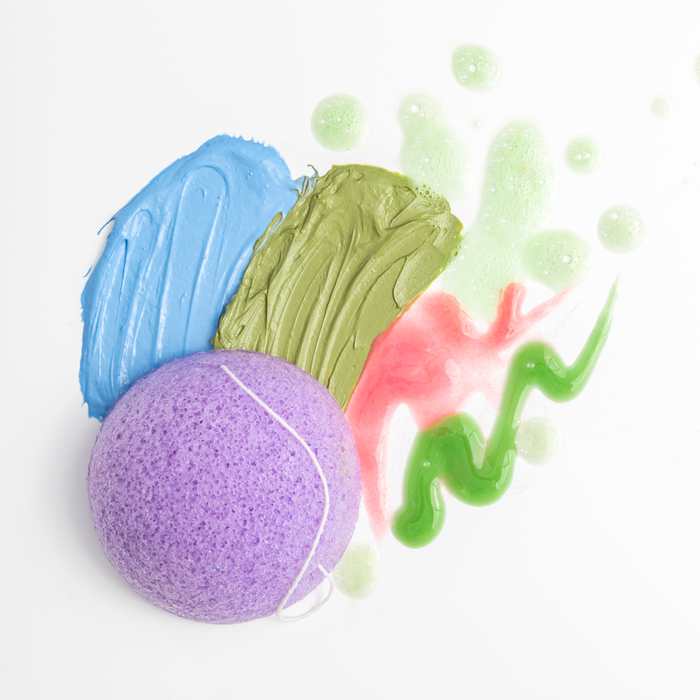 Transition your skincare routine to fit the Spring season! The cold and frigid weather that left your skin dry is over and warmer days are ahead of you. (more time spent outside, adventuring and making memories!)
The biggest change from Winter to Spring is the importance of EXFOLIATION. Skin can be dry, flaky, and dull during the Winter.  Exfoliating your face removes dead surface skin cells and reveals a  fresher layer of beautiful skin. 
Our Spring Skincare Essentials Kit has the natural beauty products we recommend to help you achieve radiant, healthy skin this Spring! 
Cleanse + Exfoliate skin to remove dead skin cells, leaving your complexion fresh!

Hydrate + plump skin by applying our potent collagen VIT-C Serum

Correct + rebalance with our all-natural revitalizing butterfly beauty mask!
Includes:
Superfood Facial Cleanser 

Green Tea Facial Scrub

Hibiscus, Collagen Vitamin-C Serum

Butterfly Beauty Mask 

Konjac Sponge

- Lavender 
Regular Price: $144.96
Spring Skincare Essentials Kit: $132.26
You save $14.70!
Green Tea Scrub:
Sucrose (Cane Sugar), Glycerin (Vegetable Based), Aqua (Distilled Water), Organic Camellia Sinensis (Matcha Green Tea), Sorbitol, Sodium Cocoyl Isethionate, Disodium Lauryl Sulfosuccinate, Prunus Dulcis (Sweet Almond Oil), Sodium Chloride, Phenoxyethanol, Green Tea & Lemongrass Botanical Essence & Chromium Oxide.
Superfood Cleanser:
Aloe Barbadensis Leaf Juice*, Cocamidopropyl Betaine, Decyl Glucoside, Propanediol Tapioca Starch, Xanthan Gum, Cellulose Gum, Chromium Oxide, Centipeda Cunninghamii (Cehami), Camellia Sinensis Leaf Powder* (Matcha Powder), Fucus Vesiculosus (Seaweed) Extract, Pyrus Malus (Apple) Fruit Extract, Glycerin and Water (Aqua) and Camellia Sinensis Leaf Extract, Glycerin and water and Macrocystis pyrifera (Sea Kelp) extract and phenoxyethanol, Glycerin and water and Chondrus Crispus (Irish moss) extract, Curcuma Longa (Turmeric) Root Powder*, Daucus Carota Sativa (Carrot) Seed Oil, Benzyl Alcohol (and) Salicylic Acid (and) Glycerin (and) Sorbic Acid, Phenoxyethanol (and) Ethylhexylglycerin
Hibiscus Infused Vit-C Serum:
Aqua (Water), Ascorbic Acid (Vitamin C), Cassia Angustifolia Seed Polysaccharide (Botanical Hyaluronic Acid), Kosher Vegetable Glycerin, Aloe Barbadensis Leaf Extract (Organic Aloe), Collagen Protein, Organic Hibiscus Sabdariffa Powder (Hibiscus Flower Powder), Methylsulfonylmethane (MSM), Camellia Sinensis Extract (Organic Green Tea), Simmondsia Chinensis Oil (Organic Jojoba), Hamamelis Virginiana Water (Witch Hazel), Centella Asiatica Extract (Organic Gotu Kola), Equisetum Arvense Extract (Horsetail), Taraxacum Officinale Extract (Dandelion), Organic Fucus Vesuculosus (Bladderwrack), Xanthan Gum, d-Alpha Tocopheryl Acetate (Vitamin E), Jasminum grandiflorum (Jasmine Essential Oil), Citrus Essential Oil Blend, Iron Oxide, Ethylhexylglycerin & Phenoxyethanol.
Beauty Mask, Restorative Clay Facial:
Organic Aloe Barbadensis Leaf Juice, Butterfly Pea Flower Extract, Methylsulfonylmethane (MSM), Kaolin Clay, Kosher Vegetable Glycerin, Zinc Oxide, Sweet Almond Oil, Ultramarine Blue, Phenoxyethanol, Ethylhexylglycerin, Xanthan Gum , d-Alpha Tocopheryl Acetate (Vitamin E), Cabernet & Neroli Botanical Essence
Tea Infused Konjac Sponge, Lavender:
Purified Water, Konjac Root Powder, Lavender Powder
To get a more in depth explanation on how to use each product that comes in our kit, please visit their own product pages! Here is the order in which you can use them!
Use your Superfood Cleanser with your Konjac Sponge to deeply cleanse your skin.
Exfoliate with our Green Tea Facial Scrub
Apply our Beauty Mask to rebalance & revitalize your skin complexion (do 2-3x a week)
Apply our Vit-C Serum to brighten, tighten and hydrate.
Follow up with your favorite moisturizer & oil.
Due to the all-natural ingredients in our products, change in color and texture may appear over time. This does not lessen the effectiveness of the product. For best results, keep out of hot or fluctuating temperatures. If you are allergic to any herbs or botanicals consult a doctor before use and patch test.
These statements have not been evaluated by the Food and Drug Administration. This product is not intended to diagnose, treat, cure, or prevent any disease.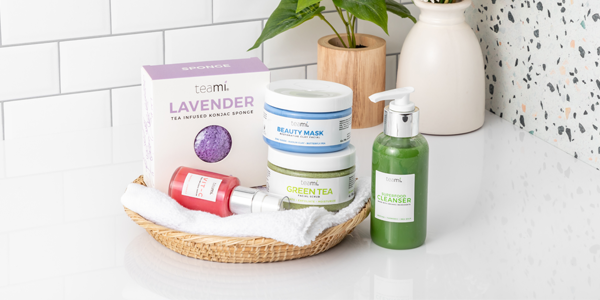 Skin Concerns:
Sensitivity
Spring Skincare Essentials Kit
Skin Concerns:
Dryness, Pores, Sensitivity
Loving these products so far
Love the way these products make my skin feel. Will definitely be purchasing again.
Skin Concerns:
Dark spots, Dryness, Dullness, Pores
Subscribe to our Newsletter
Subscribe to our newsletter and get 10% off your first purchase
IT'S NOT JUST
TEA

, IT'S A LIFESTYLE