Rose Quartz Facial Roller
Rose Quartz Facial Roller
Feel radiant, refreshed, and relaxed by using your new beauty tool - a Facial Roller!
Facial rollers help massage your face to relieve tension, reduce the appearance of puffiness and leave your skin feeling renewed!
This beautiful, natural crystal tool has a large and small stone that you gently roll over your face in an outwards direction for a relaxing facial massage. 
We chose to create our Facial Roller using Rose Quartz- known as "The Heart Stone". Rose Quartz is known for its motherly nurturing qualities, promoting compassion, beauty, and universal love. 
Beauty Tip: Store your Facial Roller in the fridge for an extra cooling effect.
Rose Quartz Stone
Apply a facial oil and warm up gua sha slightly by rubbing it between your hands. Sweep up neck, under the chin + jaw line, under cheekbones, middle of the forehead down the hairline and over the eyebrow.
Start from the bottom of your chin and roll upwards
Flip over to smaller side to roll under eyes and around nose
Use larger side to roll outward on forehead + temples
Roll each area 3-6 times minimum before moving on
Due to natural variations in stone, every Facial Roller tool is unique in pattern and color. The above statements have not been evaluated by the Food and Drug Administration. This item is not intended to diagnose, treat, cure, or prevent any disease.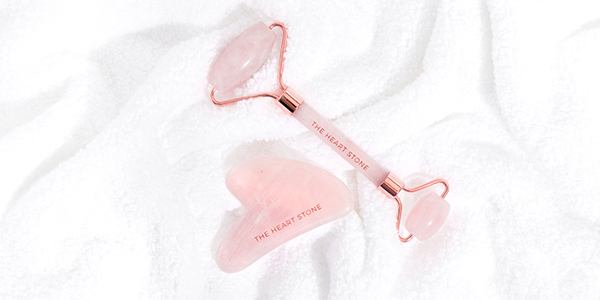 Wonderful
What a wonderful product! Feels so good on the skin , very relaxing sensation, and I love so much the rose quartz!
Subscribe to our Newsletter
Subscribe to our newsletter and get 10% off your first purchase
IT'S NOT JUST
TEA

, IT'S A LIFESTYLE