Say goodbye to dull, tired skin! Reveal your own beautiful, refreshed skin with our Mask Essentials.  
Detox your skin with our Green Tea Detox Mask and then smooth, hydrate, and plump it with our Beauty Mask.   

Includes:
Green Tea Detox Mask

Beauty Butterfly Mask


Mask Applicator
Regular Price: $84
Mask Essentials Kit: $79.99
You save $4!
Detox Mask
Aqua (Distilled Water), Bentonite Clay, Kaolin Clay, Organic Camellia Sinensis (Matcha Green Tea), Glycerin (Vegetable-based), Prunus Dulcis (Sweet Almond Oil), Organic Aloe Barbadensis Leaf, Tocopheryl Acetate (Vitamin E), Green Tea & Lemongrass Botanical Essence, Phenoxyethanol, Ethylhexylglycerin & Chromium Oxide.
Beauty Mask
Organic Aloe Barbadensis Leaf Juice, Butterfly Pea Flower Extract, Methylsulfonylmethane (MSM), Kaolin Clay, Kosher Vegetable Glycerin, Zinc Oxide, Sweet Almond Oil, Ultramarine Blue, Phenoxyethanol, Ethylhexylglycerin, Xanthan Gum , d-Alpha Tocopheryl Acetate (Vitamin E), Cabernet & Neroli Botanical Essence
Dampen face slightly with water. 

With fingertips, or our Mask Applicator Brush, apply a thin to medium layer on face & neck. 

Allow 10-15 minutes for the mask to dry. The mask will change from a dark green color to a lighter green, showing that it is dry and finished with the detoxification process.

Simply wash off with water and pat skin dry. 
Enjoy the fresh feeling of your detoxed skin! Use 1-4 times weekly, as needed. Best applied at night.
These statements have not been evaluated by the Food and Drug Administration. This product is not intended to diagnose, treat, cure, or prevent any disease.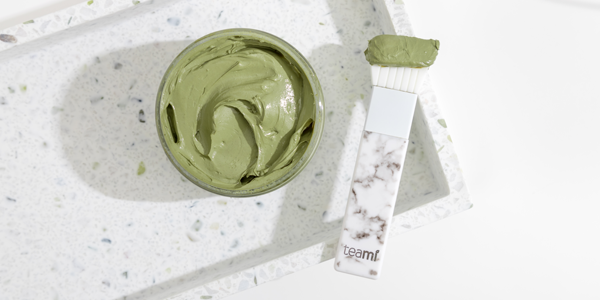 gentle mask
feels like it is doing what it is suppose to do
Skin Concerns:
Acne, Pores, Sensitivity
Relief
I live in the south and unfortunately caught poison sumac which spread like wild fire down my arms. With all the creams my doctor had prescribed, what I found worked the absolute best and gave me the most relief honestly wasn't the creams, but was the green tea detox mask. It helped to dry out the areas and I didn't itch! It was fabulous before as well with using it on my face.
Amazing products
Teami products has changed my life for good. They helped me combat acne and dark spots. As well cleaning my colon with the detox tea. I love every product an d I would definitely recommend it to anyone.
Subscribe to our Newsletter
Subscribe to our newsletter and get 10% off your first purchase
IT'S NOT JUST
TEA

, IT'S A LIFESTYLE