Ever feel like your brain has a million tabs open? Walk away, brew a cup of our Focus Tea Blend, and take things one tab at a time. Our Focus Tea Blend is super smooth and peppermint-y, with a hint of stevia sweetness for the perfect cup of focusing magic! No jitters or crashing- just sustainable energy all day long (exactly how we like it!)
Super Ingredients:
Yerba Mate: This green tea has been known to enhance alertness and increase reaction time*
Guayusa: A popular South American tea, it is famous for boosting energy levels*
Panax Ginseng: Also known as Asian ginseng, this herb contains compounds that give an invigorating effect when ingested*
Blends you can trust! We use premium hand-selected tea leaves to create our stunning blends – each targeted to help you live a healthier lifestyle!
20 servings per bag.
Fair Trade Yerba Mate Leaf, Fair Trade Guayausa Leaf, Peppermint Leaf, Assam Black Tea Leaf, Panax Ginseng, Guarana Seeds, Goji Berries, Stevia Leaf, Gingko Biloba Leaf, All-natural L-theanine Suntheanine & All-natural Tea Extract
Place tea bag in a mug or Teami Tumbler and add hot water! Allow 3-5 minutes to flavor.
Teami Tip! Our tea is already delicious, but you can always add honey, nectar or lemon as a natural sweeter if needed!
Recommended for adults only. If you are taking prescription medication, or are pregnant or nursing, consult your health care provider prior to using this product. Every individual has their own medical and physical conditions, therefore we can not foresee any adverse reactions to our All-Natural blends.
Contains plant-based caffeine.
Results not guaranteed and may vary from person to person.
These statements have not been evaluated by the Food and Drug Administration. This product is not intended to diagnose, treat, cure, or prevent any disease.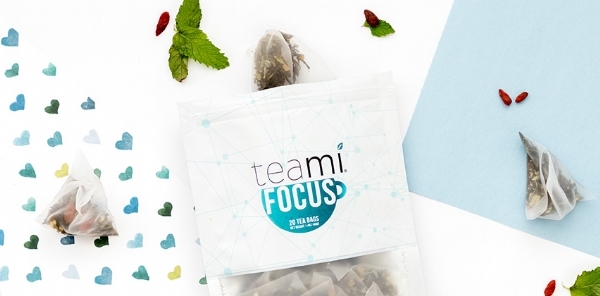 the best
Out of all the teas I love how much this tea has helped me through school. It has helped me get my mind in the game and concentrate in class. I was pretty bummed when I ran out and it was out of stock but when I saw it available I made sure I stocked up for a while. Please don't ever stop making this tea. I love it very much. Thank you Teami
Delicious
One of my favorite teas. Love the taste and drinking it during the mornings.
Settled my brain
I like how does this to my brain. The fact that it taste good, and also helps me focus my study at the same time. It really gave me mind steady and can't think of any other distractions. Loving it!
Subscribe to our Newsletter
Subscribe to our newsletter and get 10% off your first purchase
IT'S NOT JUST
TEA

, IT'S A LIFESTYLE