Having low energy can affect your productivity, mood and overall happiness. We created our Energy Tea Blend to ensure our communitea had a go-to that's 100% natural when feeling sluggish, tired or exhausted. Light and refreshing, this blend will get you back on your toes, ready to cross the next item on your to-do list. We know that you have a lot to get done in a day, and this beautiful blend will give you the liveliness you're looking for!
Super Ingredients:
Oolong: The combined qualities of green tea and black tea makes oolong an amazing invigorating blend
Goji Berries: An incredible superfood, goji berries have been known to improve energy and ability to focus*
Rhodiola Rosea: Known as golden root, people in Scandinavian countries have traditionally used this herb for increasing endurance and reducing fatigue*
Blends you can trust! We use premium hand-selected tea leaves to create our stunning blends – each targeted to help you live a healthier lifestyle!
30+ servings per bag.
Oolong, Yerba Mate, Goji Berry, Lemongrass, Peppermint Leaf, Rhodiola Rosea & Ginseng
Place 1 teaspoon of the blend in a mug or Teami Tumbler and add hot water! Allow 3-5 minutes to flavor.
Teami Tip! Our tea is already delicious, but you can always add honey, nectar or lemon as a natural sweeter if needed!
Recommended for adults only. If you are taking prescription medication, or are pregnant or nursing, consult your health care provider prior to using this product. Every individual has their own medical and physical conditions, therefore we can not foresee any adverse reactions to our All-Natural blends.
Contains plant-based caffeine.
Results not guaranteed and may vary from person to person.
These statements have not been evaluated by the Food and Drug Administration. This product is not intended to diagnose, treat, cure, or prevent any disease.
It really worked! I was surprised!
I struggle with chronic fatigue syndrome so there is much that truly gives me energy. I was really suprised by this blend! I'm thankful I took a chance on ordering it and it along with teami boost are both blends I will continue to both order!
BUY THIS TEA!! you body needs it (:
This tea is really the holy grail to maintaining a good amount of energy nearly all day long. I cant believe how it made me feel, definitely better than coffee or any other caffeine.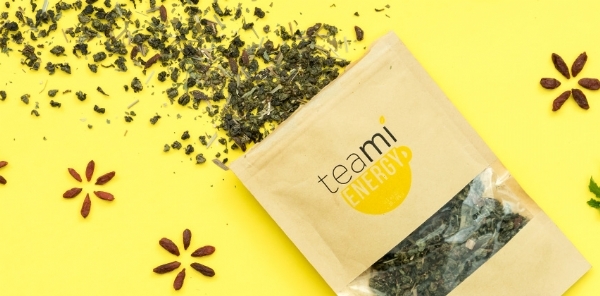 Subscribe to our Newsletter
Subscribe to our newsletter and get 10% off your first purchase
IT'S NOT JUST
TEA

, IT'S A LIFESTYLE