Beauty Benefits of Using a Skincare Fridge!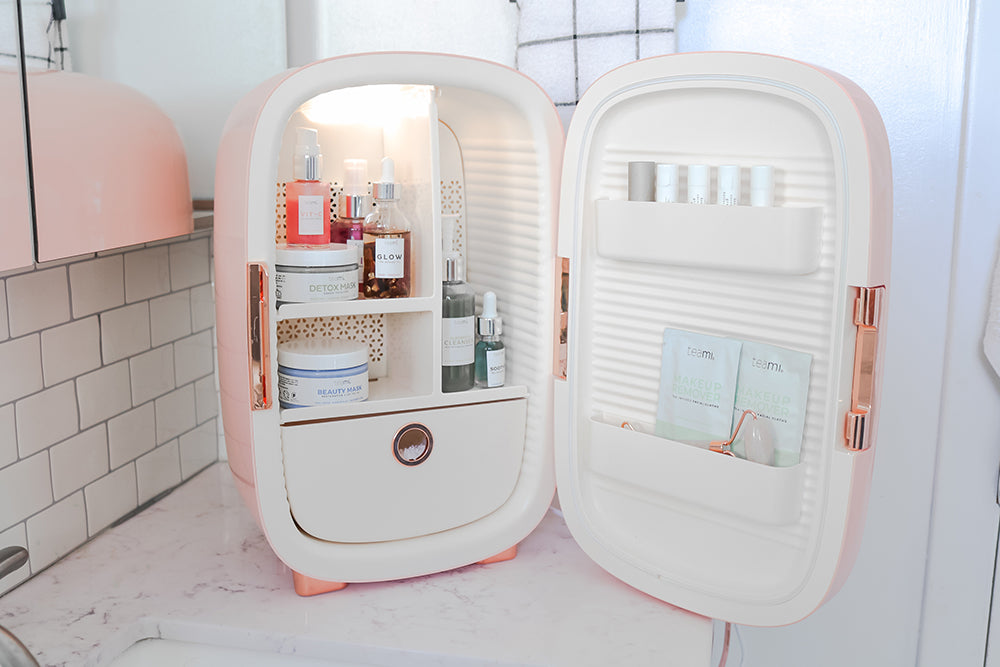 If you're not a fan of stashing your face cream next to a bottle of ketchup but want to keep your skincare cool, a beauty fridge is a must-have item that will amp up your daily routine. Beauty fridges not only take up a small amount of space, there are also some important and impressive benefits you will experience by storing products in a cool space. Some of these benefits might even surprise you! If you haven't already heard the beauty buzz about using a skincare fridge, read on to learn about why you should consider investing in one.  
Cold products last longer
If you have an extensive beauty routine that consists of both makeup and skincare, you have probably wondered, "How long will my products last?" The skincare and makeup products that we use are in a state of disintegration from the moment they are opened, and most natural products are sensitive to light and heat. Plus, liquid cosmetics and skincare (including balms and waxes) break down much more quickly than powder products. Storing products in a skincare fridge helps these products maintain their chemical structure and integrity for a longer period of time, helping minimize separation and scent changes. This is especially important for natural products with active ingredients such as Vitamin C. 
Cold products are calming 
Sensitive skin is often prone to redness, flaking, dryness, and sensitivity. This might sound all too familiar! Keeping your skincare products in a fridge helps calm skin upon application. Cold products help soothe discomfort and irritation that occur with skin issues such as acne. Cold skincare also works to depuff tired eyes and constrict the blood vessels under your skin, reducing redness. Plus, cool products are easier to apply because your pores will tighten up upon application.
Cool temps improve beauty tool performance
If you use beauty tools such as gua sha stones or stone rollers, a skincare fridge can help improve their performance. Besides feeling good, using a cool tool will help reduce puffiness more as the smoothing and rolling action minimizes the appearance of fine lines and wrinkles and reduces the appearance of pores, since cold temperatures constrict pores. A skincare tool such as the Teami Clear Quartz Facial Roller also helps products penetrate the skin better. 
What to store in your skincare fridge
Any product that you want to make last longer can be stored in your skincare fridge. This includes serums, eye creams, lipsticks, liquid makeup, masks, moisturizers, creams, toners, mists, cleansers, nail polish, and balms. Avoid storing clay masks in your fridge, because that makes them harden and dry out faster. Some oils, such as coconut oil, will also harden in a skincare fridge. 
Benefits of the Teami Luxe Skincare Fridge
The Teami Luxe Skincare Fridge is the perfect addition to your routine if you want to improve the effectiveness of your natural skincare and beauty products and make them last longer. Let's tour the features! 
1. More space 
If your counter is littered with jars and tubes of skincare and makeup, the Teami Luxe Skincare Fridge ups your organization game and makes it easy to find your favorite products in one spot. Plus, its generous 12-liter size ensures that you will not run out of space! There are three main shelves, two shelves on the door, and one beauty drawer, offering plenty of space to fit your lotions and potions. This also allows you to store bottles of many shapes and sizes. Plus, the LED beauty light helps you see exactly where everything is located. 
2. The perfect temperature
Most beauty products live at room temperature, which is typically 70-75 degrees or warmer if you live in a tropical climate. The Teami Luxe Skincare Fridge keeps your beauty products chilled between 35-40 degrees, so they are cold but not frozen. 
3. Amplified skin benefits 
Start your day with complexion-cooling skincare. Reduce the appearance of puffiness and redness and calm minor skin irritations. With cool products, you will feel refreshed and rejuvenated first thing in the morning! Plus, your skincare products and liquid cosmetics will have an extended shelf life! 
4. Sleek, Instagram-worthy design
Our new skincare fridge is sleek and not bulky. With a hidden exterior handle and rose gold accents, it will sit pretty on your vanity or at your desk at work! 
5. Easy-to-clean 
Cleaning the Teami Luxe Skincare Fridge can be done in no time at all. Simply use a damp cloth and mild liquid detergent to wipe off any dirt on the surface of the case, use a damp cloth with warm water to wipe the inside of the fridge. 
What's in your fridge?
We know you are going to love your new Teami Luxe Skincare Fridge, and we want to see what is inside of it! Is it jam-packed with your favorite natural Teami skincare? Do you have it at work loaded up with your favorite healthy snacks? Show us on Instagram and use the hashtag #thankyouteami so we can see how you are using it!
Love,
Adi Arezzini | @adiarezzini
Co-Founder + CEO, Teami Blends
Certified Holistic Nutrition Coach
---
Keep Your Skincare Chilled with the Teami Luxe Skincare Fridge
Subscribe to our Newsletter
Subscribe to our newsletter and get 10% off your first purchase
IT'S NOT JUST
TEA

, IT'S A LIFESTYLE