How & When to Apply Facial Oil for Maximum Benefits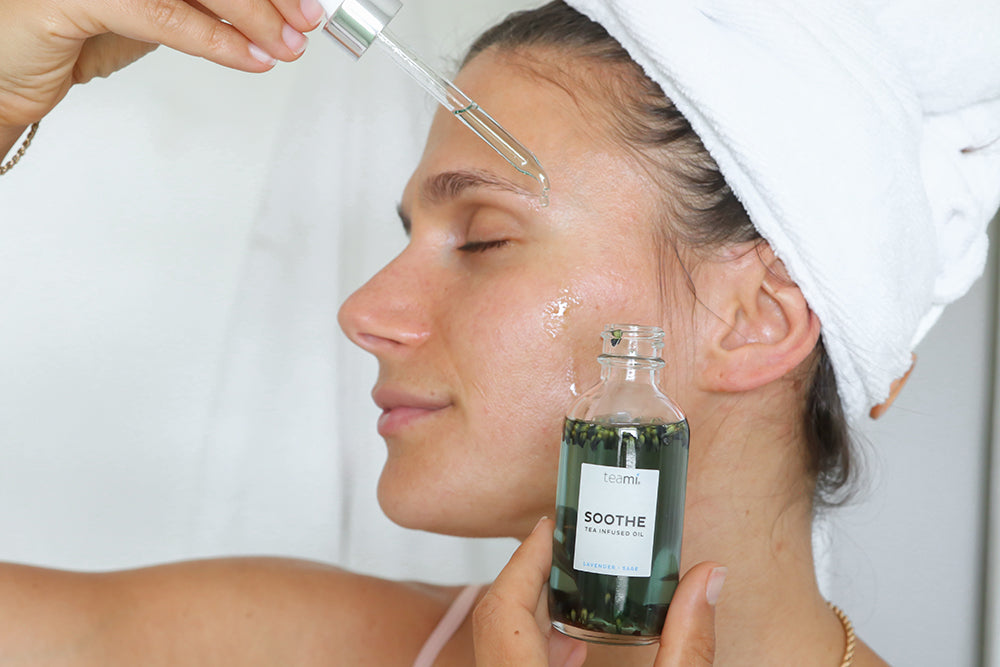 Do you have dry skin, blemishes, or a complexion that doesn't glow as much as it used to?
If so, your skincare routine might be missing something.
We recommend using a facial oil!
It's a common misconception that applying a facial oil will cause breakouts and make your skin look oily. The truth is, facial oils have been formulated for your face and are designed not to clog your pores when applied correctly. Additionally, they offer a lot of benefits from nourishing skin to improving its overall look!
Here is everything you need to know about the application and benefits of facial oil!
What Is a Facial Oil?
As we age, our oil production slows down which can cause our skin to lose its glow. Dryness can also result in giving skin a dull appearance. Even sleep deprivation and dehydration can cause our skin to lose its luster.
That's where facial oil comes in!
Facial oil is a nourishing oil that usually comes in a bottle with a dropper. It provides our skin with much-needed nourishment and hydration and puts a glow back into our skin!
How Do You Apply a Facial Oil Cleanser?
To reap all the benefits of using a facial cleansing oil, you need to apply it properly. Here's a step-by-step guide on how to do just that:
1. Clean Your Skin
Whether it's morning or night, you want to clear the buildup of dirt and oil off your skin. This will allow the rest of your skincare routine to be applied directly against your skin, penetrating deeper and leading to better results.
Use a cleanser that works to accomplish what your skin needs, whether that's gentle exfoliation or hydration.
2. Apply Your Moisturizer
Yes, you should apply your moisturizer before your facial oil. This is because once you apply your oil, it will be hard for other products to penetrate and have any effect on your skin.
Applying your moisturizer directly to damp skin will trap moisture against your skin which will keep it hydrated. You can then layer on your oil to trap in both your moisturizer and the hydrating water underneath!
3. Apply Your Facial Oil
Using the facial oil that you've decided best targets your skin problems, drop a small amount (about three to five drops) into your palm or onto your fingertips and let them warm up for a few seconds. Proceed to dab the oil all over your face and neck in circular motions, remembering that you don't need much product to cover these areas. Too much oil could make your face look shiny.
It's best to to use dabbing and pressing motions instead of rubbing because this will allow the oil to penetrate deeper.
Those with dry skin can apply their oil both day and night. If you have oily skin, it may be beneficial to only apply your oil at night.
4. Apply Makeup
Once your oil has been absorbed into the skin, you're ready for foundation!
If you want, you can also mix a few drops of your facial oil into your primer or liquid foundation. This can save you some time as it allows you to skip the application of the oil by itself.
What Is the Best Facial Cleansing Oil for Me?
Though everyone can benefit from using a facial cleansing oil, your skin is unique and has its own needs. Try to choose an oil that remedies problems you have with your skin. Let us highlight a few of the best facial cleansing oils and what they can do for your skin:
Our Teami Soothe Facial Oil is infused with lavender, sage, and blue tansy oil. The lavender works as an anti-inflammatory while the sage encourages a glowing complexion with its antioxidants, calcium, and vitamin A. The blue tansy oil will soothe your skin and relieve tension.
If your skin is dry and lackluster, our Teami Glow Facial Oil is what you need! This oil is infused with rose petals, cinnamon bark, and jojoba oil that provide moisturization to deeper layers of skin while plumping your skin and bringing out a radiant glow!
For those of you in need of skin renewal, the Teami Repair Facial Oil promotes healing and a healthier skin complexion with its chamomile tea, jojoba oil, and sea buckthorn fruit extracts.
Each of our oils is 100% natural with no added chemicals or preservatives.
What Else Can a Facial Oil Do?
If you're still not convinced that adding a facial oil to your skincare routine would do wonders for you, it can also make your routine itself easier!
Applying a facial oil before applying your makeup can help your foundation and concealer glide on more smoothly and evenly. Dry, flaky skin and blemishes can cause makeup to clump up, but an oil can fix this problem. Simply smooth an oil over your face before application, or add a few drops to your foundation.
Of course we recommend applying a sunscreen before applying your facial oil each morning, but facial oil can also help protect you against pollutants! Facial oils can act as a barrier between your delicate skin and air pollutants and solar radiation.
A One-Way Ticket to Healthy Glowing Skin
Facial oils can heal blemishes, shrink pores, and reduce wrinkles. So whatever your skincare needs, there's an oil for it! Your skin may be missing nourishment, but a glowing complexion is right around the corner!
Now that you know how to apply facial oil and the benefits it can offer, you're ready to choose one that works for you!
Be sure to check out our full range of products for all your health and beauty needs!
Love,
Adi Arezzini | @adiarezzini
Co-Founder + CEO, Teami Blends
Certified Holistic Nutrition Coach
---
Discover our Natural Facial Oils
Subscribe to our Newsletter
Subscribe to our newsletter and get 10% off your first purchase
IT'S NOT JUST
TEA

, IT'S A LIFESTYLE