13 of the Healthiest Foods You Should Include in Your Daily Diet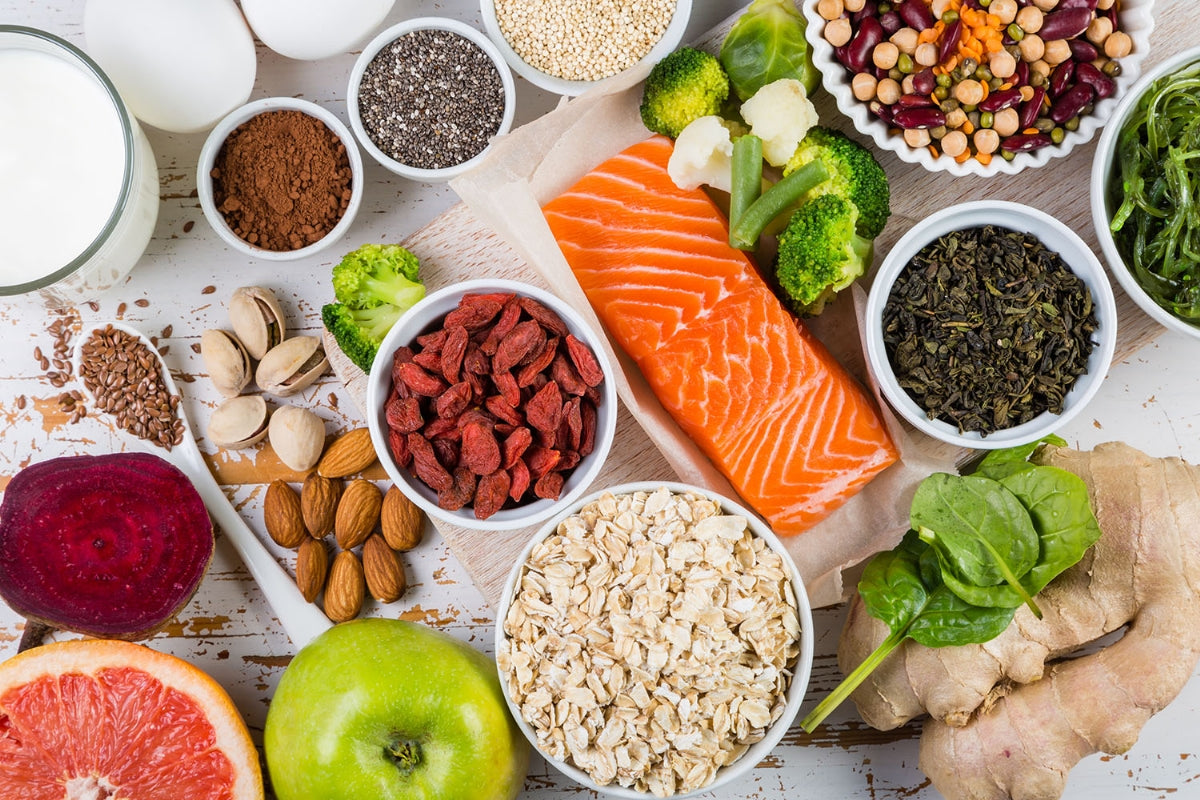 To feel light and clean and feel good every day, it is essential to eat a nutritious diet rich in a variety of foods. Incredible advancements in science have given us significant insight into the best foods for maintaining good health. We now know of many nutrient dense foods that supply crucial vitamins and minerals to the body. By incorporating these foods into your diet, you can start the path toward a happier and healthier life! 
Seeds
Seeds supply your body with healthy fats, including monounsaturated fats and polyunsaturated fats. They also provide omega-3 fatty acids and water-soluble fiber that is needed to support optimal digestion. Plus, seeds are generally low in calories and easy to add to just about any meal. Add them to smoothies and smoothie bowls, toss over a salad, or make protein balls. You can even replace flours with seed meal. Here are three of the most nutritious seeds that you can eat and that we love. 
1. Chia Seeds
Chia seeds are teeny-tiny but pack a big nutritional punch. They contain omega-3, -6, and -9 fatty acids in addition to fiber and are a source of two B vitamins, theanine and niacin. Plus, they contain essential minerals: trace mineral manganese and major mineral magnesium. Chia seeds are useful in making foods such as chia seed pudding, but they can be added to just about any meal or snack, especially smoothies. Another perk of chia seeds is that due to the high omega fatty acids content, they may help support the cardiovascular system.*
2. Flaxseed
Flaxseed is another heart-healthy seed that contains omega-3 and omega-6 fatty acids. Flaxseed and flaxseed oil is useful for people who do not like fish or other foods that contain omega fatty acids. This is important, because both of these fatty acids cannot be produced by the body and need to be replenished through the diet. Flaxseed also contains B vitamins, protein, and fiber. Ground or whole flax can be added to smoothies and baked goods. Plus, flaxseed in a one to three ratio makes a useful egg substitute. Simply mix one tablespoon of ground flaxseeds with three tablespoons of water to create an egg substitute for your baked goods. 
3. Hemp Seeds
Hemp seeds are another versatile source of omega-3 fatty acids and also contain Vitamin E, protein, zinc, and iron. Hemp seeds add a unique and tasty flavor profile when used as a salad topping, on oatmeal, or in smoothies. Hemp seeds are a cardiovascular health-friendly food and highly beneficial for your wellness due to their nutritional profile. You can also grind them up and use them in many recipes! 
Fruits and Vegetables 
Fruits and vegetables are the foundation of a healthy diet. Unfortunately, 90% of Americans do not consume enough of them. Fruits and vegetables contain incredible amounts of vitamins, minerals, and antioxidants that help to support good health. A good word of advice is to eat the rainbow, every day! If you can't do that, here are some of our favorite picks from the produce department. 
4. Broccoli
Broccoli might be a love it or hate it food for many people, but it is one of the most nourishing vegetables you can eat. Broccoli contains high levels of vitamin C and folate, a water-soluble B-vitamin your body needs to replenish daily. There are many ways to enjoy broccoli in your diet. Chop it up and toss it into stir fry, eat it raw in a salad, or steam it with a little bit of salt and black pepper. 
5. Dark, Leafy Greens
Dark leafy greens are some of the best foods to eat because they are packed with many critical vitamins and minerals. Greens such as kale, collard greens, spinach, bok choy, chard, and chlorella provide nutrients that include Vitamin K, Vitamin C, and calcium, not to mention antioxidants. 
It is worth noting that Vitamin K is a unique nutrient in this group. It is also known as "phylloquinone" and is necessary for helping the body support normal blood clotting.* It is so crucial that many newborn babies actually receive Vitamin K injections when they are born. Consuming healthy fats alongside leafy greens will help Vitamin K better absorb into your body. 
6. Sweet Potatoes
Potatoes often have a reputation as being low in nutritional content, but sweet potatoes are the exception. This vibrant orange potato is an excellent source of beta carotene, which is converted into Vitamin A in the body. Sweet potatoes also contain Vitamin E, a potent antioxidant. They're easy to peel and pop into the oven, or slice them into thin pieces and season to make sweet potato fries. 
7. Avocados
Raise your hand if you love avocados! While it's no secret avocados are delicious, you may not know they're one of the best sources of healthy and filling fats. Avocados are high in potassium, the third most abundant mineral in the body. Potassium is important for kidney and heart function, and it works with sodium to promote water balance.* 
Avocados even have more potassium than bananas. They also contain B vitamins, lutein, Vitamin C and Vitamin K. Avocados are also extremely easy to eat. Mash one up and make guacamole by adding tomatoes, cumin, salt, and pepper. You can also slice them up and add to a sandwich or blend into a green smoothie. You can also eat them alone as a decadent and creamy snack.
8. Blueberries
Blueberries are one of the most nutritious berries you can eat. Not only are they an incredible source of antioxidants, but they are also low in calories and packed full of Vitamin C, Vitamin K, fiber, and essential trace mineral manganese. Manganese is necessary for protein and carbohydrate production. These blue beauties are rich in anthocyanins and flavonoids, which provide antioxidant support. Fresh or frozen berries are easy to pop into smoothies, in oatmeal, or enjoy alone! We especially love blueberries blended with our delectable chocolate, plant-based powder, Teami Wellness Protein. 
9. Tomatoes 
Tomatoes are highly versatile in cuisines from all over the world. Tomatoes contain lycopene, which is a naturally occurring red pigment that provides antioxidant support. Lycopene also plays a role in heart health.* They are also high in potassium and phosphorus. It's incredible what you can do with tomatoes in the kitchen. Add them to fresh salads or omelets, jazz them up with black pepper and basil, crush them to make spaghetti sauce or salsa, or make guacamole! 
10. Dandelions 
What most people think of as a garden weed, dandelions are nutritious from the root right up to the flower. Dandelions can be eaten raw or cooked and provide many vitamins and minerals, including beta carotene, Vitamin C, and Vitamin K. They also contain iron and calcium and add an abundance of flavor to salads, sandwiches, and more. Plus, they can be used to make wine! 
11. Acai Berries 
Acai berries are a rich Brazilian fruit that grow in the rainforest and taste similar to blackberries. A trace source of minerals chromium, magnesium, and iron, acai berries also contain anthocyanins that act as antioxidants in the body and help scavenge damaging free radicals. Another unique fact about acai berries is that they are low in sugar but contain healthy fats and fiber. 
Roots
Most people are used to eating leaves or the fleshy parts of fruits and vegetables, but there is another plant part that is also low in calories and packed with antioxidants: roots. Here are two of the most nutritious roots you can consume in your daily diet. 
12. Beet Root
Beet root is a popular choice for athletes due to their high nutritional content, which includes fiber, magnesium, Vitamin C, iron, and potassium. They also contain nutrients essential for eye health, including lutein and beta carotene. You can consume beet root with beet root powder by adding it to smoothies, or enjoying chopped beets prepared with a meal. 
13. Maca
Maca is a traditional Peruvian food that has been enjoyed for thousands of years. This herbaceous plant grows in very high altitudes. Similar to the turnip, it is widely consumed today in powder form in smoothies, soups, and even baked goods. Maca is known for helping energize the body and may support the libido.*
How Teami Can Help
With the abundance of healthy fruits and vegetables, seeds, and roots, you can support and balance your well-being through your diet. Adding these foods and drinks to your healthy lifestyle is an easy (and delicious) way to maintain your wellness and excite your palate.
Want to know how to get these incredible nutrients from your favorite Teami products? Our Greens Superfood powder contains several of our favorite healthy foods, including broccoli powder, acai berry, kale powder, spinach leaf powder, and dandelion extract. 
If you need a little extra help to destress in your daily life, we recommend Teami Restore. This blend of calcium, magnesium, and Vitamin C will help you feel at ease.* Simply drink it before you go to bed or when you need a gentle nudge to relax, no matter if you are at work or at home. 
Another soothing addition to your healthy routine is Teami Matcha tea powder. This ceremonial grade, USDA Organic Japanese Green Tea powder has many benefits, including antioxidant support and just one glass is equal to the amount of nutrition found in 10 cups of regular green tea! 
Finally, Teami Wellness Protein is a delectable vegan protein powder that isn't chalky or overly sweet (finally!) Plus, this powerhouse blend of organic pea protein and rice protein contains 17 grams of clean, organic protein. Our Wellness Protein is not only for adding to smoothies, but it also seamlessly dissolves in water and can be used in baked goods.
With a variety of Teami products to choose from, you can seamlessly integrate many of these foods into your diet. With our selection of recipes, we can help you work toward your healthy goals. Take a look around our offerings and let us help you on your personal journey. 
Love,
Adi Arezzini | @adiarezzini
Co-Founder + CEO, Teami Blends
Certified Holistic Nutrition Coach
---
Discover Natural Wellness Powders
Subscribe to our Newsletter
Subscribe to our newsletter and get 10% off your first purchase
IT'S NOT JUST
TEA

, IT'S A LIFESTYLE