Sleep + Destress, Melatonin Bedtime Support Gummy Vitamin
Sleep + Destress, Melatonin Bedtime Support Gummy Vitamin
Get the beauty sleep you've always dreamed of! Our Teami Sleep + Destress Gummies are formulated with Melatonin + L-Theanine to help you unwind, relax and drift into dreamland.*
Teami's blackberry-flavored Sleep + De-stress gummies are soft, delicious, vegan, sugar-free and are the perfect way to calm your mind and body so you can catch those precious Zzzs.*
Superstar Formula:
Melatonin: this bedtime bestie ingredient works as a natural sleep support supplement.*
L-Theanine: an amino acid that encourages calmness so you can mellow your mind and drift off into dreamland.*
Herbal Botanicals:  Chamomile, Lemon Balm and Eschscholzia are known for their powerful plant properties used for centuries to support relaxation. 
Naturally Tasty: Sugar-free Blackberry Flavor 
Vegan
Kosher
Gluten-Free
Sugar-Free
NON-GMO
Allergen Free
Woman Owned
30 Servings
L-Theanine, Melatonin, Chamomile, Lemon Balm, Eschscholzia, Maltitol, Pectin, Water, Citric Acid, Grapeseed Oil
Enjoy 2 gummies as part of your daily wellness routine! Since these gummies are intended for bedtime, we recommend taking them 30-60 minutes before bed!
These statements have not been evaluated by the Food & Drug Administration. This product is not intended to diagnose, treat, cure, or prevent any disease.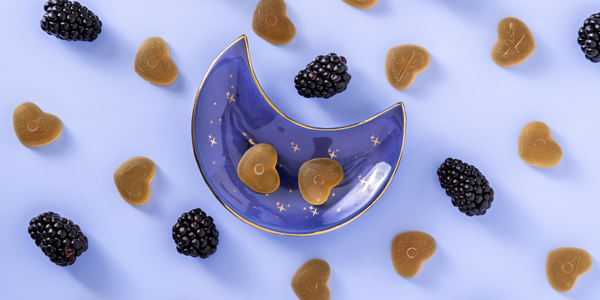 Subscribe to our Newsletter
Subscribe to our newsletter and get 10% off your first purchase
IT'S NOT JUST
TEA

, IT'S A LIFESTYLE