Beauty + Collagen, Glowing Skin Gummy Vitamin
Beauty + Collagen, Glowing Skin Gummy Vitamin
Feel radiant from the inside out! Achieve a youthful, glowing complexion with our skin-loving formula! 
Created with beauty superstar ingredients like Collagen, Keratin, Hyaluronic Acid, Biotin, and Vitamin C to support a youthful, renewed skin complexion!
Teami's watermelon-flavored Beauty + Collagen gummies are soft, delicious, vegan, sugar-free and are the perfect way to support beautiful, glowing skin complexion!
Superstar Formula: 
Marine Collagen: support skin plumpness + elasticity*
Biotin: supports skin's hydration and appearance of smoothness*
Keratin: strong moisturizing properties and enhanced skin elasticity*
Hyaluronic Acid: supports moisture retention for soft, glowing skin*
Vitamin C: antioxidant that supports immunity + protects from free radicals*
Naturally Tasty: Sugar-Free Watermelon Flavor 
Kosher
Gluten-Free
Sugar-Free
NON-GMO
Allergen Free
Woman Owned
30 Servings
Collagen nourishes your skin on a deeper level to support skin resiliency, promote a glowing complexion and help reduce the appearance of those little lines and wrinkles.
Marine Collagen, Biotin, Keratin, Hyaluronic Acid, Vitamin C, Maltitol, Pectin, Water, Citric Acid, Grapeseed Oil
Enjoy 2 gummies as part of your daily wellness routine! These gummies are caffeine free and you can take them at any time of day!
These statements have not been evaluated by the Food & Drug Administration. This product is not intended to diagnose, treat, cure, or prevent any disease.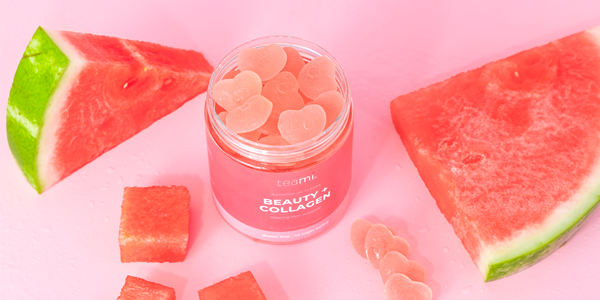 Yummy!
These vitamins taste delicious. I look forward to taking them everyday!
Loving these gummies!
I ordered the whole set of gummies when they came out. Loving them so far!! I just love all thing Teami!!
I am sorry , but I have to give the new vitamin line a three out of five. I have to say they are way, way too sweet, not only that it is too sweet they also taste like plastic and smell like plastic I wish it wasn't so, but it is. I can't take them because they are too sweet for me.
Subscribe to our Newsletter
Subscribe to our newsletter and get 10% off your first purchase
IT'S NOT JUST
TEA

, IT'S A LIFESTYLE