Struggle with PMS? We've been there! That's why we put together our favorite pimple-zapping skincare & hormone-balancing products in one place!
Once a month the red fairy always visits us ladies. Whether you have a tough period full of cramps, breakouts, hormonal mood swings, or belly bloat we have got the products to help you find the relief your body needs
PMS Support Kit Includes:
Hormone Hero Vitamins: Daily super-herb supplement for PMS relief, hormonal acne, stable energy, and better mood.*
Gut Love: a shelf-stable Probiotics Prebiotics supplement to support belly balance, gut health, rid feelings of bloat, aids in digestion, & and overall inner wellness.
Green Tea Detox Mask: Hormonal breakouts? This natural detoxifying mask to rid pores of impurities while replenishing the skin with necessary superfood nutrients.
How to use this kit in your routine!
Take 2 Hormone Hero Capsules daily each morning with breakfast for overall inner wellness support.
Take one scoop of Gut Love daily in a smoothie, water, or juice to rid feelings of bloat.
Use the Detox Mask 2-3x a week as an all-over face mask or pimple spot treatment to help target pesky hormonal breakouts! 
Regular Price: $120.00
PMS Support Kit: $109.99
You Save: $10!
Hormone Hero: Fennel Extract (seed), Chamomile Extract (flower), Broccoli Extract (sprout), Chastetree berry Extract (fruit), Maca Root Extract, Ashwagandha Extract (root), Berberine HCI, Rhodiola Rosea Extract (root), Wild Yam Extract (root), American Ginseng Extract (root), Gymnema sylvestre Extract (leaf), Rosemary Extract (leaf)
Gut Love: Contains seven different strains and 20 billion probiotics! Lactococcus lactis, Bacillus subtilis DE11, Lactobacillus paracasei, Lactobacillus plantarum, Lactobacillus acidophilus, Lactobacillus rhamnosus, Lactobacillus casei
Green Tea Detox Mask: Aqua (Distilled Water), Bentonite Clay, Kaolin Clay, Organic Camellia Sinensis (Matcha Green Tea), Glycerin (Vegetable-based), Prunus Dulcis (Sweet Almond Oil), Organic Aloe Barbadensis Leaf, Tocopheryl Acetate (Vitamin E), Green Tea & Lemongrass Botanical Essence, Phenoxyethanol, Ethylhexylglycerin & Chromium Oxide.
Hormone Hero:
Take 2 capsules daily, with or without food. You can take 2 capsules at one time or split them up throughout the day.
Gut Love:
Mix 1 scoop (7g) with water or a smoothie daily! Consume anytime of day, but best recommended just before or with a meal!
Green Tea Detox Mask:
Enjoy the fresh feeling of your detoxed skin! Use 1-4 times weekly, as needed. Best applied at night after cleansing. (Refer to Product Page for Step by Step use)
These statements have not been evaluated by the Food and Drug Administration. This product is not intended to diagnose, treat, cure, or prevent any disease.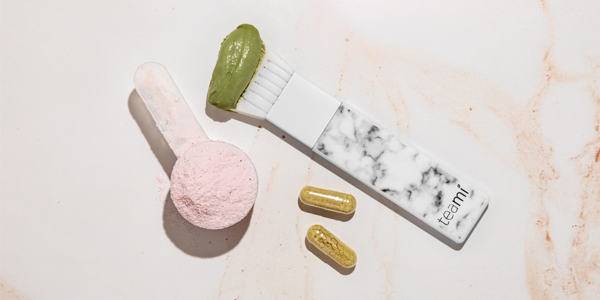 Beautify
I have felt better with the PMS kit & also the green mask makes my skin feel wonderful
Great bundle
I had already tried all the products. I love that they come in a bundle like this and that I was able to use points to get it!! I didn't have the applicator yet so I was very glad that was included!!
Subscribe to our Newsletter
Subscribe to our newsletter and get 10% off your first purchase
IT'S NOT JUST
TEA

, IT'S A LIFESTYLE