Teami Gut Love is a shelf-stable Probiotics Prebiotics supplement to support belly balance, gut health, and overall inner wellness! Each serving contains seven different strains and 20 billion probiotics. 
Probiotics are living microorganisms – known as "beneficial bacteria" – that support regular digestion, feelings of bloat, and promote well-being from the inside out!
Stress, lack of nutrition, physical inactivity, and alcohol can throw the gut microbiome out of balance.  Adding a daily probiotic prebiotic supplement to your wellness routine is a great way to actively invest in your gut health.
Gut Love Probiotics Kit Includes:

Gut Love, Unflavored or Triple Berry

BPA-Free Travel Tumbler, 20 oz (choice of color) 
Blend with your favorite smoothie or simply mix and dissolve in water!
Regular price: $65.00
Bundle Price: $62.99
You save $2.00!

30 servings per container 
Contains seven different strains and 20 billion probiotics!
Lactococcus lactis, Bacillus subtilis DE11, Lactobacillus paracasei, Lactobacillus plantarum, Lactobacillus acidophilus, Lactobacillus rhamnosus, Lactobacillus casei
Mix 1 scoop (7g) with water or a smoothie daily! Consume anytime of day, but best recommended just before or with a meal!
*Store in a cool, dry place below 77 degrees Fahrenheit. Refrigeration is not required.
These statements have not been evaluated by the Food and Drug Administration. This product is not intended to diagnose, treat, cure, or prevent any disease. The information provided does not constitute medical advice and should not take the place of consulting a physician.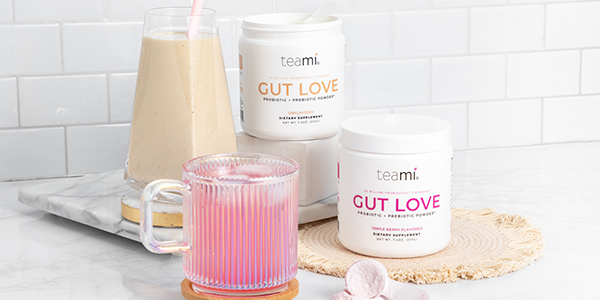 Gut Love is my "must have" Teami Product
Gut love does wonders for my digestive system. If I miss a day I can always tell. My stomach feels bloated and my bowel movements are more difficult. Gut love is a "must" use daily product for me. It also helps keep the yeast in my system under control. I take medications that cause my face to get red patches of yeast. I learned a probiotic helps prevent that from happening. Using Gut Love has made a huge difference for me.
Love the Products
Love all the great products, thank you!
Health
I use the greens powder and the probiotic powder. I really love adding them to my daily routine. Makes me feel good and healthy.
Subscribe to our Newsletter
Subscribe to our newsletter and get 10% off your first purchase
IT'S NOT JUST
TEA

, IT'S A LIFESTYLE