Ever feel like you need to press the reset button on your body? We believe that maintaining a healthy gut is vital in living your happiest, healthiest life! 
Toxins exist all around us- in processed foods, carbonated drinks, pollution and free radicals that we are exposed to daily. Doing an all-natural cleanse is great way to give your gut the love, attention and detox it deserves!
Traditionally, colon tea cleanses have been used because they are gentle, simple and 100% All-Natural! Our night time colon cleanse is one of our best-selling blends to give your body the restoration it needs!*
Rhubarb Root: A natural botanical to aid in digestion, we added rhubarb root to our cleansing blend as it is gentle on the stomach :)*
Hawthorn Berry Extract: Hawthorn berry extract helps protect from the inside out*
Lotus Leaf: The powerful lotus plant has been used in East and Southeast Asian for centuries for its many benefits!
Blends you can trust! We use premium hand-selected tea leaves to create our stunning blends – each targeted to help you live a healthier lifestyle!
15 servings per bag.
Teami Colon, Original Flavor: Senna Leaf & Root, Lotus Leaf, Rhubarb Root, Poria Cocos Stem Bark, Lime Leaf & Extract, Psyllium Husk Seed, Hawthorn Berry Extract, Phaseolus Calcaratus Seed & Valerian Root.
Teami Colon, Lemon Flavor: Senna Leaf & Root, Lotus Leaf, Lemongrass, Lime Leaf & Extract, Psyllium Husk Seed, Phaseolus Calcaratus Seed Rhubarb Root, Poria Cocos Stem Bark, Hawthorn Berry Extract &Valerian Root.
Drink your Teami Colon every other night before bed.
Steep in a mug for 1-5 minutes if you are just starting out. As you continue detoxing, you should gradually increase the amount of time your colon tea is steeping in your mug. The longer you let it steep, the more effective the cleanse will be. Start from 1-5 minutes and work up to 30 minutes!&
Add honey, nectar or lemon as a natural sweetener if needed.
Recommended for adults only. If you are taking prescription medication, or are pregnant or nursing, consult your health care provider prior to using this product.
Contains plant-based caffeine.
Results not guaranteed and may vary from person to person.
These statements have not been evaluated by the Food and Drug Administration. This product is not intended to diagnose, treat, cure, or prevent any disease.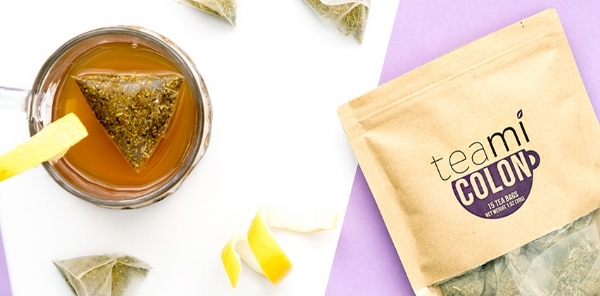 Best Answer Yet!
I have been having severe issues with constipation due to having gastropareisis. I could never find a balance using pharmaceutical laxatives which were the only things that worked. It was driving me crazy and it was getting very inconvenient. A friend told me about the detox digestive tea and since I have been using it it's been amazing!!!! I feel so much better and less toxic! Absolutely awesome!!!! I just recommended to another friend!
Very good
Helps with my bloating problem
Frequently Asked Questions
Subscribe to our Newsletter
Subscribe to our newsletter and get 10% off your first purchase
IT'S NOT JUST
TEA

, IT'S A LIFESTYLE