What to Look For In Electrolytes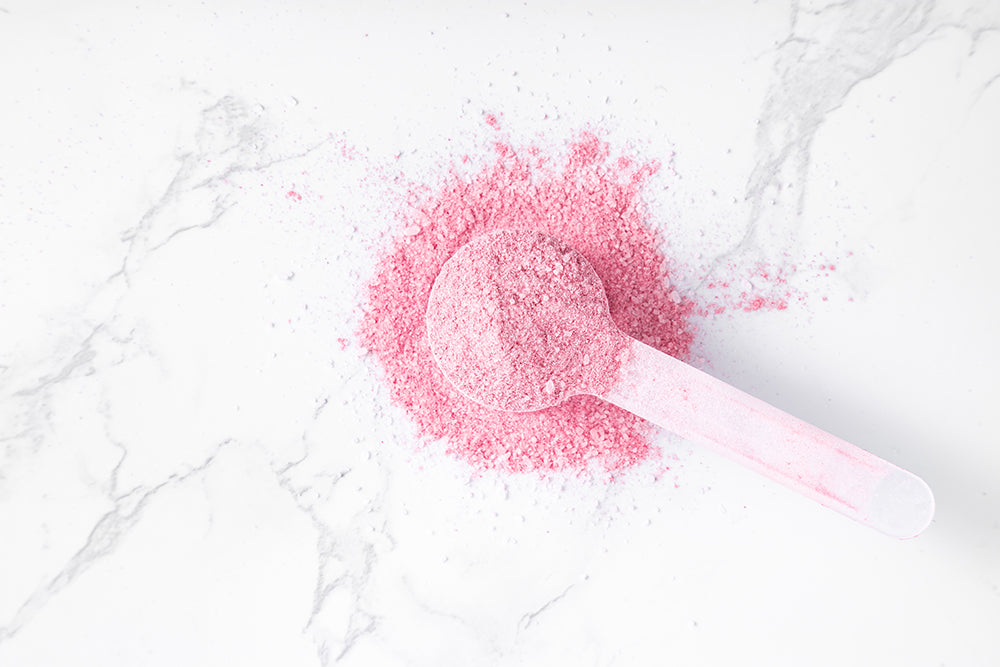 One of the most useful items you can have in your healthy lifestyle arsenal is an electrolyte mix you can trust. Electrolytes keep you hydrated, balanced, and ensure that hundreds of critical functions in your body are operating efficiently. It is common to experience electrolyte imbalances, especially if you are sweating frequently during tough workouts! The key to replenishing these vital nutrients is through diet, and an electrolyte drink is one of the best ways to rapidly replenish missing minerals. With so many choices on the market today, it can be difficult to make a decision or even know what to look for when choosing an electrolyte mix.
What to look for in an electrolytes mix
A good electrolyte powder will deliver the right ratio of electrolytes to your body faster than water and food alone. The result is better recovery after workouts and improved hydration. You'll replace the minerals that you lost and regain energy faster. However, it's important to keep an eye out for key traits in your electrolytes.
#1 Dietary requirements
If you follow a specialized diet, you're probably used to reading ingredient labels. Because so many people have different dietary requirements, more manufacturers are creating products that a bigger audience can enjoy. When it comes to taking electrolyte supplements, you'll need to find one that works for your diet and lifestyle. Whether it's vegetarian, vegan, paleo, keto, or something else, there's likely something out there for your needs. Common options today are gluten-free and dairy-free electrolytes. If you need both, you might find electrolytes with one but without the other. Keep searching until you find exactly what you need!
#2 Artificial ingredients
Unfortunately, as consumers get savvier, manufacturers get sneakier than ever with how they hide artificial ingredients. There's good news though – you can search for artificial ingredients with the click of a button! Steer clear of dyes, artificial sweeteners like sucrose, and unnatural preservatives. Common artificial ingredients in electrolyte drinks include polyethylene glycol, cochineal extract, corn syrup, Red #40, and Yellow #6.
#3 Great taste
Your electrolytes should taste good! If you've ever run an endurance race, you've probably had that moment where you were sick of drinking water or artificially sweetened sports drinks. After a long run, that cold drink of electrolytes should taste good, quench your thirst, and leave you feeling satisfied! It's also important to find out if the electrolyte powder you're using is gritty and chalky – because that means your mix won't dissolve well in water, and it probably won't taste good either.
#4 The right ingredients – specifically electrolytes
Have you ever purchased a product for a specific reason, only to find out what you bought it for is one of the last ingredients in the product? The first place you should look when seeking out electrolytes is that you're actually gaining the ingredients you need. This means looking for actual measured amounts of electrolytes, such as magnesium, calcium, potassium, sodium, and chloride.
These key ingredients are integral to supplying the electrolytes you need for imbalance and exercise recovery. They are also vital to functions such as fluid balance, nerve and muscle health, and even your heartbeat. Don't waste hard-earned money or time on an electrolyte mix that is not delivering what you actually need!
#5 Sugar content
It seems like hidden sugar is public enemy #1 in food labels – and that goes for electrolyte powders and drinks. Sugar isn't going to help, but instead will cause more problems and maybe even make you crash from that inevitable sugar high. Plus, sugar adds extra calories and you might not even realize it! Look for natural sweeteners such as real fruit, stevia, and monk fruit.
The perfect electrolyte powder: Teami Hydrate Electrolyte Super Mix
At Teami, we were so fired up to make the perfect electrolyte mix that had it all! We dreamed of creating something without artificial ingredients that actually taste good and most importantly, replenish lost electrolytes to restore balance and hydration in the body. And since it didn't exist in our eyes… you know we had to create it! The result is Teami Hydrate Electrolyte Super Mix, which is:
Gluten-free
Non-GMO
Sugar-free
Dairy-free
Soy-free
Vegan
Free of artificial ingredients
You might be wondering, "what is it flavored with? How does it taste?" Teami Hydrate is flavored with natural stevia, lemon, and berries. And when you see its gorgeous pink color swirling around in your Teami Tumbler, that color is the result of natural beet root powder.
Every scoop contains a carefully measured dose of electrolytes, including more magnesium and potassium than the average powder. Teami Hydrate contains the following electrolytes:
Calcium – 75 mg
Magnesium – 120 mg
Chloride – 15 mg
Sodium (pink Himalayan salt) – 10 mg
Potassium – 1000 mg
All you need to do is stir one scoop into 16 ounces of water and enjoy – it's bursting with raspberry lemon flavor!
It's easy to use Teami Hydrate in your routine, but if you want to dive right in, try using your electrolytes with our 5-Day Water Challenge!
We can't wait to see how YOU incorporate Teami Hydrate into your sweat sessions! Snap a selfie holding up your glass and tag us using #thankyouteami!
Love,
Adi Arezzini | @adiarezzini
Co-Founder + CEO, Teami Blends
Certified Holistic Nutrition Coach
---
Discover Teami Hydrate Electrolyte Super Mix
Subscribe to our Newsletter
Subscribe to our newsletter and get 10% off your first purchase
IT'S NOT JUST
TEA

, IT'S A LIFESTYLE