How to Make an Ocean Latte with Butterfly Pea + Matcha Tea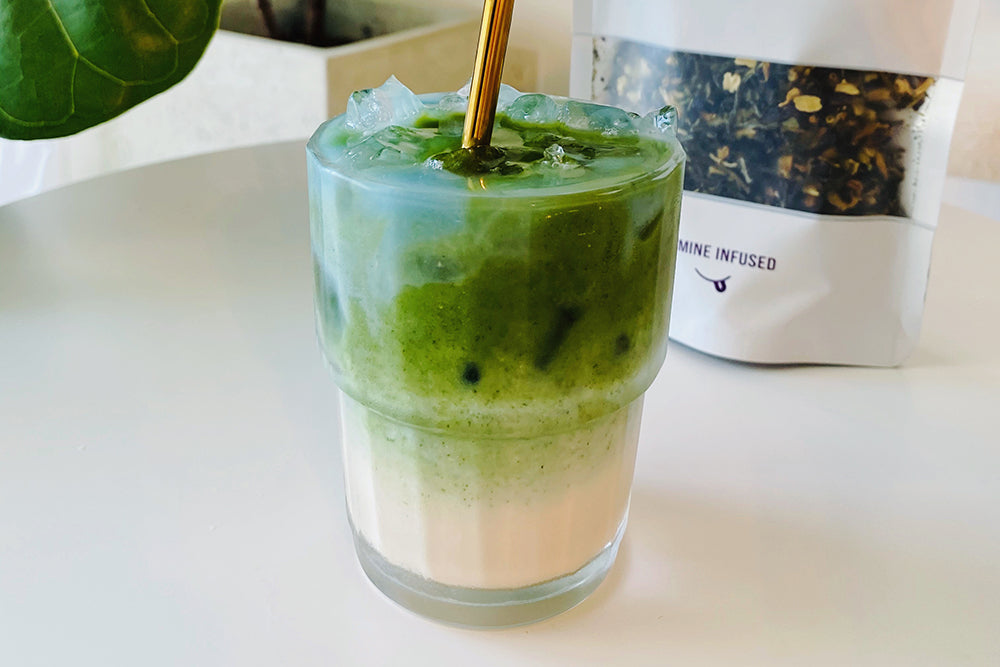 Are you ready to make some magic? Bring the secrets of the deep sea to your kitchen with this whimsical and delicious latte inspired by the colors of our oceans. Blue butterfly pea flower tea dances with the herbal goodness of matcha and milk of your choice. If you can't get enough of all things matcha, this recipe will be a new staple in your daily diet!
Ocean Latte with Butterfly Pea + Matcha Tea Recipe
Ingredients 
Directions 
Steep the butterfly pea flower tea in four ounces of hot water. Set aside. While the butterfly pea flower is steeping, mix one teaspoon of matcha with the remaining hot water. Whisk to combine.
Next, fill a standard-sized glass with ice. Pour the milk into the glass, leaving the top quarter for room. Add the sweetener of your choice. Pour in the butterfly pea flower tea, and don't miss the chance to admire its gorgeous color as it swirls into the milk! Then add a shot of the matcha and stir to combine.
If you are on-the-go, it's easy to make this drink right in your Teami Tumbler for even more convenience. No matter how you make it, we want to see it! Share your creations with us on Instagram with the hashtag #thankyouteami, and be sure to share this recipe with friends!
Love,
Adi Arezzini | @adiarezzini
Co-Founder + CEO, Teami Blends
Certified Holistic Nutrition Coach
---
Make the Perfect Ocean Latte
Subscribe to our Newsletter
Subscribe to our newsletter and get 10% off your first purchase
IT'S NOT JUST
TEA

, IT'S A LIFESTYLE