Healthy Snack Hacks for Easter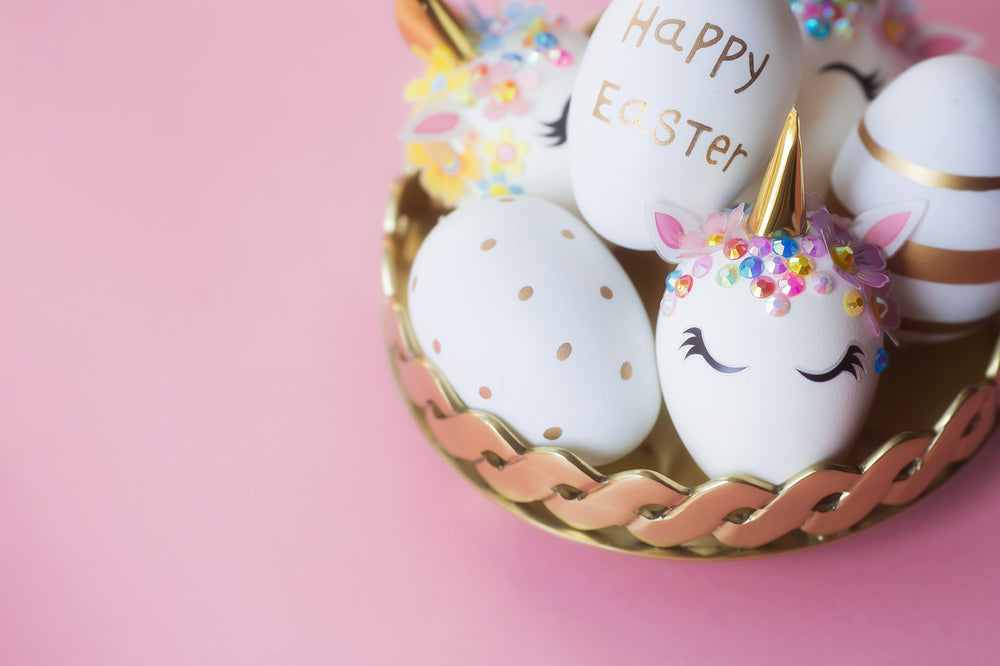 Easter is coming! Time to enjoy your family, celebrate and load up on sugary treats… right? Wrong! Just because the bunny is in town, doesn't mean that unhealthy foods need to hop into town too!
We get it! You don't want to take away your kid's Easter basket; you just want to fill the basket with more nutritious treats! We've come up with a few healthy Easter hacks to get you moving in the right direction and to help you ward off the sugar coma!
... and don't forget your favorite Teami Tea Blend in a pastel Tumbler!
1. The Chocolate Hack
When you think of Easter, many people think of chocolate-covered eggs. But, filling the basket with those can quickly turn into a chocolate-covered nightmare.
Instead of buying chocolate covered or chocolate-filled candy, opt for dark chocolate drizzled fruit! Dark chocolate has fewer carbs and less sugar than milk chocolate. Dark chocolate has also been proven to be good for your heart. So, reach for the dark chocolate, preferably bars that have at least 70% or more cacao.
Instructions:
Melt your bars in the microwave or over a stove. After melted, use a fork or spoon to drizzle over strawberries, cherries, or even blueberries (kabobs are a great idea!) Put them in the fridge for an hour to speed up the process then enjoy!
2. The Peanut Butter Egg Hack
Peanut butter eggs are creamy and good, but they are also processed with additives and preservatives! Just one peanut butter egg contains 90 calories and 8 grams of sugar.  Not so bad if you are only eating one, but who only eats one?
Instead, replace store-bought peanut butter eggs with homemade organic almond butter treats. Peanut butter isn't inherently bad, but almond butter contains more vitamin E than peanut butter, so we are opting for almond butter.
Instructions:
Using a tablespoon, add dollops of almond butter on a wax paper sheet (creating small balls, or eggs). Drizzle melted dark chocolate over your almond butter balls.  Freeze the balls for 1 hour, then enjoy!
3. The Candy-filled Plastic Egg Hack
You can't have an Easter egg hunt without plastic-filled eggs! That is a no-brainer!  But, that doesn't mean that you have to fill your eggs with candy!
Instead of candy, try healthy snacks like trail mix or granola. Your kids might also get a special kick out of finding a little cash when they open their eggs! For the perfect recipe that is full of protein and good omegas, try our Healthy Matcha Granola recipe.
Instructions:
Grab your plastic eggs. Add a little trail mix, granola, or even cash into each egg. For extra security, put the snack inside of a plastic sandwich bag before filling the plastic egg!
4. The Puffy Candy Hack
Easter is filled with marshmallow bunnies, jelly treats and a few candies that are made from ingredients that don't even sound like food. Is it possible to get the same gooey feel without the actual goo? You bet!
Instead of store-bought gooey treats, try making a homemade popcorn snack right at home! This treat has the airy feel of all the Easter candies you love, without any of the unrecognizable ingredients.
Instructions:
Pop a bag of popcorn and put it in a bowl. Drizzle a teaspoon of olive oil and a tablespoon of honey over the bowl.  Sprinkle in a teaspoon of cinnamon. Feel free to add more honey or cinnamon, if you would like. Mix to mesh all the ingredients. Form hand-size balls of the mixture with your palms.  For extra fun, top them off with sprinkles & serve.
Love,
Adi Arezzini | @adiarezzini
Co-Founder + CEO, Teami Blends
Certified Holistic Nutrition Coach
---
Enjoy Healthier Snacks & A Healthy Lifestyle
Subscribe to our Newsletter
Subscribe to our newsletter and get 10% off your first purchase
IT'S NOT JUST
TEA

, IT'S A LIFESTYLE