8 Foods that Cause Acne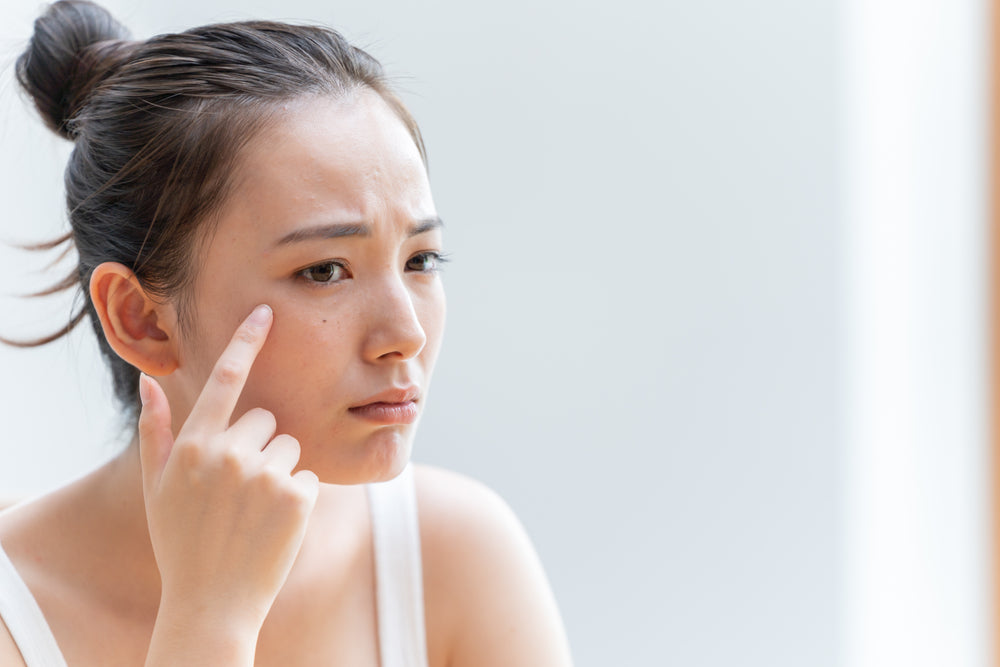 Dealing with acne is one of the most frustrating skin issues and can contribute to emotional distress. Not only can acne be physically painful, it can also be a source of embarrassment. And depending on its severity, it can even cause permanent scars and dark spots. For many, figuring out how to reduce or minimize the appearance of acne or how to calm it completely is a quest that can take months, if not years. One common trigger of acne for people of all ages is the foods that they eat. 
Bread
Bread is a high-carbohydrate, refined food that usually contains added sugars that impact blood sugar quickly. When bread makes blood sugar rise, it encourages insulin levels to rise in order to get sugars out of the blood. This process impacts other hormones and makes them more active, such as androgens. A rise in androgens can trigger more sebum production, which can lead to acne and breakouts. Bread may also impact the effectiveness of antioxidants.
Swap high-carb, high-sugar bread for a gluten-free variety made with healthier grains, such as spelt bread. Udi's is one popular brand of gluten-free bread. 
Dried Fruit 
This one might surprise you, because it's fruit so it must be healthy, right? Not exactly. Although it's so easy to toss dried fruit into your bag while on-the-go or pop it into a trail mix, many dried fruit varieties contain added sugar to enhance their taste. They might also be preserved with ingredients that have sugar in them. Dried fruit still falls into the "refined carbohydrate" category.
There is a very easy solution to avoiding overly processed dried fruit: make your own! You can make dried fruit at home by investing in a dehydrator. Another way to still enjoy dried fruit is to read the label and learn how they are processed and if they contain added sugars.
Chips
"Bet you can't have just one" – remember that old label on your favorite bag of potato chips? Potato chips are one of the most popular snack foods in the US but have some not-so nice effects. Potato chips are deep fried in oil, so they do not contain significant vitamins or minerals. Plus, they are high-carbohydrate foods that have a similar effect as bread and bagels. Furthermore, the oils potato chips are fried in contain omega-6 fatty acids, which should be consumed in moderation. 
Consider making your own chips by baking your own sweet potato chips or popping them into an air fryer. You can also make an even healthier alternative: kale chips! 
Ice Cream
The relationship between ice cream and acne is still being explored by researchers; however, many studies have linked its development to dairy products. One school of thought behind acne and ice cream is that milk products raise blood sugar, which can lead to acne. Another theory is that the amino acids in cow's milk trigger acne. One study in 2019 conducted on young adults found that there was an association between dairy products and increased acne, which supports previous studies also conducted on young adults. 
Replacing ice cream isn't as difficult as it seems. You can make your own dairy-free "nice cream" or find a dairy-free ice cream such as So Delicious. So Delicious makes ice cream with coconut, so it is just as rich and cream as the real deal!
Soda
Soda is one of the least-nutritious beverages you can drink. Soda does not contain any nutrients and is packed full of questionable ingredients – even if you choose the calorie-free option (maybe even more so in this instance!). Soda is typically extremely high in sugar, which causes a blood sugar spike and subsequent crash. A recent study found that of more than 8,000 respondents, daily intake of sweetened beverages significantly raised the risk of acne in young adults.
Unfortunately, soda can be one of the most difficult beverages to quit. There's something fun about the bubbles and the sweet taste is undeniably good – but NOT good for you! Make the switch to better-for-you beverages by trying our 5-Day Water Challenge and learn how to make infused water blends that are so delicious you won't even miss soda! 
Pizza
We know, we know… Pizza is one of the most popular foods on the planet – and it's so beloved that you might not even be able to imagine a Friday night without it. But pizza has some serious acne triggers wrapped all into one: gluten-laden crust, high in carbohydrates, high glycemic load, hidden sugars, and dairy! For some, that is a breakout waiting to happen. 
Today, there are so many options to make a better, healthier pizza. You don't have to give up pizza in its entirety. Revamp it instead! Make your pizza with a cauliflower crust or a gluten-free crust. Use a dairy substitute (like Violife) for cheese. Hop on Pinterest and check out the many low-carb, low-sugar, dairy-free pizza recipes! 
Chocolate 
By now you're probably seeing a trend here. Chocolate, especially milk chocolate, is loaded with sugar and contains dairy. That does not explain the full link between acne and chocolate, though. Sugar is part of the equation, but some research has explored a link between chocolate increasing bacteria activity that causes acne.
Choosing a better chocolate bar is easier than you think. Opt for dark chocolate that is made with at least 70% cacao, which will have more antioxidants and much less sugar than milk chocolate. 
Dairy 
Dairy is a dietary staple in the United States and many other cultures that can cause or worsen acne – especially in the form of drinking milk. Milk comes from cows that are typically treated with artificial hormones to make them grow faster and produce more milk. Modern research suggests that these hormones can influence the hormones in your body, which may cause acne. Another reason milk and other dairy products may trigger acne is because they raise insulin levels quickly. 
Luckily, it is easier than ever to avoid dairy, even if you are a milk drinker. Today, there are many milk alternatives to enjoy, such as coconut milk, almond milk, and cashew milk (which is just as thick and creamy as cow's milk!). 
How can I know if these foods trigger acne?
There is no one-size-fits-all diet that will reduce acne for everyone. However, there are some ways to do a little detective work and figure out if what you're eating is aggravating acne. 
Keep a food journal for a week and make note of when you eat foods high in sugar, gluten, dairy, and refined carbohydrates. 
Work with a healthcare professional to get to the root cause of your acne. 
Work with a healthcare professional to test out an elimination diet to reduce acne.
Avoid trying new skincare items to your regular routine when you are trying to determine if the source of acne is dietary. 
What is happening on your skin says a lot about what is going on inside of your body. Don't ignore the clues – or think there is a magic potion that will solve all of your skin issues. Caring for acne is a combination of using healthy skincare and eating a nutritious diet that will promote skin health!
Evaluating what you are eating is the best place to start. And if you want to truly refresh your body and your skin in two simple steps, the Teami 30-Day Detox program is an easy way to get started! All you have to do is:
1) Drink Teami Skinny every morning.
2) Drink Teami Colon every other night before bed.
That's it! This program will fit into ANY lifestyle and helps you naturally cleanse and hit the reset button. Plus, you will receive two freebies with the program to help you: an accountability e-book and our 23 Healthy Recipes e-book to help you eat the best foods for your skin and health.
Finding healthy skincare is more of a challenge – one that we set out to solve with our lineup of nourishing green tea skin solutions designed for all skin types!  
No matter where you are on your skin journey, know one thing for sure: you are NOT alone when it comes to dealing with acne, and our Teami community is here to support you on the journey to improve not only your skin, but your lifestyle! 
Love,
Adi Arezzini | @adiarezzini
Co-Founder + CEO, Teami Blends
Certified Holistic Nutrition Coach
---
Beat Acne with our Natural Products
Subscribe to our Newsletter
Subscribe to our newsletter and get 10% off your first purchase
IT'S NOT JUST
TEA

, IT'S A LIFESTYLE