7 Skincare Secrets of Butterfly Pea Flower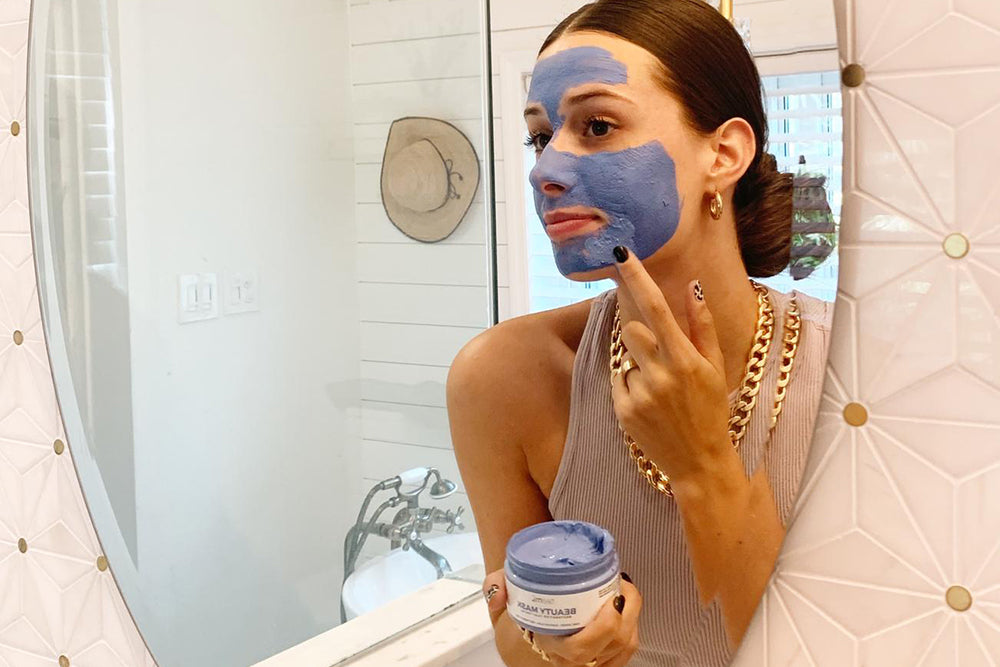 If you're already an old fan of Teami, you probably know all about how much we love butterfly pea flower and its magical color-shifting beauty. But we didn't stop with tea. We dove into how this ornamental plant is not only gorgeous on the outside, but when used topically has some serious beauty benefits to make your outside even more radiant and gorgeous! To keep your skin plump, radiant, and hydrated, it is essential to use natural and gentle skincare. Clean beauty has grown in popularity in recent years, and choosing products that are formulated with natural ingredients supports the health and appearance of your skin. Butterfly pea flower is one of these natural ingredients, and you will be surprised at all it can do!
1. Packed with antioxidants
Butterfly pea flower contains many antioxidants such as flavonoids, anthocyanins, and polyphenols. Your skin needs antioxidants to improve general health and elasticity. Since you encounter oxidants daily through sweat, pollution, makeup, and grime, antioxidants are necessary to counteract this effect. Plus, antioxidants help minimize fine lines and improve your skin's overall appearance. 
2. Soothes minor skin irritation
A 2018 study of butterfly pea flower in face mask development found that the addition of it helped calm itching and general irritations. The plant's vibrant blue color is a testament to this since, in traditional practices, blue is a signal for cooling. Another study conducted in 2012 supported the performance of butterfly pea flower for use in rejuvenating the skin.
3. Reduces redness
Because of butterfly pea flower's ability to soothe irritated skin, it also minimizes redness caused by acne, dryness, and general irritation. These nourishing properties are further enhanced when combined with other nutrients that benefit skin health. 
4. Improves moisture retention
The same study that noted butterfly pea flower's ability to minimize discomfort also found it to promote moisture retention. This is important because daily moisture helps increase skin turnover to naturally restore itself. Plus, moisture retention helps stop dryness and promote lipid balance. Hydrated, moisturized skin is more likely to stay plump, radiant, and have a youthful appearance. 
5. Supports collagen structure
Collagen is the "scaffolding of your skin" and naturally declines with age. In some studies, butterfly pea flower extract has been found to assist with collagen support. 
6. Improves the skin barrier
Because butterfly pea flower contains plant-based antioxidants and antioxidant vitamins such as  Vitamins A, C and E, it helps improve the skin's natural barrier. This is the top layer of your skin called the stratum corneum, and its purpose is to protect your body from irritants, including allergens and bacteria. When the skin barrier is compromised, its strength is weakened. Topical antioxidants help improve the skin barrier.
7. Suitable for all skin types
Butterfly pea flower is a hidden skincare rockstar. It is gentle enough for use on all skin types, no matter what time of year it is. 
Teami Beauty Mask with butterfly pea flower
Butterfly pea flower is one of the nourishing plant-based ingredients in our new Teami Beauty Mask, adding antioxidant benefits and extra rejuvenating power for those with dull and tired skin. Our mask is gentle enough for all skin types, even if you have sensitive, acne-prone skin. Butterfly pea flower also gives this mask its vibrant true blue hue! 
When your skin needs a natural pick-me-up, turn to this nourishing and replenishing mask! After one use, we know you won't want to be without it in your skincare routine. Here are some of the key ingredients in the mask and how they function:
Organic aloe: Hydrates, softens, and calms skin
Butterfly pea flower: Delivers antioxidants and minimizes redness
Kaolin clay: Gently removes impurities 
Vegetable glycerin: Softens skin
Sweet almond oil:  Balances, hydrates, and softens skin
Zinc oxide: Skin-soothing agent
If your skin needs a jam-packed mask full of nourishing, hydrating, and skin-loving ingredients, you will want to buy the Teami Beauty Mask right now! For even more butterfly pea flower rejuvenation, spritz on our Butterfly Toner Mist after removal.
And if you can't get enough of all things butterfly pea flower, don't forget to explore our
Butterfly Beauty Bundle
and
Beauty Butterfly Collagen
for even more skin benefits!
Love,
Adi Arezzini | @adiarezzini
Co-Founder + CEO, Teami Blends
Certified Holistic Nutrition Coach
---
Discover Our Butterfly Flower Products
Subscribe to our Newsletter
Subscribe to our newsletter and get 10% off your first purchase
IT'S NOT JUST
TEA

, IT'S A LIFESTYLE