Summer inserts are HERE and they're hot, hot, hot! This limited edition insert set is one of our favorites yet- if you love everything about the Summer, these are totally for you! Easily decorate, customize, and personalize your favorite tumbler with these three beachy, adorable designs! Just a little something extra to make this your happiest, healthiest Summer yet!
This set of 3 Limited Edition designs include:
Flower Power 
Keep Palm & Carry On
Anything is Popsicle
Here's how to customize your tumbler in just 4 easy steps!
Take off the protective cover off of your Tumbler Insert
Unscrew the tumbler outer shell with the Teami logo to reveal its' inner tube
Place your insert inside the clear outer shell with the Teami logo
Now that the insert is inside your tumbler, just place the inner tube back inside of the outer shell and boom!
We can't wait to see you taking your personalized tumblers everywhere with you!! Make sure you use #teamitumbler and #thankyouteami so we share your pics!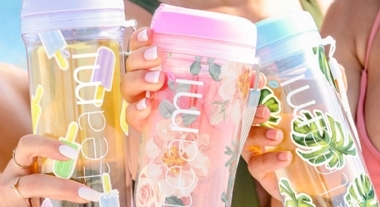 Right!! Super cute way to dress up your Teami tumbler!
Jenee
Teami Lifestyle Specialist
First of all had no idea what all these were named so cute! But I always miss out on getting inserts this time I didn't and they are so cute! Using them in a green and lavender tumbler!
So happy you were able to get some inserts!! Its an easy way to customize, and personalize your favorite tumbler!
Jenee
Teami Lifestyle Specialist
Subscribe to our Newsletter
Subscribe to our newsletter and get 10% off your first purchase
IT'S NOT JUST
TEA

, IT'S A LIFESTYLE