Say hello to radiant skin! Our Smooth Skin kit includes two beauty must-haves that will leave your skin feeling silky soft & velvety smooth!
Exfoliating is one of the most important skincare steps & here's why:
As we age, the process of cell regeneration slows down. What this means is that the body is slower to shed skin cells and generate new ones. When old skin cells start to pile up on the surface of the skin, it can leave skin looking dull, rough, and dry. This build-up of dead skin can lead to excess oil and clogged pores, which then causes blemishes, acne & ingrown hairs.
Using our Smooth Skin Kit can benefit your beauty routine and give your skin the maximum glow it deserves, no matter what skin type you have! 
Here's what it includes: 
Green Tea Facial Scrub: Using 3 primary plant-based, superfood ingredients, matcha green tea, lemongrass, and sugar, our facial scrub gently exfoliates, naturally cleanses, and controls oil.
Smooth Exfoliating Body Polish: Created with powerful botanical ingredients, hibiscus tea, black cumin seed, kaolin clay, and finely milled sugar that work together to leave your skin soft, smooth, and glowing! 
Get this perfect kit as a much-needed self-care gift to yourself, or as a present for someone you love!
ORIG Price: $65.99
Kit Price: $59.99
You Save $6!
Smooth
Sucrose (Sugar), Glycerin, Water, Sorbitol, Sodium Cocoyl/Lauroyl Isethionate, Disodium Lauryl Sulfosuccinate, Sodium Chloride, Phenoxyethanol, Tetrasodium EDTA, Vegetable Glycerin Kosher, Caprylic/Capric Triglyceride, Camellia oleifera (Camelia) oil, Pina Colada Flavor Extract, Cannabis Sativa (Hemp) seed oil*, Kaolin, Juglans Regia (Walnut) Shell Powder Nigella Sativa (Black cumin) Seed Extract, Olea Europaea (Olive) Seed Powder, Synthetic Fluorphlogopite & Titanium Dioxide &; Iron Oxide & Tin Oxide, Hibiscus Sabdariffa Flower Extract*, Phenoxyethanol and Ethylhexylglycerin
Green Tea Scrub
Sucrose (Cane Sugar), Glycerin (Vegetable Based), Aqua (Distilled Water), Organic Camellia Sinensis (Matcha Green Tea), Sorbitol, Sodium Cocoyl Isethionate, Disodium Lauryl Sulfosuccinate, Prunus Dulcis (Sweet Almond Oil), Sodium Chloride, Phenoxyethanol, Green Tea & Lemongrass Botanical Essence & Chromium Oxide.
Smooth
Scoop a small amount of body polish in the palm of your hand. Gently massage onto wet skin in upward circular motions then melt away with warm water to reveal radiant, renewed skin.
Green Tea Scrub
Dampen face slightly with water. With fingertips, use small dollop in a circular fashion on face and/or body for gentle exfoliation. Simply wash off with water and pat skin dry. Use 2-4 times weekly, as needed. Best applied morning and at night.
These statements have not been evaluated by the Food and Drug Administration. This product is not intended to diagnose, treat, cure, or prevent any disease.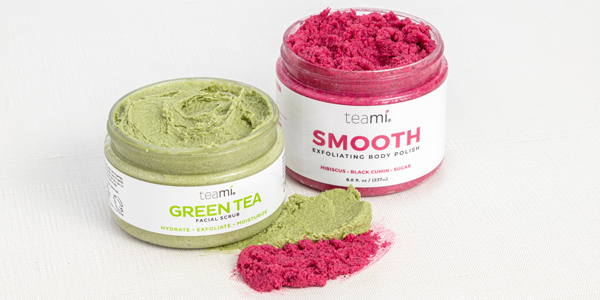 Smooth skin kit great product ❤️ ❤️ ❤️
After I used it my skin feel so soft. Thanks Teami
Amazing
This is part of my everyday routine & I love it
Subscribe to our Newsletter
Subscribe to our newsletter and get 10% off your first purchase
IT'S NOT JUST
TEA

, IT'S A LIFESTYLE