Feel vibrant, active, and full of life! Teami Reds is a delicious blend of superfruits, antioxidants, and adaptogens to deliver clean, natural energy, support immunity, skin health & appearance, and a clear mental focus*.
Our refreshing Reds wellness elixir is caffeine-free, low in sugar, and the perfect afternoon "pick-me-up"!
Benefits:
Natural daily energy support 
Goodbye afternoon fatigue + brain fog
Immune system support
Smooth & regular digestion 
Bursting with antioxidants, minerals, adaptogens, and phytonutrients
Low sugar, refreshing berry taste
Teami Reds Superfruit Powder is formulated with over 20 vital superfoods from the red, purple, and blue fruit and vegetable family. These contain essential compounds such as anthocyanins in red, purple, and blue fruits and vegetables and carotenoids in orange and yellow, which provide a broad spectrum of compounds to support your overall well-being! 
Teami Tip: Mix your Teami Greens & Teami Reds together to make a nutrient-packed drink full of superfoods, antioxidants, and phytonutrients to fuel your body! 
Vegan | Non-GMO | Gluten-Free | Dairy / Soy-Free | No artificial sweeteners
Beet Root Powder Organic, Inulin Agave, Organic (NLT 90%), Reishi Mushroom Powder, Organic (Ganoderma lucidum), Cranberry Extract, Tart Cherry Powder, Raspberry Fruit Powder, Strawberry Fruit Powder, Goji Berry Powder (Wolfberry), Pomegranate Fruit Powder, Blueberry Fruit Extract, Oat bran fiber, Green Tea Extract, Bilberry Fruit Powder, Grape Seed Extract, Acerola Cherry Powder Organic, Tomato Fruit Powder Organic, Cloves Powder Organic, Turmeric Root Extract, Natural Wild Strawberry Flavor Powder, Citric Acid Anhydrous Powder USP, Stevia Extract Rebaudioside A Organic, Monk Fruit Extract Organic
Add 1 serving (1 scoop) to 8-10 oz of cold water and stir / shake! You can also add Teami Reds Superfruit Powder to juice or smoothies to give them a boost of antioxidants!
*These statements have not been evaluated by the Food & Drug Administration. This product is not intended to diagnose, treat, cure, or prevent any disease.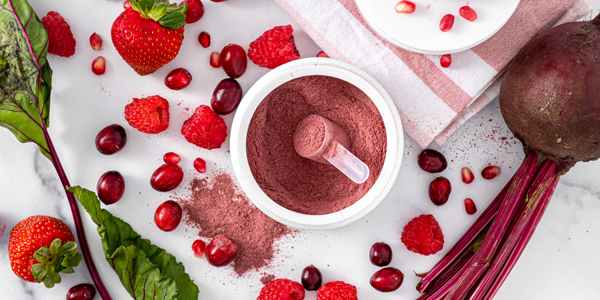 Los Mejores Productos!!
Lleno mucho tiempo usando los productos y son muy buenos y la mejor calidad
Love it
Loving this product so far! Feel good 👍🏼😊
Teami greens
This product is great! It gives me energy throughout the day. It also helps me get my daily greens intake that I don't always get with foods!
Frequently Asked Questions
Subscribe to our Newsletter
Subscribe to our newsletter and get 10% off your first purchase
IT'S NOT JUST
TEA

, IT'S A LIFESTYLE