Feeling all over the place and… not quite yourself? Your hormones might need some daily TLC to get back on track! 
Achieve hormonal serenity with just 2 capsules daily. We blended adaptogenic super-herbs to create a holistic approach to support your mood, energy, skin, and menstrual cycle.*
Super Ingredients:
Ashwagandha Root - a centuries-old adaptogenic Ayurveda root that supports adrenals to modulate stress and anxiety.*
Maca Root - a native Peruvian root vegetable used for centuries to promote overall health, balance hormonal transitions, support mood and return inner harmony to the body.*
Chasteberry - a superfruit that helps with PMS relief, fertility, and acne.*
Formulated for: 
Total Cycle Support* 
PMS relief* 
Helps with mood, irritability, and frustration*
Reduce Day-to-Day Stress* 
Hormonal Acne + Skin*
Hormonal Migraines*
Energy Support*
Vegan, Gluten-free, non-GMO, and free from harmful fillers, colorants, and artificial preservatives
Fennel Extract (seed), Chamomile Extract (flower), Broccoli Extract (sprout), Chaste Tree berry Extract (fruit), Maca Root Extract, Ashwagandha Extract (root), Berberine HCI, Rhodiola Rosea Extract (root), Wild Yam Extract (root), American Ginseng Extract (root), Gymnema sylvestre Extract (leaf), Rosemary Extract (leaf)
Take 2 capsules daily, with or without food. You can take 2 capsules at one time or split them up throughout the day.
These statements have not been evaluated by the Food & Drug Administration. This product is not intended to diagnose, treat, cure, or prevent any disease.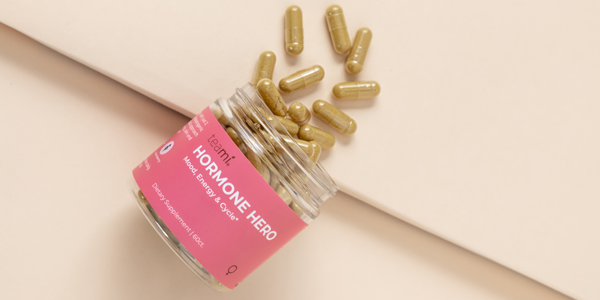 Love my detox mask
This is my second time purchasing this detox mask and I absolutely love it.
Feels great and work wonders on my skin.
This product is amazing. Within the first week I had way more energy!! Cant wait to see what else happens in the future!
hormonales
Very work well it's a must have girls
Frequently Asked Questions
Subscribe to our Newsletter
Subscribe to our newsletter and get 10% off your first purchase
IT'S NOT JUST
TEA

, IT'S A LIFESTYLE