Help your skin make the transition from hot and humid to cool and dry with our Limited Edition Fall Skin Hydration Kit!
The biggest change from Summer to Autumn is the importance of HYDRATION. When the air gets drier outside and inside with the use of heaters, skin can start to lose its moisture and the barrier can get disrupted causing increased sensitivity, dryness, and irritation. 
Focusing on hydration boosting, moisture-locking products will help give your skin the extra boost it needs this season!
Our Fall Skin Hydration Kit Includes:
Collagen Vit-C Serum 
Repair Facial Oil 
Detox Facial Steam Tea
Beauty Mask 
Mask Applicator Brush 
Regular Price: $164.00
Fall Skin Hydration Kit: $149.99
You save $14! *Quantities are limited
Hibiscus Infused Vit-C Serum:
Aqua (Water), Ascorbic Acid (Vitamin C), Cassia Angustifolia Seed Polysaccharide (Botanical Hyaluronic Acid), Kosher Vegetable Glycerin, Aloe Barbadensis Leaf Extract (Organic Aloe), Collagen Protein, Organic Hibiscus Sabdariffa Powder (Hibiscus Flower Powder), Methylsulfonylmethane (MSM), Camellia Sinensis Extract (Organic Green Tea), Simmondsia Chinensis Oil (Organic Jojoba), Hamamelis Virginiana Water (Witch Hazel), Centella Asiatica Extract (Organic Gotu Kola), Equisetum Arvense Extract (Horsetail), Taraxacum Officinale Extract (Dandelion), Organic Fucus Vesuculosus (Bladderwrack), Xanthan Gum, d-Alpha Tocopheryl Acetate (Vitamin E), Jasminum grandiflorum (Jasmine Essential Oil), Citrus Essential Oil Blend, Iron Oxide, Ethylhexylglycerin & Phenoxyethanol.
Repair Facial Oil:
Caprylic / capric triglycerides, Fractionated Coconut Oil, Camellia Seed Oil, Jojoba Oil, Seabuckthorn Fruit Oil, Vitamin E, Chamomile Botanical Essence & Chamomile Flowers.
Detox Facial Steam Tea:
Dried Eucalyptus Leaves, Lemon Balm, White Sage Leaves & Passion Flower
Beauty Mask:
Organic Aloe Barbadensis Leaf Juice, Butterfly Pea Flower Extract, Methylsulfonylmethane (MSM), Kaolin Clay, Kosher Vegetable Glycerin, Zinc Oxide, Sweet Almond Oil, Ultramarine Blue, Phenoxyethanol, Ethylhexylglycerin, Xanthan Gum , d-Alpha Tocopheryl Acetate (Vitamin E), Cabernet & Neroli Botanical Essence
To get a more in depth explanation on how to use each product that comes in our kit, please visit their own product pages! Here is the order in which you can use them!
Apply our Vit-C Serum to brighten, tighten and hydrate AM / PM.
Lock in the moisture with our Repair Facial Oil!
Detox your skin with our Detox Facial Steam Tea Treatment
Soften, Hydrate and Plump skin with our Beauty Mask
Due to the all-natural ingredients in our products, change in color and texture may appear over time. This does not lessen the effectiveness of the product. For best results, keep out of hot or fluctuating temperatures. If you are allergic to any herbs or botanicals consult a doctor before use and patch test.
These statements have not been evaluated by the Food and Drug Administration. This product is not intended to diagnose, treat, cure, or prevent any disease.
Customer Reviews
Sorry there are no reviews for your selected category yet.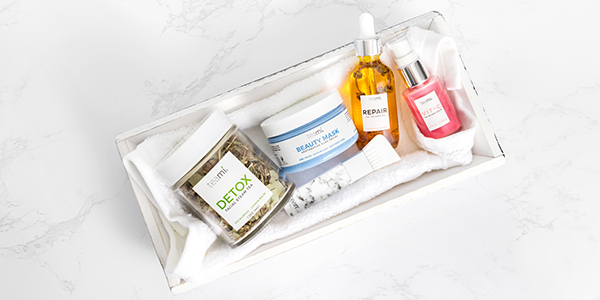 Subscribe to our Newsletter
Subscribe to our newsletter and get 10% off your first purchase
IT'S NOT JUST
TEA

, IT'S A LIFESTYLE