De-Stress Powder, Supports Digestion, Rest + Relaxation
De-Stress Powder, Supports Digestion, Rest + Relaxation
Magnesium is an essential mineral that your body needs to function optimally and over 50% of the general population are deficient, not meeting their daily intake. Magnesium is involved in over 600 cellular reactions and 300 enzymatic processes in your body that are fundamental to overall well-being.
Teami De-Stress is a delicious, 3-in-1 calming nighttime drink formulated with magnesium, calcium and vitamin C to support restful sleep, regular digestion, muscle recovery and balance.*
Benefits:
Supports restful sleep*
Muscle relaxation + recovery* 
Promotes regular digestion + bowel movements*
Magnesium supports natural energy production*
Promotes a sense of calm + relief from tension
Supports healthy magnesium and calcium levels*
Our natural magnesium powder supplement instantly dissolves in hot water, has a yummy orange citrus flavor and is the perfect way to unwind at the end of your day. 
VEGAN | Non-GMO | GLUTEN-FREE | DAIRY-FREE | SOY-FREE | NO ARTIFICIAL SUGAR
Vitamin C (as L-ascorbic acid)
Calcium (as calcium gluconate)
Magnesium (as magnesium carbonate)
Other ingredients: Citric acid, Natural Orange Juice Flavor, Stevia, Ginger Root extract, Turmeric Root Extract.
We recommend drinking Teami De-stress 30-60 minutes before you go to sleep at the end of the day.
Place 1 scoop of De-stress powder in a glass or mug, add boiling hot water. Let it fizz, then stir until dissolved.
If you are taking prescription medication, or are pregnant or nursing, consult your health care provider prior to using this product.
*These statements have not been evaluated by the Food and Drug Administration. This product is not intended to diagnose, treat, cure, or prevent any disease.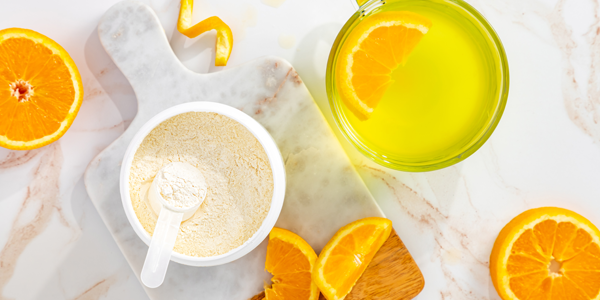 the best
Teami has to be the best hands down. I started using there products since 2019 and still do.
Excelente
Me encanto buenos productos lo recomiendo 100%
DE-STRESS
While this product may help as it claims, I am unable to drink it because it is so extremely sweet with stevia. Real sugar in a limited amount would be much more palatable, at least for my taste.
Frequently Asked Questions
Subscribe to our Newsletter
Subscribe to our newsletter and get 10% off your first purchase
IT'S NOT JUST
TEA

, IT'S A LIFESTYLE