Give your gut the love it needs with our favorite berry wellness powders.  We think your gut will thank you for adding protein, collagen, and prebiotics + probiotics to your daily routine.
That's why we put together the Berry Best Bundle that includes everything your gut needs to be happy and healthy.
Berry Best Bundle includes:
Teami Organic Plant-Based Wellness Protein, Triple Berry - 17g protein
Teami Beauty Butterfly Collagen - 10g marine collagen protein
Teami Gut Love Probiotic + Prebiotic Powder, Triple Berry - 7

 strains & 20 billion probiotics
Regular Price: $104.99
Super Smoothie Kit Price: $99.99
You instantly save $5!
Protein
Organic Teami Protein Blend (Organic Pea Protein, Organic Rice Protein), Natural Berry Flavor, Medium Chain Triglyceride (MCT oil from coconut), Triple Berry Blend (Organic Raspberries, Organic Strawberries, Organic Blueberries), Guar Gum Fiber, Organic Beet Root, White Tea Extract, Stevia Extract, Calcium Phosphate, Silicon Dioxide
Collagen
Wild Caught Marine Collagen from Codfish, Butterfly Pea Flower, Acai Berry
Gut Love
Contains seven different strains and 20 billion probiotics!
Lactococcus lactis, Bacillus subtilis DE11, Lactobacillus paracasei, Lactobacillus plantarum, Lactobacillus acidophilus, Lactobacillus rhamnosus, Lactobacillus casei
Protein
Add 1 serving to water, milk of choice, smoothies or baking and enjoy! Each serving has 17 grams of pure, plant-based protein!
Collagen
Add 1 scoop to your favorite smoothie or smoothie bowl and enjoy the collagen boost!
Gut Love
Mix 1 scoop (7g) with water or a smoothie daily! Consume anytime of day, but best recommended just before or with a meal!
These statements have not been evaluated by the Food and Drug Administration. This product is not intended to diagnose, treat, cure, or prevent any disease. The information provided does not constitute medical advice and should not take the place of consulting a physician.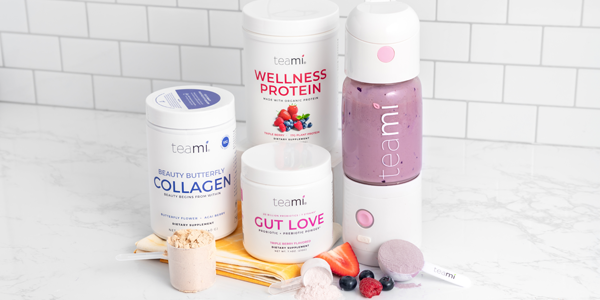 Awesome products!
I love it!!! My body feels amazing
Delicious!
Teami has the best bundles, this one is very delicious and necessary for my smoothies 😋 awesome!!!!
Berry Best Bundle
The Berry Best Bundle is really delicious and very good for my tummy! I love it and I wanna buy some more in the future thanks Teami!
Subscribe to our Newsletter
Subscribe to our newsletter and get 10% off your first purchase
IT'S NOT JUST
TEA

, IT'S A LIFESTYLE