Valentine's Day Sweet Detox Water Recipes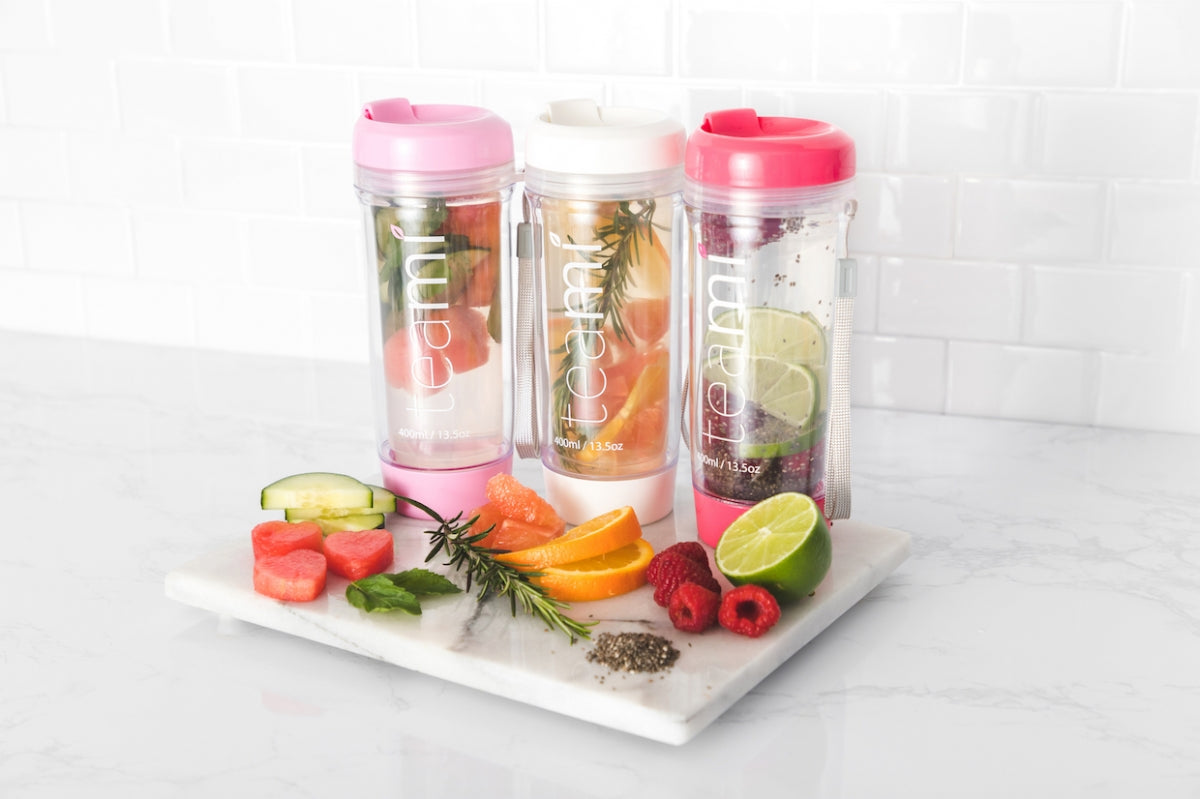 Valentine's Day is right around the corner, and it's one of our favorite celebrations here at the Teami HQ! Anytime we get to show a little extra love to our friends, significant others, and even ourselves- count us in!
 This love-filled holiday can be a time of over-indulging on sugary foods like candy, chocolate, and a few too many glasses of wine (it happens!) - so we made 3 delicious, healthy detox waters inspired by this sweet day to help you stay on track with your health goals during this time!
Grab your favorite color tumbler and check out these simple, delicious detox water recipes! 
Mint To Be Detox Water
5-6 watermelon slices
1/2 cucumber, sliced
Handful of mint leaves
This powerful infusion of minty sweetness is bound to become your go-to - and it's bursting with health benefits! Cucumber is high in nutrients +antioxidants while mint aids with digestion and is antibacterial!
---
In Your Peelings Detox Water
1/2 grapefruit, sectioned
1/2 small orange, sliced
a few rosemary sprigs
This one will have you 'in your peeling' with how delicious AND nutritious it is! Grapefruit is an immune booster that can suppress cravings while rosemary is anti-inflammatory!
---
Berry Into You Detox Water
Handful of raspberries
1/2 lime
1 tbsp chia seeds
We're 'berry' into this water! Raspberries are bursting with vitamins and minerals while chia seeds are a superfood that provide fiber + antioxidants!
If you made a promise to yourself in the New Year to be healthier, these 3 detox water recipes will help you stick to that goal around Valentine's Day! So you can still enjoy all that this fun day brings while staying hydrated, happy, and healthy!
If you find it hard to drink water throughout the day, we definitely recommend trying one of these delicious recipes to make it yummy and easy for you! A nice, cold tumbler full of one of these detox waters will leave you feeling energized and hydrated all day long! So go ahead and enjoy that Valentine's Day date- and make one of these recipes for you and your boo for a sweet, fun surprise! 
PS- Make sure you grab one of our adorable, BPA free plastic tumblers! They come in over 16 colors and keep your tea hot/cold for up to 4 hours! Take on the go for the most convenient way to detox/stay hydrated all day long.
If you've never had one of our tumblers before, check out this video on exactly how they work! We love to take our 30 Day Detox on the go and make fun detox waters like the ones we showed you in our tumblers! No matter how you use them, we promise you'll love yours! There's a color for every personality type, so your unique style can shine through wherever you go :) 
Adi Arezzini
Teami Blends - Co-Founder + CEO
Certified Nutrition Health Coach
Subscribe to our Newsletter
Subscribe to our newsletter and get 10% off your first purchase
IT'S NOT JUST
TEA

, IT'S A LIFESTYLE