How to Use Protein Powder – and Which One Is the Best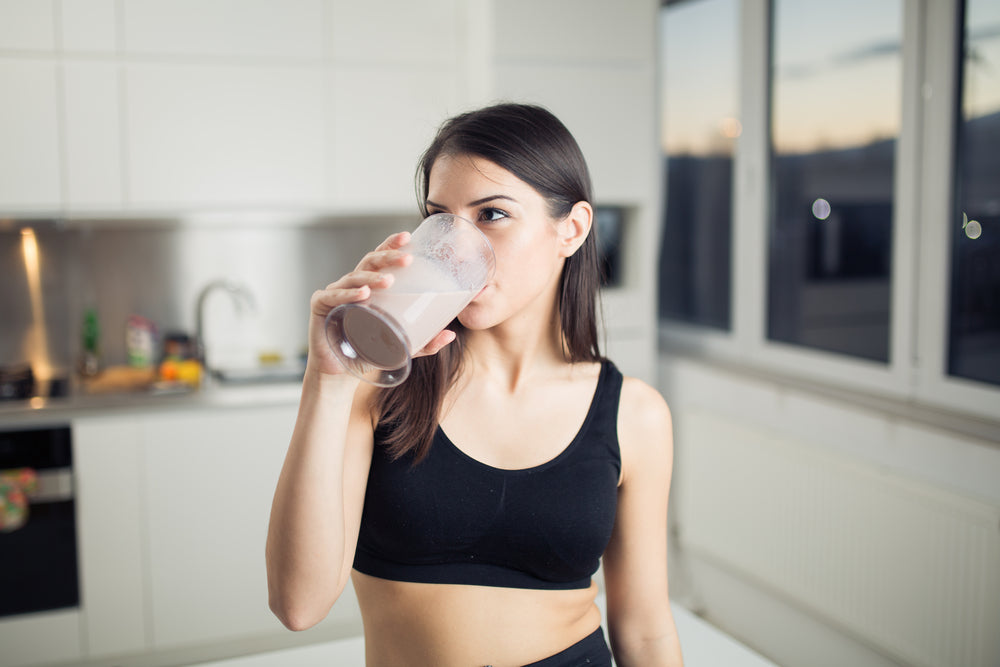 The popularity of protein powder has exploded in recent years. From moms to bodybuilders to after-work athletes, it seems everyone has incorporated protein into their diets. And with so many choices available between powders and bars, it can be hard to know what is best for you. Add to that the types of protein and it can be even more confusing.
One thing is for sure though: protein supplements are here to stay. You might even call them a dietary staple. However, do you know how to use protein powder to get the best results? To get the best results out of protein powder, here are some tips and tricks you can use to reap the benefits of this essential nutrient.
What are the benefits of using protein powder?
Protein is a macronutrient – this means you need a lot of it to stay strong. Protein plays a key role in the function of every cell in your body. And according to the Harvard T.H. Chan School of Public Health, there are at least 10,000 proteins in your body!
Here are five main ways protein supports your body.
Builds muscle and more. Protein is a building block of muscles, skin, hair, nails, bones, and cartilage. It also helps build more lean muscle.
Post-workout fuel: Protein contains amino acids your body needs for repair after a tough workout. It helps you recover faster and floods sore muscles with nutrients.
Repairs tissue. In addition to building muscles and tissues, protein helps with muscle and tissue repair.
Supports digestion. Protein is involved in making enzymes that are critical to digestion.
Supports oxygen transport. Your red blood cells have a compound of protein that helps carry oxygen throughout the body. This helps your whole body get the nutrients it needs.
Curbs appetite. Eating protein keeps you fuller longer.
And that's just the shortlist! As you can see, using protein powder is a healthy decision – and you can do so much more with it than mixing it with water.
How to use protein powder
If you want to get creative with your protein powder, there are many ways to incorporate protein into your diet. Here are some of our favorites!
Make smoothies. The possibilities for protein and smoothies are endless! Mix up protein powder with fruit, leafy greens, chia seeds, yogurt, and so much more. Need ideas? Try our 5-day smoothie challenge – and don't forget to get your MIXit Portable Smoothie Blender ready!
Add a scoop to oatmeal. Take your oatmeal to the next level. Add a scoop of protein powder – you'll stay full longer.
Make protein cookies. If protein shakes or smoothies aren't for you, find a protein cookie recipe. You can make a big batch, freeze them, and grab and go!
Make protein pancakes. Click here for the recipe (and for two more ways to use protein!).
Try a chocolate milk latte. Who doesn't love an ice-cold glass of chocolate milk? Don't sacrifice nutrition when you make this vegan recipe.
Pack high-energy protein balls. Protein balls are the perfect snack when you need a pick-me-up. And this recipe is delicious, low-calorie, and can be made in large batches.
Baked goods. You can make protein cakes, waffles, bread, and your other favorite baked goods with the right recipe.
If these sound delicious to you, make sure you click here to download 16 FREE, healthy, and vegan protein recipes.
What kind of protein powder should I buy?
There are many types of protein powders out there, including whey, casein, egg, rice, hemp, and pea protein. Whey protein is the most popular, but if you're living a plant-based lifestyle, you'll need to skip this one.
For plant-based lifestyles, pea protein is one of the best sources of clean, vegan protein. Pea protein comes from the yellow split pea. Teami protein powders are made with a blend of pea protein and rice protein. And here's why this is so important: the blend of these two powders delivers the total amino acid profile needed for growth.
On its own, rice protein is low on lysine. Lysine is involved in growth, energy production, and bone health. On the other hand, pea protein is rich in lysine, an amino acid. Amino acids are the building blocks of protein. Pea protein is also rich in leucine, isoleucine, and valine – essential branched-chain amino acids. This powerful trio makes up 17% of skeletal muscle! And you must get them through dietary protein.
Another thing to consider when buying protein powders is the other ingredients. Many protein powders are chalky, gritty, and not finely milled. This makes them hard to mix in water, much less bake with or make other meals with. Plus, you'll need to read the label. Many protein powders on the market contain unnecessary filler ingredients or harmful additives, like dyes and added sugars. If you're trying to eat clean, these types of protein powders won't help you!
At Teami, we set out to solve this problem by making the best-tasting protein powder out there! It's not gritty, chalky, or filled with additives. All of our protein powders are non-GMO, soy-free, gluten-free, and dairy-free. We love having an option that's clean and NOT chunky! And they're available in three flavors: Smooth Vanilla, Rich Chocolate, and Triple Berry. One scoop contains 17 grams of plant-powered protein that you can feel good about eating!
Your daily protein needs vary based on many factors, such as your weight, age, and daily activity. But one thing is for certain – we humans need protein to be healthy and thrive. It's essential to eat healthy sources of protein. Protein powder is a great way to supplement your diet if you feel you need more of this nutrient.
What is your favorite way to use protein powder? Tag us in your creations on Instagram using #thankyoutteami!
Love,
Adi Arezzini | @adiarezzini
Co-Founder + CEO, Teami Blends
Certified Holistic Nutrition Coach
---
Get the Protein You Need with Teami
Subscribe to our Newsletter
Subscribe to our newsletter and get 10% off your first purchase
IT'S NOT JUST
TEA

, IT'S A LIFESTYLE