How to Use Butterfly Toning Mist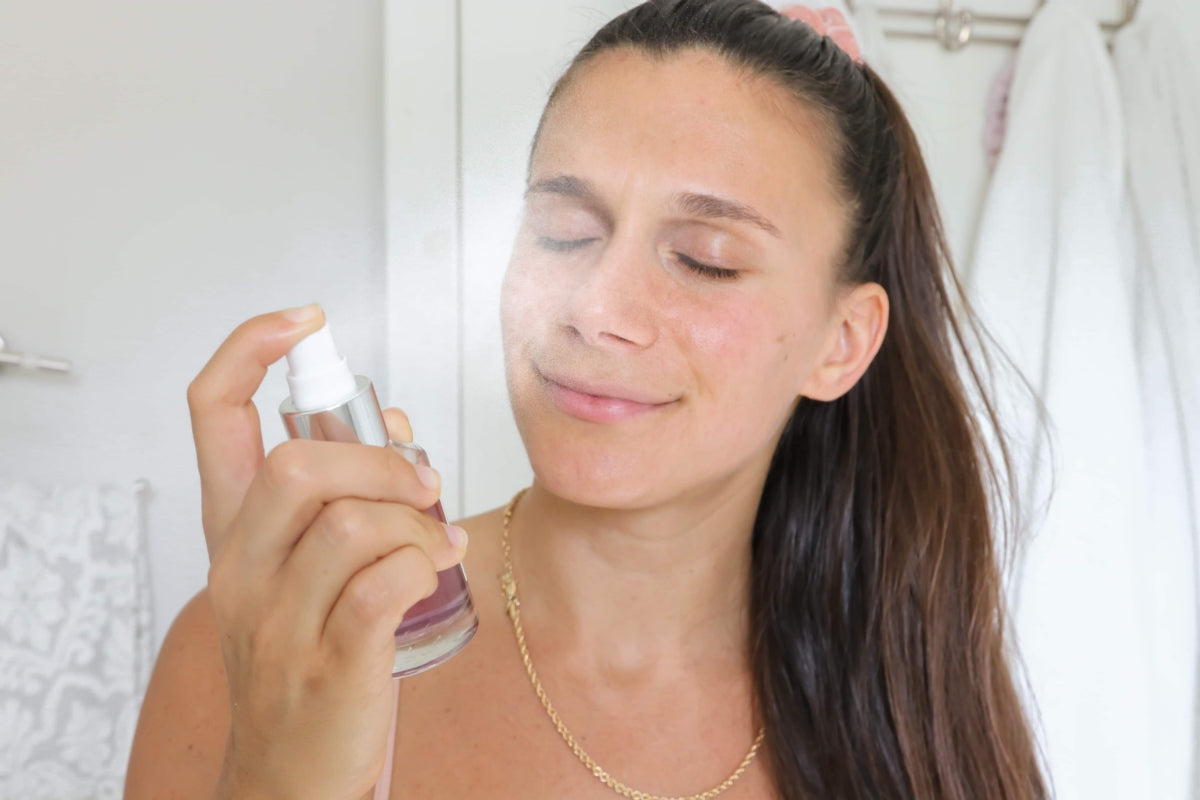 Getting bored with your skincare routine and not seeing improvements? We've been there - so we're here to help! Get ready to spritz up your daily products with our newest addition to the Teami skincare family, our Butterfly Toning Mist! 
It is vegan, cruelty-free, non-comedogenic, alcohol-free and formulated without gluten and silicone! We know most of those sound familiar, but one of the most important parts about this (or any) toner is that it's non-comedogenic! This means that it's specially formulated as to not clog your pores, unlike many popular toners that are filled with chemicals and dyes. Basically, the ingredients are 100% natural and will actually HELP the visibility of pores on your face, not clog them. 
So what are the powerful 100% natural ingredients that make up this little purple potion?
Before we get into the specifics, our toner has three, simple main ingredients - our very own butterfly tea, aloe vera leaf, and witch hazel! This is so important to recognize because most toners you may use or see in stores have high levels of alcohol- some have almost 60%! These alcohol-based toners dry out the skin and strip your complexion of natural oil production! Natural ingredients are truly the most beneficial way to give you a hydrated, refreshed feeling all day long!
Butterfly Pea Flower Tea
Known as our "health & beauty elixir"

Full of antioxidants

Helps protect skin against the aging process
Aloe Vera

Extremely calming effect on the skin

Reduces redness and inflammation

Replenishes dry skin

Anti-aging properties
Witch Hazel
A natural astringent 

Natural anti-inflammatory

Helps shrink pores

Removes excess oil/dirt from the surface layer of skin
Facial Toner vs Facial Mist
Some of you may see toners + mists and you're not sure which one you need in your routine - if any - because they seem like the same thing! We're here to clear up the confusion and get you on track to your best skin! 
Toners are something you probably even use in your daily routine now. But do you know what they actually do for you? If you aren't using an organic face toner, you're only getting half the cleansing and hydrating power from your skincare routine. Toners are meant to be used after cleansing your skin to clear out any impurities on your skin and balance pH levels. The best way to apply it is to put it onto a cotton ball and dab it onto your skin for maximum benefits. 
Facial mists are lighter, more refreshing products meant to be spritzed onto your face and neck directly to set makeup, or just refresh your skin during a lot day! They typically contain water and a hydrating ingredient. 
But now, say hello to the best of both worlds! Our Butterfly Toner Mist was handcrafted so it acts as a fusion of both a toner and a mist, giving you ultimate hydration and toning! All of our skincare is hand-selected to help you live the healthiest and give you the most beneficial products. 
3 Ways to Use Our Butterfly Toner Mist
You may be thinking, so how do I use this unique product? We are so excited for you to get your hands on this skincare goodie, so we're giving you the 3 ways we're using this product in our own daily routines! Remember - since this is an all-natural product, it isn't harmful to skin and can be used as frequently as you'd like! 
1. Toner on Cleansed Skin
Our favorite way to use this for the benefits is as a toner on clean skin! Spritz it directly on your face or put it on a cotton pad and dab onto skin! 
2. Makeup Setting Spray
Looking for a dewy glowing look? After you put your makeup on, you can spritz this baby on to set makeup and give you a glow!
3. Refreshing Wake-Me-Up
Ever feeling that mid-day drag? Get a little wake-me-up by spritzing this refreshing potion on your face! We love to keep it handy at our desk! 
Perfect for all skin types, this is seriously the step your skincare routine has been missing! Not only is it beautiful with it's rich, purple color, but it also smells amazing and is bursting with benefits to help give you the best version of your skin! 
Get your Butterfly Toning Mist here.
Adi Arezzini
Teami Blends - Co-Founder + CEO
Certified Nutrition Health Coach
Subscribe to our Newsletter
Subscribe to our newsletter and get 10% off your first purchase
IT'S NOT JUST
TEA

, IT'S A LIFESTYLE