How Teami Started in my Bedroom!!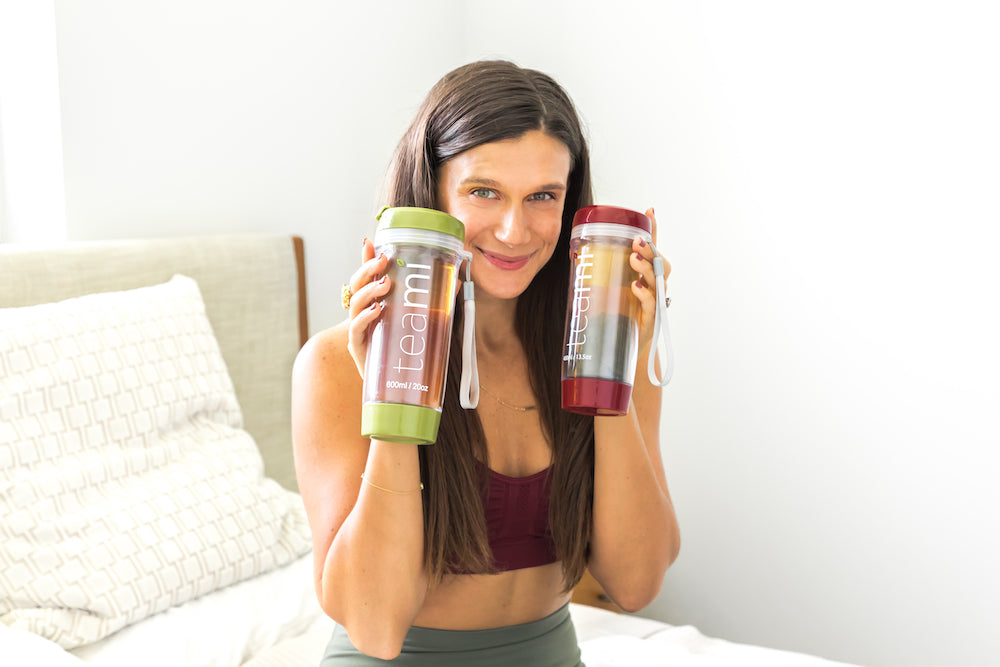 Oh, how time flies when you're working your booty off! My name is Adi Arezzini and I am the Co-Founder + CEO of Teami Blends, a lifestyle brand built to create wellness and skincare products inspired by the health benefits of tea!
It's October 2020….and it's been quite an interesting year, for the lack of a better word. With the Fall season also comes one of my favorite occasions-- our Teamiversary! The celebration of the birth of our brand, our baby, our vehicle to help people out there in the world live happier healthier lives.
So, I thought it would be a perfect time to reflect back and tell you about how we started! 
The Problem I Was Trying to Solve
In 2010 at the ripe age of 19, I spontaneously decided to join the military. Yup, kinda crazy- I know. I sold my car, put all my belongings in a storage unit and didn't look back. This decision ended up completely shaping my future in two fundamental ways.
1) When deciding what job I wanted to try out for in the military, I found the position of "Combat Fitness Instructor". This sounded fun, exciting and challenging. So- I tried out for it and got in! I did not have any athletic training or fitness experience prior to this, so my true passion and love for fitness came from my time in the army! Five months of hardcore bootcamp will do that to you. :)
2) During the army, I started developing major digestive issues. I become addicted and reliant on coffee….in a bad way. I was bloated ALL THE TIME and felt very uncomfortable in my body. My gut health was in bad shape, my mood and energy levels were all over the place and worst of all… I was so upset with my physical issues that I couldn't really enjoy life.
So, when I finished my military service, I came back home to live with my mom in Clearwater, Florida. As a former combat fitness instructor, it only made sense to me to continue that path and become a certified personal trainer to help others.
So- I did that.
But, I was still struggling with my digestion + bloating issues. How could I be a personal trainer to others when I can't even solve my own problems?
That's when I started reading books. Books about gut health, digestive systems, liver cleanses and trying to find what could be the ROOT CAUSE of my symptoms- which were non stop bloating, constipation, swelling and low energy.
Through my research, I found that herbs, plants and tea could help cleanse the body and gut, so I went to my local supermarket and bought all the teas that said "cleanse / detox" on them. To my disappointment, none of them worked in the slightest.
Now...this is where the story starts to get MAGICAL.
A few months later, after I had given up on my journey to finding a natural solution to my bloating and gut issues, I took a trip down to Miami. Why? Well...to meet a possible Jewish husband of course! ;-)
At a friends house, I met my now business partner-- Yogev. He asked me what I do for a living and I told him about my personal training business and how I teach group fitness classes. I reciprocated and asked him what he does. He proceeded to tell me that he has been in the tea manufacturing business for 5 years! It was fate.
We started talking about my health concerns and worked on developing a program that would first meet my wellness needs….and ACTUALLY WORK! After 6 months of formulation development...we had done it. Created the ultimate gut reset + cleanse program that was actually effective-- our Teami 30 Day Detox Program was born!
How We Built Teami From Nothing
So now we had a product...but how do we get it out into the world to help other people who were going through the same problems I was? I was 23 years old, Yogev was 25…. No retail store like Whole Foods would ever take us seriously.
We decided our route to market would be E-commerce. We could speak directly to people we wanted to help without having to go through a retailer who would most likely judge our age and lack of business experience. We spent another 3 months building a website and finally said hello to www.teamiblends.com in October 2013, which we commemorate as the birth of our brand!
We created 100 units of the Teami 30 Day Detox Program and I stored these in my bedroom. I went to Staples across the street from my house and bought envelopes, a thermal label printer and materials so I could ship out to customers.
But...how do we get people to ORDER from us or find out that we even exist? Well, we took to Instagram to spread our message. Now we are in April 2014-- our online store is ready to go, we have 100 units of our product sitting in my bedroom...all we need are customers!
I started posting on Instagram, reaching out to like minded people, explaining my story and the purpose of our brand...and magically...I heard a "bing" notification come from my iPhone…
"You've received a Paypal payment notification"
I hurriedly opened up the app and saw an order. Someone ordered our Teami 30 Day Detox Program. On the internet. Oh...my… GOD!
From my bedroom to our 15,000 HQ
From April 2014 - September 2015, I ran everything from my bedroom. I would do all the customer service emails, the marketing, social media and even packaging up orders and dropping them off at USPS every day
It started to get too much for one person to do, so I hired my 16 year old neighbor who would help me pack orders every day after school!
In September 2015, we finally moved out of my bedroom and subleased a section of a friend's warehouse, and had our Teami team members work from there. It was pretty make-shift, but we made it work
September 2016 -- Present 2020, we signed a lease on our own 15,000 Sq Ft Warehouse + Office Space… OMG! This was such a scary step…. Signing my name on a 4 year lease?! It was a necessary step to help us grow and expand our employees + fulfillment to our customers!
P.S. we are bursting at the seams here, we will need a larger space soon!
Evolution of Teami Products
We started with our 30 Day Detox Program to focus on improving gut and digestive wellness for our customers, but didn't stop there. In the last 7 years we have expanded to over 15 different tea blends, 20+ tea infused skincare products and so many wellness accessories!
In total, we have over 100 different products in our store!
What does the future hold for us?
Building this Communitea where everyone is welcome, at every stage of their wellness journey, has been and will always be our main purpose. To see the changes in our customers lives, to create a safe space for newbies to walk in and use products that actually WORK for them… it's magical.
We are committed to continuously create new, innovative wellness and skincare products for our Communitea- while always putting out free content like e-books, recipes, blogs and more!
Thank you for taking the time to read this...I know it was long, but this is the shortest I could make it!
Love,
Adi Arezzini | @adiarezzini
Co-Founder + CEO, Teami Blends
Certified Holistic Nutrition Coach
---
Subscribe to our Newsletter
Subscribe to our newsletter and get 10% off your first purchase
IT'S NOT JUST
TEA

, IT'S A LIFESTYLE