FAQ: How Effective is "Clean & Clear" as an Acne Treatment?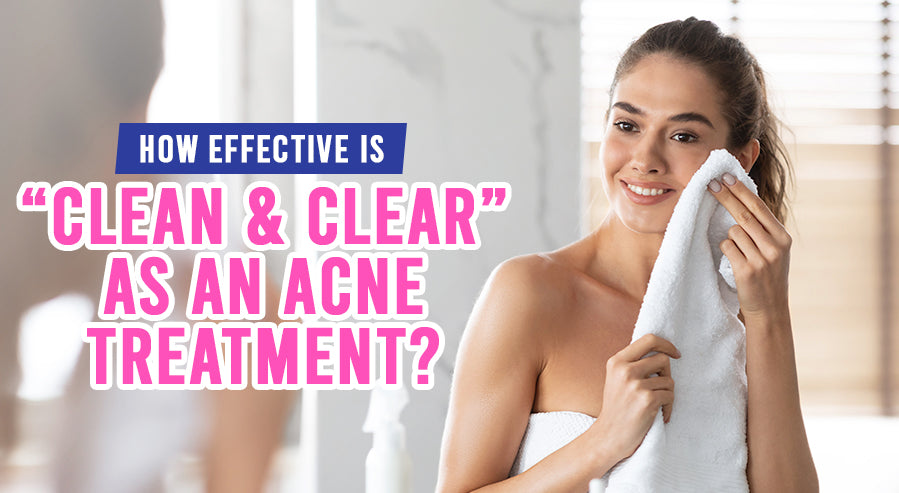 Acne is probably the most common skin condition in the world, with most examples being an outbreak of harmless blemishes. In most cases, acne is little more than a cosmetic issue, with only rare cases resulting from more serious skin issues. Nevertheless, acne is a troublesome condition that never truly goes away and remains a potential problem starting from puberty. Many adults continue to suffer acne breakouts later in life despite enduring the worst of it in their teenage years. Unfortunately, acne seems an inescapable part of the human experience and can wreak havoc on our self-esteem, given the unappealing look of acne.
Because acne is unsightly to most people, several treatments and products have been developed to mitigate the severity of the outbreaks. No surefire tool or method exists to eliminate the risk of a breakout, but some products can limit the number of nodules created by the breakout. One of the more modern options for acne treatment is a product called Clean & Clear, a typical pharmaceutical-grade acne treatment sold in pharmacies and online markets. Clean & Clear has a fairly substantial customer base, but the problem is that most customers of acne treatment providers are desperate to alleviate their condition. This can bring the efficacy of products like Clean & Clear into question.
What is Clean & Clear?
Clean & Clear is a brand of dermatology products manufactured and sold by Johnson & Johnson. The brand is typically marketed towards young men and women struggling with skin conditions affecting their appearance. The first Clean & Clear product was a skin cleanser introduced in 1959 before Revlon introduced lotions and bar soaps to the mix in 1986. Since then, Clean & Clear has been one of the leading brands sold by Johnson & Johnson, given how common acne is in modern society. 
Clean & Clear has expanded to include acne kits that combine facial cleansers, lotions, oils, and other products to minimize breakouts. The abundance of products is initially an encouraging sight to people suffering chronic breakouts, but there is a problem.
There are too many Clean & Clear products to count out for this article, especially since there are so many subcategories marketed on their website. Johnson & Johnson instructs that their Clean & Clear products are best used conjunctively rather than independently. As a result, Clean & Clear sells their wares in kits consisting of multiple products meant to synergize with one another and maximize their results. The trouble is finding the kit with the products you need for your situation and ensuring the products work.
The sheer number of Clean & Clear products can make it difficult to discern which products are beneficial and which are a waste of time and funds. As much as we hate to admit it, most cosmetic care tools are created to saturate the market and provide marginal aid that is not worth the effort. Identifying which Clean & Clear products are beneficial is the first step in using them since you do not want to waste money on an otherwise ineffective product.
Is Clean & Clear Effective?
The main question we need to answer is whether Clean & Clear products effectively neutralize acne. Given that Clean & Clear was manufactured to clear the skin, one would hope the fairly expensive merchandise would work. In theory, the Clean & Clear range of facial products effectively cleans the skin and prevents bacterial buildup. Purging the bacteria from the skin minimizes the chances of a breakout since it is the most common cause of acne worldwide. Clean & Clear products are designed to cleanse the skin but use several ingredients to accomplish this goal.
Clean & Clear products combine specific acids with other ingredients to exfoliate the skin and clear any dirt or bacteria trapped in the pores. The two main acids used in Clean & Clear products are alpha-hydroxy acid combined with salicylic acid. These acids are known for opening clogged pores but are not known for their long-lived effects. 
While the idea that acid is in your exfoliating products might seem worrying, the acids are not dangerous in small concentrations but are actually beneficial. This is why Clean & Clear uses them in their Soft Purifying Cleanser.
Other products employ glycolic acid and certain vitamins that promote healthy skin. These ingredients provide enough benefits to generate positive results for acne treatment. Unfortunately, Clean & Clear products have significant handicaps that can reduce their efficacy as an acne treatment. Specifically, certain ingredients in Clean & Clear products can harm the skin rather than help it because they are particularly harsh on an otherwise sensitive organ. 
As a result, several Clean & Clear products can cause more damage to the skin when used for an extended period. We need to know what issues Clean & Clear products have that impede their use.
Issues With Clean & Clear
Despite being marketed as an effective skincare brand, Clean & Clear products suffer from side effects and issues that make extended use inadvisable. The biggest problem is that most Clean & Clear products use alcohol or menthol as a primary ingredient. While these substances have practical benefits that make them valuable tools, they have serious drawbacks when used for skincare. Alcohol and menthol irritate the skin and dry it out, thereby undoing the hydration, the Clean & Clear, and the destruction of the oils our skin needs. Essentially, skincare products that employ irritating substances can damage the skin and lead to blemishes far worse than acne.
Furthermore, most Clean & Clear include fragrances designed to make the application more tolerable since the chemical scent of skincare products can be insufferable. While these fragrances, like menthol, make dealing with the smell of skincare products easier, they have the unfortunate side effect of irritating sensitive skin. Sensitive skin is inherently vulnerable to skin conditions and blemishes like acne. Fragrant ingredients like menthol strain and irritate the skin and weaken it further and expose it to damage.
These risks were corroborated in 2014 when the Food and Drug Administration (FDA) cited Clean & Clear in a special safety announcement. The announcement stated that Clean & Clear products and a few other brands were linked to a rare hypersensitivity reaction in some people. This means that Clean & Clear skincare products can damage your skin further if you are predisposed to negative reactions to certain substances.
These harmful side effects are not necessarily going to affect everyone who uses Clean & Clear skincare products. However, the risk is higher than most people are comfortable with, especially since the issues with applying alcohol to the skin are not locked behind genetic predisposition. The issues with Clean & Clear products are becoming more pronounced as we understand more about how our skin reacts to certain substances, making it harder for Johnson & Johnson to hide the consequences of using their products. This means we must revisit the question that brought you to this article.
Are Clean & Clear Products the Best Choice?
The simple answer to this question is "no," Clean & Clear products are not the best choices when treating acne. This is based solely on the issues that the ingredients used in Clean & Clear products generate. While the products have a moderately effective track record, their side effects can cause more problems than they fix.
The skin is remarkably sensitive, and the products we use to treat issues like acne must be chosen carefully to ensure we do not exacerbate the issue. This means excluding certain ingredients more often than including others. Most pharmaceutical-grade solutions employ preservatives and supplemental ingredients that dilute the effect of the natural compounds that improve skin health.
Any alternative to Clean & Clear products must have the right ingredients and lack the harmful ones. Interestingly, some of the best options for skin care are not pharmaceutical grade. Instead, they use natural ingredients emphasizing our body's natural synergy with substances found outside manufacturing plants. Of course, you still need to be discerning about which supplements you use rather than automatically assume something natural will improve skin health.
What to Use Instead
Our claim that Clean & Clear products cause more harm than good might not be sufficient for you unless we offer an alternative. Fortunately, we have no intention of telling you not to use a product without putting you on the path to a better option. However, you will need to open your mind when we tell you that the best natural option for exfoliation and acne reduction is as simple as stocking up on green tea. 
You might think using green tea to treat acne sounds ridiculous, considering tea is typically thought of as a beverage and nothing more. While this is understandable, green tea is an amazing source of several nutrients and vitamins that help improve our general health.
The benefits associated with green tea extend to skin health since the substances in green tea have been scientifically linked to skin health. While green tea extract does not directly reduce existing acne, it can help mitigate the symptoms of acne to make it less irritable. Current research shows that green tea extract can reduce the severity of lesions, redness, and irritation caused by acne. Before you break out the tea kettle, it is important to note that the benefits of green tea extract for skincare only work when applied topically. Fortunately, topical application of green tea has several other beneficial effects that reinforce its anti-acne properties.
The biggest detail confirming green tea's benefits against acne is the presence of epigallocatechin gallate (EGCG). EGCG is a polyphenol that combats acne and excess oil in the skin, reducing the rate of breakouts across the treated area. EGCG is an anti-inflammatory, antioxidant, and antimicrobial rolled in one, making it a triple threat against acne. Additionally, EGCG lowers lipid levels which, in turn, reduces skin oil production that might oversaturate the pores. When oil clogs the pores, bacteria have a free range to grow and thrive, which can increase the rate of acne breakouts.
These effects turn green tea extract into a powerful weapon against acne breakouts without including many harmful ingredients. Additionally, green tea extract skincare products are free of paraben and sulfate, which can harm the skin, and are included in certain lower-grade skincare tools. 
To Clean & Clear's credit, their products are free of paraben and sulfates, but the other additives make them less healthy for your skin than a purely natural substance like green tea. Unfortunately, finding a green tea skincare supplement can be challenging, given the lack of mainstream industries focusing on natural products. This means your biggest challenge will be acquiring a reliable supplement for your needs.
Finding the Right Blend
Acne is an extremely common issue that can plague us for the rest of our lives, making it a consistent cosmetic burden. Finding ways to counter acne has been an issue for countless people worldwide, leading to products like Clean & Clear. Unfortunately, Clean & Clear has more issues than the brand lets on and can do more damage to your skin if you are not careful. While some Clean & Clear products do have merit in your daily routine, most use harsh ingredients that can compromise your skin and leave it vulnerable to issues worse than acne. The best tools for treating the skin usually use natural ingredients.
We at Teami believe in producing natural cosmetic products you can rely on to improve your skin and general well-being. Regarding acne, we recommend employing our Green Tea Detox Mask to enjoy the benefits associated with topical green tea application. This is only one of the range of products we offer, but it could be the solution you need if you are constantly fighting breakouts. We encourage you to visit our website and evaluate our products to see if any suit your needs and reach out with any questions you might have. After all, finding the right blend is a Teami effort.
Subscribe to our Newsletter
Subscribe to our newsletter and get 10% off your first purchase
IT'S NOT JUST
TEA

, IT'S A LIFESTYLE