8 Healthy Guilt-Free Superbowl Recipes + Snacks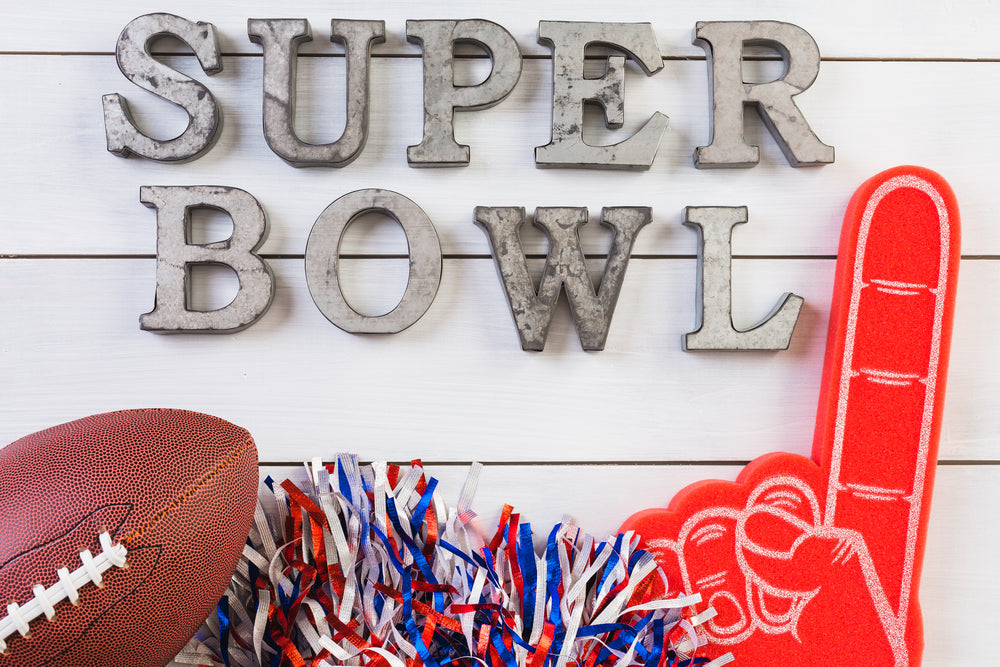 Whether you're rooting for your favorite football team in the Superbowl or just spending the night with your friends - we put together our favorite watch party food essentials. We're giving you appetizers, drinks, dinner and desserts so you have a full healthy lineup for the watch team! Not to mention - most recipes take under 10 minutes and they're detox-approved!
Chocolate Covered Strawberry Footballs
Ingredients:
1 pint fresh strawberries, washed and dried
2 cups dark chocolate chips
1/2 cup white candy melts, or white chocolate chips
Add your chocolate chips to a microwave safe bowl and microwave for 30 seconds! Repeat until melted fully.
Rinse your strawberries. Then, grab by the leaves and dip into your melted chocolate. 
Place dipped strawberries on a sheet of wax or parchment paper. Allow to sit about 10 minutes to harden chocolate. If needed, place in freezer for 5 minutes to harden more.
Melt white chocolate the same way you did the chocolate chips. Add to a piping bag if desired. Make a vertical line down the strawberry with the white chocolate, then do 3-4 horizontal lines to create football lacing!
Stick in your freezer to fully harden and enjoy!
---
Cauliflower Tacos
Ingredients:
1 head of cauliflower
2 tsp chili powder
2 tsp smoked paprika
1 tsp sea salt
2 tsp garlic
1 small onion
Pepper
Corn tortillas
Beans
Salsa 
Preheat oven to 400 F
Toss cauliflower in spices to evenly coat
Roast for 20-25 minutes 
Fill tortillas with cauliflower, beans and salsa - Enjoy! 
---
Spicy Popcorn
Ingredients:
1 tbsp Chili Oil
2 tsp Grapeseed Oil
½ cup Popcorn
3 tbsp Butter
½ tsp salt
½ tsp garlic powder
½ tsp paprika
½ tsp cumin
½ tsp cayenne pepper
Heat the chili oil and grapeseed oil in a pan over medium heat
Add a few popcorn kernels to heat. When they pop, add the rest then cover pan. Make sure they're spread evenly so they all pop!
While they pop, melt the butter in microwave and add in salt, garlic powder, parika, cumin and cayenne pepper. 
Once popped, move popcorn to large bowl. Drizzle spicy butter mixture over popcorn and mix thoroughly! Enjoy!
---
Jalapeno Non-Alcoholic Detox Water
Cut up your jalapenos and pineapples into pieces
Fill up your glass with sparkling water & place the ingredients right on top! 
---
Sun Dried Tomato Hummus
Ingredients:
2 cans chickpeas drained + rinsed
2 garlic cloves peeled and crushed
1 jar sun dried tomatos
1 cup tahini paste
½ cup lemon juice (about 4 lemons)
2 tbsp tomato paste
1 tsp sea salt
1 ½ tsp smoked paprika
½ cup sesame oil
Put chickpeas, garlic, sun-dried tomatoes, tahini, tomato paste, some salt and smoked paprika in a food processor or blender and process until well combined and smooth!
---
Healthy Potato Chips
Ingredients:
Potatoes
Olive Oil
Pink Salt
Preheat oven to 425
Thinly slice potatoes and place on oiled baking sheet
Place baking sheet in oven for around 30-35 minutes 
Take potato chips out of oven and allow to cool
Toss in olive oil, pink salt, and pepper
---
Brownies
Ingredients:
2 cups unsalted smooth almond butter
1/2 cup cacao powder
1 tsp baking soda
1/2 tsp pink salt
2 eggs
1/2 cup 100% maple syrup
1 tsp vanilla extract 
Mix all ingredients in a large bowl
Pour batter in a parchment lined 8x8 pan 
Bake for 30 mins at 350F
Cool for 15 mins + enjoy!!
---
Beat the Bloat Detox Water
Cut up your grapefruit & lemon. Stick them in the pitcher's strainer along with liquid stevia + cayenne pepper!
Pour your cold water over it, filling the pitcher. Stick it in your fridge to have all week or enjoy right away!
Eating healthy doesn't mean cutting out your favorite foods - just making healthy ingredient swaps! Find even more healthy + detox-approved recipes for all of your occasions this year! From events to late night snacks - we've got you covered! What recipes do you want to see from us next?
Adi Arezzini
Teami Blends - Co-Founder + CEO
Certified Nutrition Health Coach
Subscribe to our Newsletter
Subscribe to our newsletter and get 10% off your first purchase
IT'S NOT JUST
TEA

, IT'S A LIFESTYLE