Healthy Recipes for 4th of July Weekend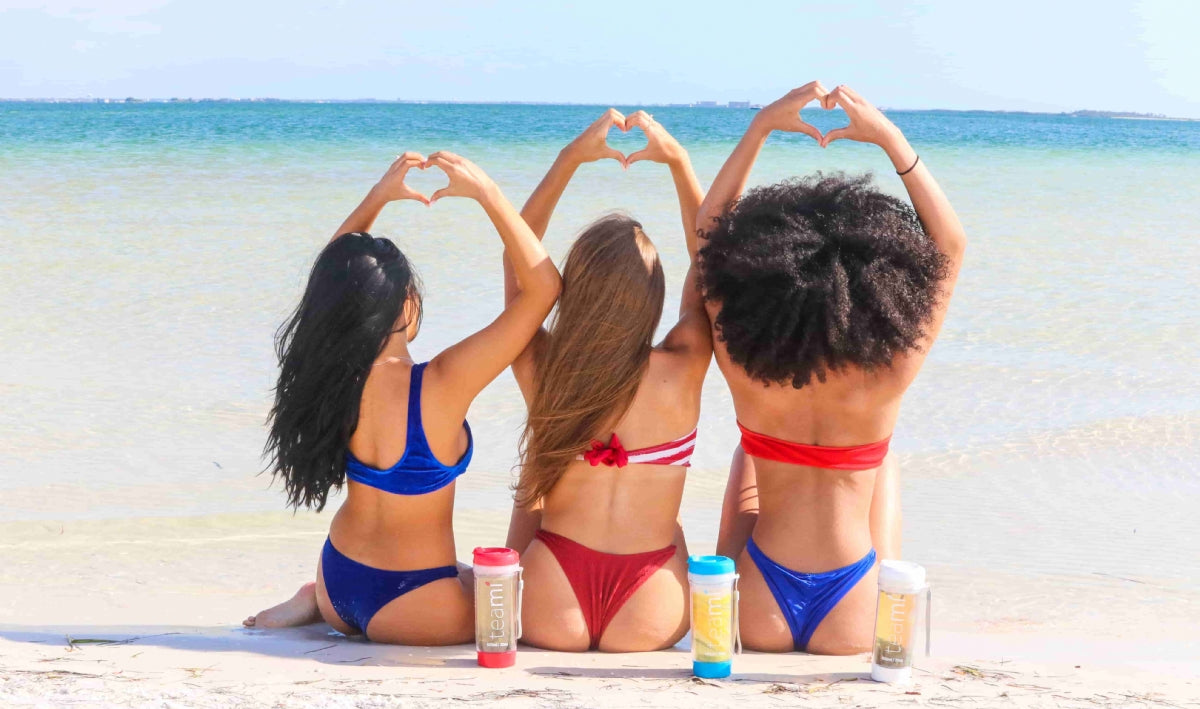 Nothing says summer like 4th of July weekend! The weather is warm, the beach or pool is in your everyday schedule, friends are always around and maybe all the excitement is causing you to struggle a little bit eating healthy. It's okay- we've been there! 
That's why we put together 3 of our favorite refreshing summer recipes to make this 4th of July weekend! They're so delicious, you might forget you're eating healthy! Whip these up at any festivities you're going to and you'll be the talk of the party! Before we get into the recipes, let's talk about three power-packed ingredients that make these yummy dishes so good for your health!
Bell Peppers: Did you know this spicy food has one of the highest levels of Vitamin C? Yup, seriously! They contain 200% of your daily vitamin C intake! They also can increase your metabolism and are packed with antioxidants! 
Watermelon: This fruit is the staple of summer - but did you know how powerful watermelon is for your health? It's bursting with benefits like ultimate hydration, reduce inflammation, and aids in skin health! 
Grapefruit: Grapefruit might not be the first fruit you reach for, but maybe these benefits will help you start! This super fruit is a weight management essential, aids in digestion and appetite control, and boosts your immune system! 
Now that you're ready to start adding these three special foods into your diet - let's get into the recipes to make this weekend! P.S. Don't forget to bring a festive Teami Tumbler with you wherever you go to always keep hydrated and accountable during your 30 Day Detox to a healthier lifestyle! 
This adorable recipe is SO simple! Get a whole watermelon, slice it up down the middle to create the pizza circle, and now is the fun part! Spread yummy greek yogurt like "sauce" and then sprinkle some feta cheese, blueberries, strawberries, and mint! P.S. You can totally customize these toppings! Yum, this is so refreshing on a warm day!  
Check out the full recipe here!
Beat the Bloat Elixir Detox Water
Staying hydrated in the summer is seriously crucial! If you struggle with drinking water or just want to mix it up - this recipe is for you! We love to make it in our Lifestyle Pitcher so we have a whole batch on hand to pour. It makes it soo much easier to stay hydrated and is great for parties! Just stick some grapefruit, lemon, honey, and liquid stevia in the strainer and fill the pitcher with cold water! Let the mixture infuse in the water and pour it up! 
This detox water is not only fruity and delicious but is power-packed to help reduce bloating all summer long! Check out the full recipe here!
Eat the rainbow! Summer is a great time to get fruits and veggies because almost all of them are in season and at their best! This yummy salad puts together a rainbow of benefits for your body made up of peppers, onions, cucumbers, olive oil and more! It's so easy to put together quick and leaves you feeling refreshed for your day! 
Who's ready to whip up these delicious and healthy recipes this 4th of July weekend? We know we are! Not only does eating healthy seriously benefit your body, it genuinely makes you feel your best self this summer. You'll feel more energized, alert and can even help benefit your fitness goals! Now is the perfect time to reset your body with our 30 Day Detox to cleanse your body of toxins and start a journey to a happy + healthier YOU! 
If you make any of these yummy recipes, be sure to tag us @teamiblends with the hashtag #thankyouteami! We can't wait to hear what you think of them! :) 
Subscribe to our Newsletter
Subscribe to our newsletter and get 10% off your first purchase
IT'S NOT JUST
TEA

, IT'S A LIFESTYLE