Benefits of Reds Superfruit Powder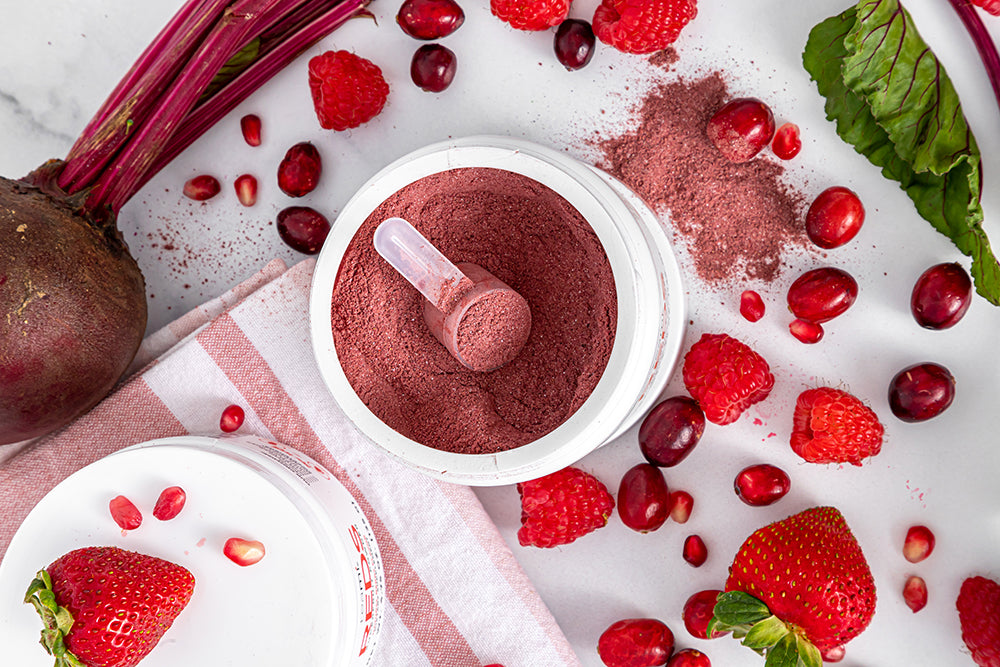 Juicy and bright strawberries. Fresh and tart raspberries. Sweet and sour cherries. These bold and rich red berries pack a flavorful punch eaten alone, blended into a smoothie, or tossed into some yogurt or a salad. And not only do they look beautiful in any dish, but they also pack a serious nutritional punch and have multiple health and wellness benefits. These powerhouse berries and many others have earned the nickname "superfruits" for a reason. So what is a superfruit exactly? Let's find out.
What is a superfruit?
Superfruits are fruit that are loaded with beneficial nutrients – and their claim to fame is being "super" for health and wellness. Some of the types of nutrients you may find in superfruits include:
Fiber for healthy digestion
Antioxidants to fight free-radical damage and protect cells
Vitamins and minerals such as Vitamin C for immune support
Phytonutrients – plant compounds and pigments that are believed to have human health benefits, such as anthocyanins. Anthocyanins are found in the outer cell wall layers and are what give blueberries, cranberries, raspberries, and other dark berries their purple-red color.
Superfruits in one scoop – Teami Reds Superfruit Powder
Meet Teami Reds – a delicious blend of superfruits, antioxidants, and adaptogens designed to deliver clean and natural energy and provide immune support, skin support, digestive support, and mental focus.*
We created this yummy elixir with all seven of the superfruits above, plus red beets, reishi mushroom and green tea extract to support your natural energy sources. And it's lightly sweetened with stevia and monk fruit extract – two natural sweeteners from plants that are calorie-free.
Teami Reds complements Teami Greens, which is made with 16 superfood ingredients. You can even mix these together for the ultimate superfood punch. Try it in a smoothie!
If you struggle with the afternoon slump, Teami Reds can help. Many people experience a drop in energy in the afternoon. For most people, this is because your circadian rhythm is adjusting. However, other factors can also contribute to the afternoon energy drop, such as:
Not getting enough sleep
Eating a heavy lunch or a poor diet in general
Dehydration
Chronic stress
Teami Reds supplies natural energy with nutrient-dense functional foods, including superfruits. We recommend using it in the morning and in the mid-afternoon when you need a pick-me-up. It can be mixed with cold water or into a smoothie and is bursting with red berry flavor.
Eating a diet rich in superfruits and superfoods can help you feel vibrant and energetic. Not only that, these foods work hard from the inside out supporting all of your major systems and radiant skin. If you don't regularly eat superfruits for superfoods, we're here to help make it a little easier to get started.
If you need ideas for using Teami Reds or any other Teami product, check out our library of free e-books.
And we want to be part of your healthy journey! Follow us on Instagram and TikTok – and tag us to let us know how you are doing with #thankyouteami.
*This statement has not been evaluated by the Food and Drug Administration. This product is not intended to diagnose, treat, cure, or prevent any disease.
Love,
Adi Arezzini | @adiarezzini
Co-Founder + CEO, Teami Blends
Certified Holistic Nutrition Coach
---
Get the Nutrition You Need with Teami Reds Superfruit Powder
Subscribe to our Newsletter
Subscribe to our newsletter and get 10% off your first purchase
IT'S NOT JUST
TEA

, IT'S A LIFESTYLE