7 Benefits of a Green Tea Superfood Cleanser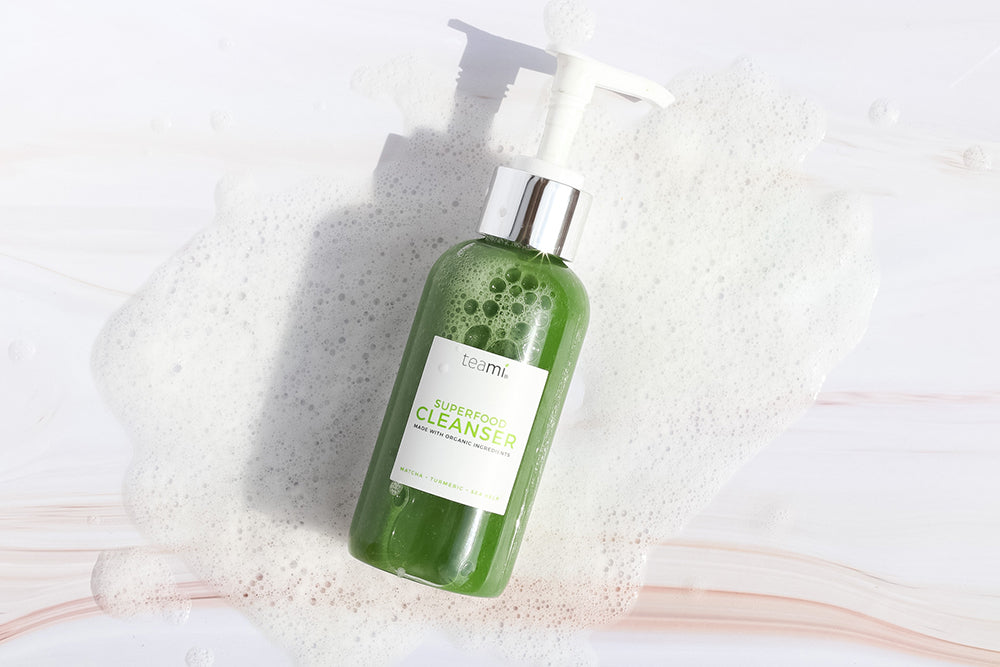 Do you love loading your plate full of blueberries, kale, acai, and salmon?
These are only a few of the superfoods that researchers proven are great for our bodies. They fuel us, keep us strong and help us look our best.
What if there were a cleanser that could do the same?
Enter our Superfood Green Tea Cleanser.
Chocked-full of the vitamins, nutrients, and minerals that you already know are great for you, it's a surefire way to get that healthy glow you've been craving.
Ready to learn more? Today, we're sharing seven reasons why this cleanser is the one product missing from your skincare routine and how it can make a world of difference.
Ready to learn more? Let's dive in!
Superfoods and Your Complexion
Before we explore the many reasons why our Green Tea Cleanser is a smart addition to your bathroom cabinet, let's take a look at the scientific reasoning behind our superfood blend.
What makes superfoods so great for your complexion?
Chances are, you've already noticed the reason. After a night of heavy drinking or a weekend of indulging in all the fried foods, is your skin exactly radiant?
Processed foods, as well as those high in sugar and fat, can wreak havoc on your facial skin. In most cases, it's not only dull but can also exhibit a range of symptoms, including:
Acne
Oiliness
Dryness
Dark under-eye circles
Any of these sound familiar? If so, incorporating superfoods can help. While eating clean, whole foods is a great way to start, you can take your new routine to the next level by looking for products that include proven superfoods within them.
Our cleanser is a great example. In one pump, you'll slather your skin with a Who's Who list of the best superfoods in existence, including:
Green tea
Turmeric
Sea kelp
Apple
Curious about giving it a shot? Let's take a look at seven reasons why your skin will thank you when you shop with us.
1. Turmeric's Calming Properties
There's no denying that turmeric is shaking up the gourmet chef scene right now. You can even find plenty of beauty gurus who swear by DIY turmeric face masks!
Why are they all going nuts over this orange-tinted spice? The answer lies in its key ingredient: curcumin.
This is a powerful antioxidant that goes to town on all of the free radicals that threaten to dull your skin and muddy up your complexion. Taken internally, it can also boost your body's natural collagen synthesis.
Yet, its powers are elevated when turmeric is applied directly to your skin. Topically, it encourages your skin's elasticity and firmness, helping you ward off those fine lines and wrinkles. For these reasons, we've made it a star ingredient in our face wash.
2. Green Tea's Superpowers
Arguably no other beverage packs as powerful a health punch as green tea. Not only is it an antioxidant, but it's also anti-inflammatory and antimicrobial, which makes it an ideal addition to our cleanser.
Washing your face with green tea allows your skin to absorb many of these benefits directly. It's especially helpful in treating acne and oily skin, as it helps reduce your skin's natural production of sebum. The oily secretions of your sebaceous glands, this is the substance most attributed to acne breakouts.
Want to even your skin tone, reduce blemishes, and brighten your complexion? Green tea is the way to go.
3. Sea Kelp's Softness
For years, researchers have pointed to the ocean as a source of ancient healing and restoration. That's why so many of your favorite bath products have ingredients fresh from the beach, including sea salt and deep sea mud.
In your quest to keep your skin glowing, the ocean can, once again, hold all the answers.
Our cleanser features brilliant green sea kelp that works in the very same way. This member of the brown algae family grows in "underwater forests" and features a vibrant green hue.
Sea kelp brings a ton of benefits to our cleanser. A few of the reasons why we picked it include:
It's a natural anti-inflammatory
It helps soothe dry and flaky patches of skin
It can help keep breakouts at bay
It's rich in antioxidants and ideal for anti-aging
4. Apple's Skin-Boosting Qualities
An apple a day might just keep the dermatologist away!
Apples are jam-packed with skin-loving ingredients that deliver a range of health and beauty benefits. They're proven to brighten your skin, reduce puffy under-eyes, and lessen the appearance of acne, blemishes and dark spots.
In addition, they also:
Work as an effective natural toner
Make your skin more supple
Help reduce puffy eyes
Moisturize your skin
To achieve all of these results, you don't exactly need to rub an apple slice all over your face! Rather, you can look for apple as a key player in your skincare products, where you know it will add a much-needed boost!
5. Ideal for All Skin Types
Tired of having to pull out your reading glasses to check out the small print on every single bottle of face wash? Some are meant for oily skin while others cater to dry complexions. Then, there are those that combat acne, those designed as anti-aging and those with the sole purpose of moisturizing.
It's enough to make your head spin. We know, we've been there.
That's why we created our Green Tea Superfood Cleanser to work with all skin types, including:
Oily
Dry
Sensitive
Combination
That means you can add a bottle to your cart with confidence, never having to worry or wonder if you made the right decision for your individual complexion. Skincare is a highly personal journey, but finding universal products that actually work can be a total game-changer.
6. Cleanse and Nourish, Don't Strip
Have you ever used a face wash that felt great while you were scrubbing but immediately left your skin feeling tight, dry and flaky a few seconds after you dried off? Not cool.
We've heard from plenty of users that a main pain point in their skincare routine is trying to find a product that zaps their face clean of the bad stuff, without stripping it of the good.
In response, we created a cleanser that helps remove your entire day, including all the deep-down gunk that gets embedded in your pores. Yet, we also made sure it was nourishing. Our product sinks into your skin and cleans it deeply yet gently, leaving your complexion feeling soft and smooth, never dry.
Your skin contains valuable essential oils that help shield it from everyday nuisances, including free radicals. If your current cleanser is leaving your skin irritated, you've likely eliminated most or all of those oils, leaving your skin even more vulnerable. Effective doesn't have to mean painful, and our Green Tea Superfood Cleanser is proof of that.
7. Tighten Skin and Shrink Pores
Over time, our skin starts to sag. It's a fact of life that everyone must face at some point. Why then, do most superstars in their 50s and beyond look like they've found a way to turn back the clock?
The answer lies in skin-tightening products and procedures that breathe fresh life into limp, droopy facial skin. You don't have to drop hundreds at the spa for a microneedle treatment or firming face massage. Rather, you can simply invest in a bottle of our cleanser to see long-term results in firmness!
With continued use, you'll also notice that your pores become smaller.
If this is your skincare woe, you know that there are myriad masks, lotions, and sprays that claim to reduce the appearance of your pores to give you that "glass skin" complexion that's all the rage. Why not take care of this step every morning and night during your facial wash routine? With our cleanser, you can.
Try our Green Tea Cleanser Today
Now that we've shared a little more about why our Green Tea Cleanser is about to become your new best friend, are you ready to try it for yourself?
We're proud to create some of the highest-quality health and wellness products on the market today, and it all starts with our tea. Our tea-infused skincare line is a natural extension of our focus, promoting beauty both inside and out.
Love,
Adi Arezzini | @adiarezzini
Co-Founder + CEO, Teami Blends
Certified Holistic Nutrition Coach
---
Discover Our Green Tea Superfood Cleanser
Subscribe to our Newsletter
Subscribe to our newsletter and get 10% off your first purchase
IT'S NOT JUST
TEA

, IT'S A LIFESTYLE