Did you know that only 1 in 10 Americans will reach the recommended amount of vegetables in their diet daily? That's why we created our delicious + convenient Greens Superfood Powder!
Teami Superfood Greens is packed with 16 superfood green nutrient-dense ingredients to help get your daily intake of veggies, promote natural energy levels, banish belly bloat, support regular digestion, and overall well-being!   
Each ingredient like ceremonial grade matcha, wheatgrass, spirulina, celery, and spinach was handpicked and blended perfectly together for the maximum overall health benefits- all in one scoop!

Our Superfood Greens Kit includes:
Greens Superfood Powder
20 oz Tumbler (choice of color)
Check out our Teami Lifestyle Blog for free recipes with our Greens Superfood Powder.
Regular price: $60.00
Bundle Price: $57.99
You save $2.00! 
Ceremonial Grade Matcha Powder, Wheatgrass, Spirulina, Chlorella, Chlorophyll, Spinach Leaf Powder, Broccoli Powder, Acai Berry, Kale Powder, Kelp Powder, Rocket Leaf Powder, Parsley Powder, Celery Powder, Garcinia Cambogia Extract, Dandelion Extract & Grape Seed Extract
Add 1 scoop to water + mix!
Add 1 scoop to water, squeeze ½ a lemon + mix!
Add 1 scoop to your favorite juice like pineapple, apple, pomegranate or orange + mix!
Use your Teami Glass Portable Mixit Blender to make superfood smoothies in just 60 seconds and take them on the go! Grab your free smoothie recipe ebook from us HERE!
Add 1 Scoop to Oatmeal or baking!
Recommended for adults only. If you are taking prescription medication, or are pregnant or nursing, consult your health care provider prior to using this product. Every individual has their own medical and physical conditions, therefore we can not foresee any adverse reactions to our All-Natural blends.
Results not guaranteed and may vary from person to person.
These statements have not been evaluated by the Food and Drug Administration. This product is not intended to diagnose, treat, cure, or prevent any disease.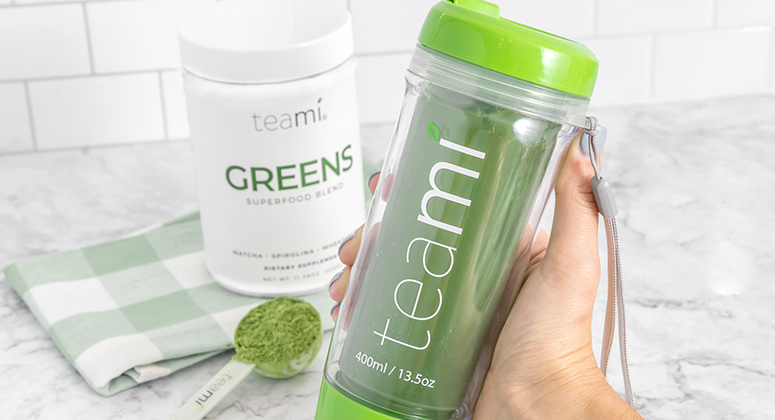 Teami Greens
Best product for getting more greens in my diet.
Thank you
Great product! Been taking it for 6 months now, feel better everytime I take it right after a gym workout.
Subscribe to our Newsletter
Subscribe to our newsletter and get 10% off your first purchase
IT'S NOT JUST
TEA

, IT'S A LIFESTYLE