Plant-Based Wellness Protein, Rich Chocolate
Plant-Based Wellness Protein, Rich Chocolate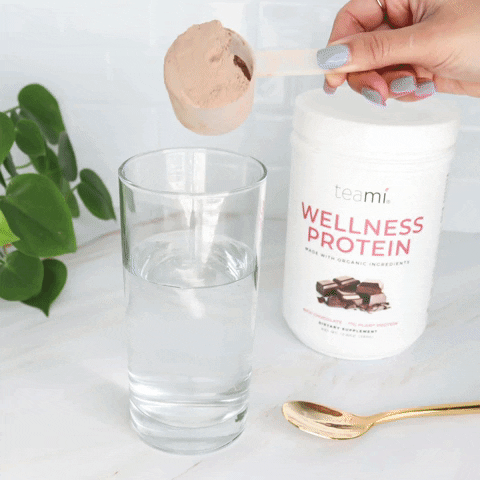 Our Organic Plant-Based Wellness Protein was created because our founder, Adi Arezzini, was disappointed with every vegan protein she found on the market. Every protein powder she tried was chalky, didn't dissolve or blend, or was overly sweet!
After 18 months of sourcing and formulating, our Organic Plant-Based Wellness Protein was born! 
This rich chocolate, smooth blend includes 17 grams of clean, organic protein in each serving! You can use your Wellness Protein in water, milk, smoothies or baking! 
So, why should you add protein to your diet? 
Protein is one of the building blocks of bone, muscle, and skin. The body needs it to produce hormones, enzymes, and other chemicals.
Protein helps keep you full longer, which can also help decrease cravings or appetite naturally. 
Consuming protein can help muscle growth and recovery after exercise.
Our Wellness Protein promise: 
Made with organic pea protein + rice protein
17 grams of clean, plant-based protein to fuel your day
Infused with antioxidant-rich white tea extract
Perfect, balanced flavor - never too sweet! 
No grainy or chalky texture
Dissolves and blends perfectly smooth - no clumps
Enjoy with water, milk, smoothies, or baking
NON-GMO, NON-DAIRY, NO SOY, NO GLUTEN
14 Servings per container.
Check out our Teami Lifestyle Blog for free recipes with our Wellness Protein!
Organic Teami Protein Blend (Organic Pea Protein, Organic Rice Protein), Natural Cocoa bean, Medium Chain Triglyceride (MCT oil from coconut), Natural Chocolate Flavor, Guar Gum Fiber, Stevia Leaf Extract, White Tea Extract, Calcium Phosphate, Silicon Dioxide

Add 1 serving to water, milk of choice, smoothies or baking and enjoy! Each serving has 17 grams of pure, plant-based protein!
Check out our blog for more free recipes with our Wellness Protein!
These statements have not been evaluated by the Food and Drug Administration. This product is not intended to diagnose, treat, cure, or prevent any disease.
If you are taking prescription medication, or are pregnant or nursing, consult your health care provider prior to using this product.


Great clean taste
I love this protein! I can drink it by itself with milk or water but my favorite is to throw it in a shake with peanut butter almond milk and a banana. Very clean tasting and yummy
I'm LOVING THIS ALL THE WAY!!!!!
At first when I bought this, I tried it and I didn't really like the way it felt in my mouth. I left it for a while and I was using the " greens ", it was just sitting on my kitchen counter then I decided to mix both the greens and the wellness protein (chocolate). I decided to ask if these two products can be mix and teami staffs got right back to me with an answer but they recommended that I tried a little bit first to see if I will like the mixture of it. Oh my goodness, I did and let me tell you ALL it is AMAZINGLY AWESOOOOME. The taste is wonderful, you can try it for yourself and see. You will love it as I'm LOVING IT.....THANK YOU, THANK YOU AND THANK YOU.
Organic Plant-Based Wellness Protein Vanilla
The Vanilla Organic Plant-Based Wellness Protein helps me with making healthy, nutritious, and delicious shakes with fruits or veggies. Helps also with cravings, packed with vitamins and minerals the body needs.
😋 👌
Subscribe to our Newsletter
Subscribe to our newsletter and get 10% off your first purchase
IT'S NOT JUST
TEA

, IT'S A LIFESTYLE